Welcome to my Greedy Dragon app review!
Greedy Dragon is another free application promises to reward users for playing sponsored games.
Simply choose any title from the list, download the app and accrue coins per minute of gameplay.
Once you reach the required number of points, you can cash out via PayPal and numerous gift cards. Pretty easy, right?
When I first heard about Greedy Dragon and saw a few screenshots, it immediately reminded me of Cash Alarm, A Happy Turtle and The Lucky Miner.
It turned out these apps are all operated by the same German company JustDice GmbH. They have the same programing interface and offer very similar cash rewards.
You need to make sure you are using a reliable platform, otherwise you are just making other people rich by watching videos.
So, is Greedy Dragon legit? Does it pay or not?
Let's find out!
Before you leave, check out my top recommendation. Members are making an extra 200 USD per month by completing simple online tasks, such as installing sponsored apps and playing games. Easily withdraw the money via PayPal or gift cards. 100% Legit and no verification required.
Greedy Dragon App Review
Name: Greedy Dragon
Company: JustDiceGmbH
Membership Eligibility: Worldwide
Price: Free
Overall Rating: 

2.5

/5
What Is Greedy Dragon?
Greedy Dragon is an Android application where you get paid for installing and playing sponsored games.
Unlike many apps, you don't need to make a deposit or provide your credit card.
Instead, the app will track your playtime and give you coins every time you complete the level.
Then, you can withdraw the once you reach their minimum cash out requirement.
So far, over 100,000 people have installed Greedy Dragon, which has been rated 4.5 stars out of 5 on Google Play.
It seems very promising, but as you will see later, many people are struggling to receive their payment.
How Does Greedy Dragon Work? 
Once you install Greedy Dragon from the Play Store, you have to agree with the Terms of Use.
Next, sign in with Facebook or Google, and provide your age and gender.
You must also grant access to your usage data so that Greedy Dragon can detect your playtime and give you the coins.

Right off the bat, you will get 4444 coins as a welcome bonus, which is great because you can redeem $0.50 with just 4999 coins.
How to Earn Coins? 
Greedy Dragon presents a list of featured games you can install on your device and start earning. It says the number of coins you will collect per level.
By clicking on "open now", they will direct you to the Play Store from where you can install the application.
Unlike other JustDice apps that pay per minute, Greedy Dragon award coins every time you complete the level.
In the UK, rewards are in the rage of 10 to 130 coins per level.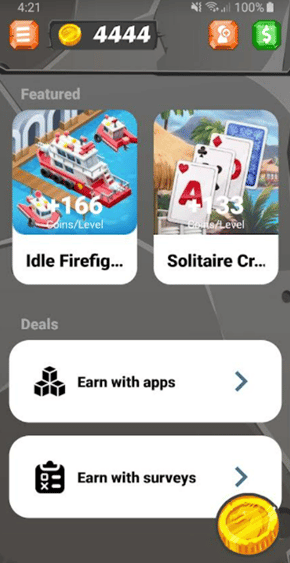 It's important to mention that coins per level decrease over time, so it's impossible to collect coins forever from a single game.
In order to keep earning, you must install another game, otherwise you get stuck.
The app also connects users with Tap Research and Fiber so you can get paid for taking surveys and completing offers.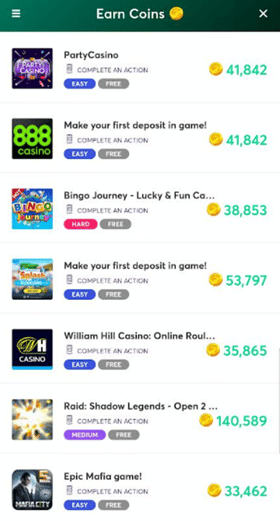 Many offers pay really well, but they require users to make a deposit or provide credit card details.
Invite Your Friends
By clicking on the orange button at the top, you can encourage friends to instal Greedy Dragon and earn commissions.

You will receive 250 coins for every invitation, plus 25% of what all the coins your friend earns. As a result, the person will also receive 25% of all the coins you earn!
How Do You Get Paid? 
Greedy Dragon allows you yo cash out via PayPal. Amazon, Steam, Playstation and other gift cards are also available depending on your country.
If you choose PayPal, you can trade 4999 coins for 0.50 USD. But you can also cash out higher amounts with no fees.
Be aware that Greedy Dragon will only transfer the money after you submit a selfie to prove your identity.
The company requires your identification to avoid fraud when giving away welcome bonuses. They don't want the same person installing the app multiple times to collect 4444 coins.

This reward platform is going viral! Cash out via PayPal, Visa, Gift Cards, and in-game currencies - Click here to find out how to generate an extra $10+ per day! 
Is Greedy Dragon Legit? Does it Pay? 

Greedy Dragon is legit, but not everyone receives the money after reaching the minimum coin requirement.
Upon checking the reviews on Google Play, I noticed many people are having issues with the face recognition.
After trying to cash out for weeks, the system just keeps saying "Waiting for verification". People try to contact the company but they don't reply.

I have written about this issue in other apps from the same company, so it doesn't surprise me.
You want to take the picture in a light environment to make sure you don't get rejected. But there is no guarantee it will work!
Some people also complain that Greedy Dragon doesn't credit coins and doesn't provide new apps to download.
Therefore, accumulating coins can be a very slow and frustrating experience.
On the other hand, we can find lots of positive reviews from users who could verify their account and receive the payment. Here is a 5-star review:

Conclusion
Greedy Dragon is a legit application, but there is no guarantee that you will receive the money.
So, you need to count on luck. After all, the Terms of Use clearly states "The provider does not guarantee the user any winnings."
Besides, just because you have cashed out multiple times, it doesn't mean you will continue to do so…
Usually, reward apps block your account or glitch if you use it for a long time.
I think Greedy Dragon is worth for people who already spend a lot of time playing mobile games.
If your focus is on making money, you are much better off joining a reward site where you get paid to complete offers and surveys. Here is my top recommendation. 
Final Words
Thank you for taking the time to read my Greedy Dragon app review.
We want to hear your own opinions about this app. Did you have a positive experience? How about the verification step? Did they pay you or not?
Peace!