Welcome to my Royal Solitaire Fish app review!
In today's post, I would like to expose another Patience game that supposedly pays £211.23. 
By flipping cards with the PayPal logo, you will collect cash coupons with the condition that you watch a commercial.
If the developer is transferring real money to every player, then he must have gone out of his mind.
The reason is that I am yet to find a platform that pays hundreds of dollars for having fun.
So, is Royal Solitaire Fish legit or fake? Does it pay, or is it a complete waste of time? Let's find out!
TOP RECOMMENDATION: Don't forget to check my top-rated Gpt site. Members are making an extra 200 USD per month by installing sponsored apps and giving their opinions.
Join now and easily withdraw the money via PayPal or gift cards. 100% Legit and no verification required.
Royal Solitaire Fish Review
Full Name: Royal Solitaire Fish (Early Access)
Developer: Krikarcher
Eligibility: Worldwide
Price: Free (no in-app purchases)
Overall Rating: 1/5
What Is Royal Solitaire Fish?
Royal Solitaire Fish is the classic solitaire game that promises to give PayPal bonuses for watching commercials.
All you have to do is rearrange the cards in ascending order and collect cash coupons, coins and even iPhone Puzzles.
More than 1,000 people have installed Royal Solitaire Fish with the expectation to cash out.
But unfortunately, no one can publish reviews since the application is still classified as "early Access".
I have tested many patience card games in this blog such as Solitaire Kings, Solitaire Pop and more! Not to mention hundreds of other games that keep lying about cash rewards.
How Does Royal Solitaire Fish Work? 
Games like Royal Solitaire Fish generate revenue by enticing people to watch short videos.
The thing is, players are watching these videos in return for virtual cash coupons that they can supposedly redeem for real Paypal money.
Installation and Permissions
You can launch Royal Solitaire Fish after quick installation on Google Play.
Be aware this application can access, alter, and even delete contents of your USB storage. Yes, I am talking about all your photos, media and files.
So, if you care about your data and privacy, think twice before installing this game.
How To Play? 
Before you start, Royal Solitaire Fish asks you to bing your email, mobile or user account.

Since there is a PayPal logo at the top, users have to guess the app requires a PayPal email. So, they should be clear about that!
The classic solitaire game is actually very simple.
All you have to do is rearrange the cards and create 4 piles in ascending order, from high (Ace) to low (King).
Each pile of card should contain the following suits: spades (♠), clubs (♣), diamonds (♦) and hearts (♥).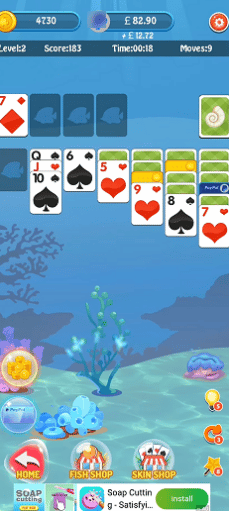 Use the hint button or the magic wand to get some help. You can also use the undo feature if you think you made the wrong move.
Once you run out of props, you can either watch the video or spend 3,000 coins to get additional items.
Note that some cards in the tableau have the blue PayPal logo or the yellow coin symbol.
By uncovering these cards, they will give you a cash coupon after tapping "collect" and watching the commercial.
When you finish arranging all the cards into correct order, Royal Solitaire Fish will also allow you to open 4 boxes and win more rewards.
You will get 10 iPhone 13 Jigsaws by opening all the 4 boxes.
How Do You Get Paid? 
The minimum cash out requirement depends on your country.

In the UK, you can supposedly withdraw the money when you accumulate £211.23. It doesn't take too long to meet this requirement.
As for the coins, you can trade them for PayPal money as well. The minimum payout is £140.82 (68,000 coins).
Is Royal Solitaire Fish Legit? Does It Pay?
No, this app does not give any cash reward or iPhones to those who meet all the requirements.
There is no way you can make hundreds of pounds/dollars playing a free solitaire game.
So, here is the sequence of events that happens after you press try to cash out:

This reward platform is going viral! Cash out via PayPal, Visa, Gift Cards, and in-game currencies - Click here to find out how to generate an extra $10+ per day! 
First, they will put your order under review and claim you must watch 50 videos or more to activate it. Here is the screenshot: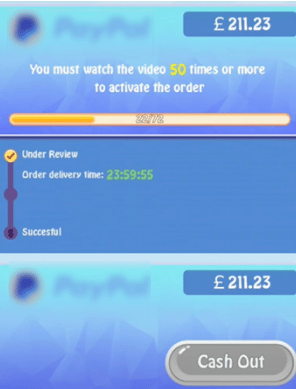 Next, you are told to watch more videos to reduce the waiting time by 30 minutes.
That's another excuse to postpone your payment request, which will never be processed.
I know this because after 24 hours, they will ask you to watch 100 videos to activate order.
It seems like we are trapped in an infinite loop whereby only the developer is making money through advertising.
Conclusion 
Royal Solitaire Fish is great for killing time, but it doesn't process cash rewards since they are very unrealistic.
Make no mistake. It's impossible to impossible to cash out lots of money when you are just having fun and watching videos on your phone.
You should not take similar app seriously because none of them are proven to pay.
If you want to make sure you get paid for online tasks, check out my Prizerebel review. 
Is There An Alternative To Solitaire Kings? 
Bitcoin Solitaire is a popular alternative for those who want to get paid for playing free solitaire.
The company gives you satoshi (fractions of bitcoin) and allows you to withdraw to your Coinbase wallet within minutes.
The downside is that rewards are extremely low. In fact, it doesn't even pay for the data spent watching countless videos.
Another option is Solitaire by WINR Games. This Canadian app allows you to collect prize draw tickets for a chance to win over $3,000.
The chances of winning are very low, but teh good news is that you can exchange tickets for cash and withdraw via PayPal. Not everyone receives the money, though.
Conclusion 
Don't play Royal Solitaire Fish with the expectation of making real money. It's just an illusion to make you watch lots of videos and help the developer make more profits.
Virtual dollars in games never have currency value, and developers are not obligated to pay anyone.
Earn A Full-Time Income Online
You can work remotely and earn thousands of dollars by creating content for the internet. 
If you want to learn more about this lucrative business model and get step-by-step training, check out my #1 recommendation here! 

This program helped me build a profitable affiliate site and generate over $2,000 per month. No inventory or customer service required!
Final Words
Thanks for reading my Royal Solitaire Fish app review!
If you want to share thoughts on this application, please leave us a comment below.
Peace!