Welcome to my Bling Block app review!
Bling Blog is allowing players to withdraw $500 via PayPal and in-game currency.
This is another block puzzle game where you destroy blocks by completing columns and rows.
I have already reviewed a few similar apps that promise to pay real money when people reach a specific amount of virtual dollars.
Unfortunately, they have proven to be fake and a complete waste of time.
That's why you should not get your hopes high when you watch those over-hyped videos on your phone.
If you need money, you want to make sure you take proper steps to achieve your goals instead of just making developers richer.
So, is Bling Block legit? Does it pay or not? Keep reading to find out!
Before you leave, don't forget to check my top-rated Gpt site. Members are making an extra 200 USD per month by downloading sponsored apps and taking simple surveys.
Join now and quickly cash out via PayPal or gift cards. 100% Legit. No verification is required.
Bling Block App Review
Name: Bling Block – Puzzle Game
Company: Jump Line Studio
Eligibility: Worldwide
Minimum Payout: $500
Price: Free (no in-app purchases)
Overall Rating: 1/5
IMPORTANT: Bling Block is not associated with Bling Financial Games.
What is Bling Block?
Bling Block is another classic block puzzle game that claims to pay real money when players collect enough virtual items.
Reviews on Google play are unavailable since the app is still classified as "Early Access."
This is unfortunate because you cannot learn from other people who took the time to install and play the game.
Are you tired of playing games that don't pay? Check out this site and get rewarded for your online activity.
How Does Bling Block Work? 
Installation 
You can install and play Bling Block for free on your Android device.
Right off the bat, I noticed the app doesn't provide the Terms of Service, which is a big red flag.
Although the Privacy Policy is only available on Google Play, it's not safe to open according to my anti-virus.
The good news is that Bling Block doesn't have access to content in your USB storage.

How to Play Bling Block?
Bling Block looks like Tetris, the classic tile-matching game created in 1984, but with a slight difference.
Instead of leading the tiles vertically, you must select and drag them to the grid. As you can see in the screenshot, you can choose between 3 shapes: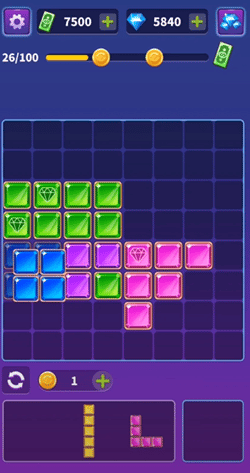 The goal is to destroy the diamonds by filling up all the spaces in a row or column.
Like this similar puzzle block game, Bling Block allows you to rotate the blocks of diamonds to make your life easier.
If the grid cannot accommodate any tile, you can always drag it to the space on the right side and leave it for later.
The game is over when all the three tiles don't fit anywhere on the grid.
It's very difficult to lose on Bling Block, but if you cannot drag more tiles, you can restart and keep your earnings.
Earning Rewards
Every time you destroy the tiles, the progress bar moves to the right. Then, once the bar is filled, you can collect virtual dollars by tapping the "ok" button and watching the sponsored video.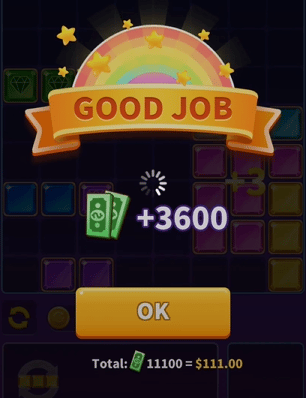 Note that blocks that have the diamond symbol award the diamond tokens redeemable for in-game currency.

How Do You Get Paid? 
The developer claims you can withdraw $500 via PayPal when collecting 50,000 dollar bills.
To redeem game currency, you need to accumulate at least 10,000 diamonds. 
You choose from a wide range of popular games such as Free Fire, Coin Master, Roblox, and more!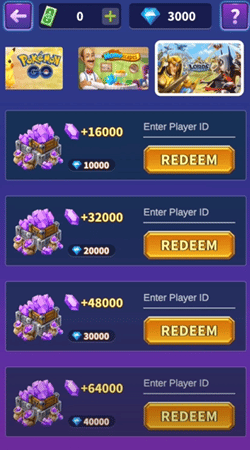 For example, 10,000 tokens will give you 10,000 Free Fire diamonds worth more than $600. That's insane!

This reward platform is going viral! Cash out via PayPal, Visa, Gift Cards, and in-game currencies - Click here to find out how to generate an extra $10+ per day! 
Is Bling Block Legit? Does It Pay? 
No, it doesn't! I have reviewed countless games, and I am yet to find one that transfers real money to PayPal.

With such unrealistic cash prizes and a lack of Terms of Use, you cannot expect a positive outcome from Bling Block.
Cash prizes and diamonds will accumulate in your account, but unfortunately, you won't get paid.
Conclusion 
Bling Block is an excellent game for killing time, but the cash rewards are fake! It's impossible to make money or redeem in-game currency using your diamonds.
You see, the developer who operates this app is the only one who makes profits by displaying adverts.
You are enticed to watch these videos and waste a lot of time and mobile data watching them.
So, even though the game is free to play, you are losing money unless you use public wi-fi.
Earn Real Money By Playing Games
I am confident that Prizerebel is the best platform for those who want to get paid by playing games. 
Game developers promote their apps through offer walls, and you get points for trying them out.
Then, you redeem $5 via PayPal or gift cards once you collect 5,000 points. The money is transferred within 24 hours. For diamond members, the waiting time is just 10 minutes! 
Here is my reward history: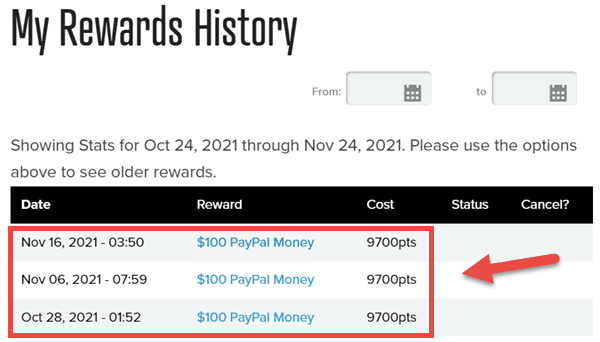 Earn A Full-Time Income Online
If you wish to work remotely and make money on your own terms, I suggest you become a content creator.
Success doesn't happen overnight, but your life can change drastically if you are motivated enough to succeed.
An online business allowed me to quit my job in 2019 and travel for over two years while making excellent commissions. 
It's well worth it!
This excellent program helped me set up a profitable affiliate site that covers all living and travel expenses.
Final Words
Thank you for reading my Bling Block app review! If you want to share your opinions about it, feel free to use the comment box below.

Peace!