Welcome to my Slot Rush app review!
I stumbled across another slot game where you can supposedly earn real cash prizes just by pressing the spin button.
The developer of Slot Rush persuades people to install the game and cash out when they reach £240.
There are several payment methods to choose from, such as PayPal, Paytm, Tez, Cash app, and more!
You can also collect puzzle fragments and redeem eye-catching gifts like a MacBook Pro or a PS5.
You are reading this post because it seems too good to be true.
How can they pay everyone who meets the requirement considering that the app only generates revenue through advertising?
Is Slot Rush legit or fake? Will they pay you or not? Keep reading to find out!
Top recommendation: This step-by-step program helped me generate over 2,000 US Dollars per month and quit my job in 2019. Build your online asset now by joining the Free membership here and taking massive action.
Slot Rush App Review 
Full Name: Slot Rush – Spin for huuuge win (Early Access)
Developer: mersumtapo
Payout Threshold: £240
Type: Entertainment with no financial risk
Price: Free (no in-app purchases)
Overall Rating: 1/5
What Is Slot Rush?
Slot Rush is a free slot game that gives you the chance to win cash and expensive prizes.
You can activate the slot machine by using coins, which are a type of in-game currency.
Although Slot Rush has been installed over half a million times on Google play, there are no reviews. That's because it's still classified as "Early Access."
How Does Slot Rush Work?
Installation
Slot Rush is available for Android users in all countries. However, only residents of the UK, the US, and Canada, who are at least 16 years or older, are eligible.
No purchase is required to enter or win cash rewards.
How to Play Slot Rush?
Choose how many coins you want to use and tap the spin button to activate the 5-reel slot machine. Then, raise the coin number to get more rewards!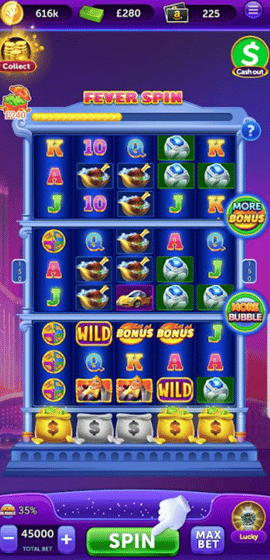 Wait for the reward bubbles to fall into the lucky bags below. Then, collect cash, puzzle pieces, and Amazon puzzles by lighting up all five bags.
Unlike other slot games, the combination of symbols doesn't seem to affect your earnings. You only collect the reward if the slots release the bubbles.

Tap the "more bubble" icon and watch the sponsored video to get more bubbles for the next three spins.
Use the "More bonus" feature to increase 100% match on the slots and boost earnings.
If you run out of coins, you must tap the "collect" icon on the top and watch videos.
Bonus Dollars
Another way you can supposedly earn money with Slot Rush is by inviting friends. The company claims to pay £9.6 after your friend installs the game.
You already start with £16, and you need to accumulate £240 to cash out.
How do You Get Paid? 
The minimum cash-out requirement is £240, and you can withdraw the money using the following payment methods:
PayPal, Cash App, Paytm, Tez, Coinbase, Banco Inter, Nubank, Line Pay, Alipay, and SBER.
Slot Rush states they will transfer the funds within 2 – 15 business days. But are they just bluffing?
If you click on the "lucky" icon at the bottom-right corner, you will find a list of gifts.
Once you collect ten puzzle pieces, you can supposedly claim a PS5, Chanel Bag, MacBook Pro, Samsung Galaxy S20, Nintendo Switch, and more gifts.
You can also redeem a £240 Amazon gift card if you collect 1000 puzzles.

Is Slot Rush Legit? Does it Pay? 
No, it doesn't! There are many reasons to believe Slot Rush doesn't pay a dime:
There is no payment proof or any evidence that the developer pays.
The app is still "Early Access," preventing users from publishing reviews on Google Play.
Cash prizes are very unrealistic, just like hundreds of other fake money games!
I'm yet to find a mobile game that transfers lots of money to PayPal risk-free.
You can cash out IF you reach a high payout threshold.
It doesn't take too long to accumulate £240, and tap the "Cash out" button.
However, when you try to get your money, it says you need to spin 20 times to verify that you are not a cheating user.
I went through this tedious process of tapping 20 times on the spin button, but they didn't pay me! 
Find out the top 10 sweepstakes apps to win real cash prizes!

This reward platform is going viral! Cash out via PayPal, Visa, Gift Cards, and in-game currencies - Click here to find out how to generate an extra $10+ per day! 
Is There An Alternative To Slot Rush? 

Unfortunately, legit slot machines require a deposit and are risky because the odds are always against you.
I am not an expert in these applications, so I cannot recommend them!
In fact, I discourage people from wasting time and money on games that put their hard-earned money at risk.
You are much better off joining reliable platforms that pay for your online activity. Here is my top-rated reward site! 
Conclusion 
Don't waste your time playing Slot Rush with the expectation of making money.
It's very unlikely that the developer will pay you £240 just for you to watch a couple of videos.
The game is free, but if you are not using public Wi-Fi, you are wasting expensive mobile data while watching the videos.
Also, I don't feel safe using apps that have access to content on my phone for whatever reason. So, I always uninstall them after writing my reviews.
Verdict: Not Recommended
Earn A Full-Time Income Online
One of the best business models to earn thousands of dollars per month is content marketing.
But instead of working as a freelancer for other marketers, I suggest you nurture your own online business. 
In 2015, I created MyRoomisMyOffice.com, which attracts over 2k visitors daily and generates a decent income.
In short, I publish these articles that help answer people's questions about mobile apps and other opportunities.
That's my specialty, but you can make money by helping people with another topic of your interest.
This excellent step-by-step training will show you how to turn your passion into a lucrative business.
It's the ideal place to build profitable sites, interact with successful marketers and succeed!
Final Words
Thank you for visiting my site and reading my Slot Rush app review. If you would like to share your thoughts about this game, leave us a comment below.
Peace!