Welcome to my Match Chips app review!
The creator of Match Chips encourages people to spend 10 minutes on the game every day to earn $3000 a week! 
He also claims you can earn a $100 bonus and withdraw the money instantly via PayPal. Here is a screenshot I took from the advert.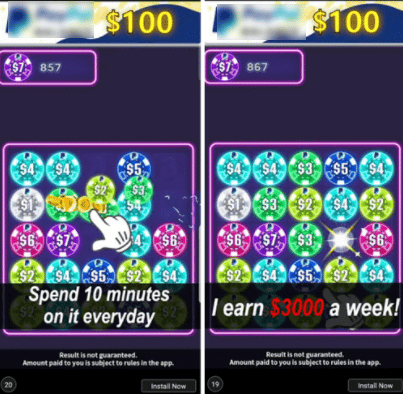 I lost count of how many fake casual games I reviewed in this blog.
They entice you with big cash rewards just so you watch lots of videos that make them money. But the rewards don't exist!
You are reading this post to find out whether Match Chips will pay you or not. Is it legit or scam? Let's find out!
Searching for a proven strategy to make money online? Check out my #1 recommendation. This step-by-step program helped me generate over $2K+ per month. Join the free starter membership here and take massive action! 
Match Chips App Review
Full Name: Match Chips
Developer: Village Master Games
Eligibility: Worldwide
Payout threshold: $1000
Price: Free
Overall Rating: 1/5
What Is Match Chips? 
Match Chips is another casual game where you match chips and collect virtual dollars. It's very similar to BackChip 21.
The developer claims that all the money will be redeemed to PayPal once your cash balance reaches $1000.
That's the main reason the application has been installed over 100,000 times so far.
People are just desperate to make quick and easy money. What makes it even more crazy is that players don't even need to put their own capital at risk.
How Does Match Chips Work? 
Installation 
You can play Match Chips immediately after installing the application on your Android device.
Regarding app permissions, it's important to be aware it can access content in your USB storage, like your photos and files.
How to Play Match Chips? 
Swipe the chips to switch their position and match at least 3 chips of the same number.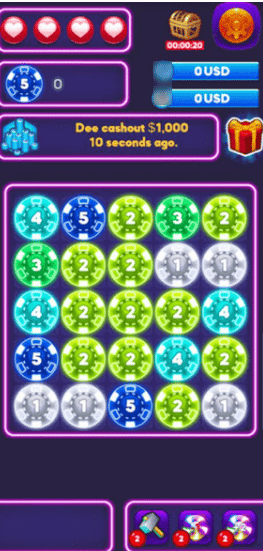 As you are playing, you will make combos and unlock higher number chips.
Sometimes, you will get a "universal chip" with the PayPal or Amazon logo. Connect it with any two equal chips to trigger cash coupons.
In the beginning, you will earn more than $90 at a time, which is unbelievable! But it goes from $90 to just a few cents the closer you get to $1000.

You can only claim the reward by tapping the "receive" button and watching the video.
It may happen that you won't merge the chips after switching their position. In that case, you will lose a heart.
The game is over if you consume all the 4 hearts, but you won't lose any money you accumulate.
Use props to eliminate, increase 2 units or decrease 1 unit.
Don't forget you can boost your earnings by opening the treasure chest and watching a video every 20 seconds.
How Do You Get Paid?
Just tap any of the two cash balances at the top to withdraw the money via PayPal or Amazon gift card.
If you open the PayPal wallet, Match Chips claims they will transfer all the money you collect within 24 hours.
There is a countdown there, but you can cash out immediately as soon as you reach $1,000.
The Amazon gift card can be redeemed once you collect 10,000, 20,000, 30,000 and 40,000.
Unlike the PayPal wallet, there is no dollar sign in front of the numbers. So, real cash prize is unknown.
Is Match Chips Legit? Does it Pay?
No. It doesn't! Match Chips works just like hundreds of other fake money games in the Play Store. Therefore, it doesn't pay a dime!

You will struggle to reach $1,000 because the cash rewards dwindle as you get closer to $1,000.
But once you finally get there and try to cash out, something "magic" happens. You must watch 50 videos to activate the order!
Many people who believed their words for the second time ended up with another shock back to reality.
Match Chips will tell you to watch more 80 videos. Yeah, I know what you are thinking!
Surprisingly, the developer doesn't block the reviews with the "early access" excuse.
Therefore, you can see that the vast majority of players are furious. Many of them reported watching hundreds of videos with no money to show for it!

This reward platform is going viral! Cash out via PayPal, Visa, Gift Cards, and in-game currencies - Click here to find out how to generate an extra $10+ per day! 
It's a shame that games like Match Chips are still allowed to operate wild and free in most countries.

Conclusion 
Match Chips is advertised as an opportunity to make at $3,000 per week.
However, there is no evidence that anyone is earning money after completing all the video tasks.
There is a small print in the advertisement that says "result is not guaranteed".
But I think if the developer cannot show solid proof of payment, he should not make people believe there is a chance to win.
The truth is that virtual cash prizes are offered to make players watch endless adverts that only benefit the creator.
Don't waste your time with Match Chips unless you like to play it for fun and don't mind the dollar signs.
Earn A Full-Time Income Online
Imagine making thousands of dollars from the comfort of your home, or while travelling the world.
Many people are doing just that thanks to a business model called content marketing!
You don't have to sell any product or service. All you do is provide helpful content and promote other people's products!
I operate this site where I earn money through the content I provide to my audience. There is no limit to how much you can earn online!
But the best part is that I have the freedom to do whatever I want with my time!
This is me, enjoying my laptop lifestyle in a tropical paradise.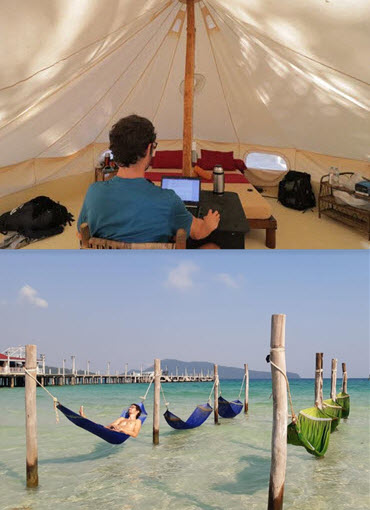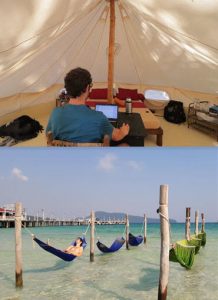 I am not saying this to brag, but to give you motivation to chase your dreams as I did!
I used to be a dishwasher in London who could never afford to go on a 2-year trip to South East Asia.
This excellent program showed me step-by-step how to set up an affiliate site, rank high on Google and attract thousands of visitors per month.
If you want to create a powerful source of income from your laptop, click here and start today! 
Final Words
Thank you for visiting my blog and reading my Match Chips app review.
If you want to spread the word about this game and warn others, leave us a comment below.
Peace!