Welcome to my Happy Farm Slots app review!
Today, I came across an app called Happy Farm Slots and the opportunity to win lots of money.
In one of their adverts, there is a woman who said people have been using this money-making app to withdraw money immediately.
In another video, they encourage you to click the link at the bottom of the video for $500.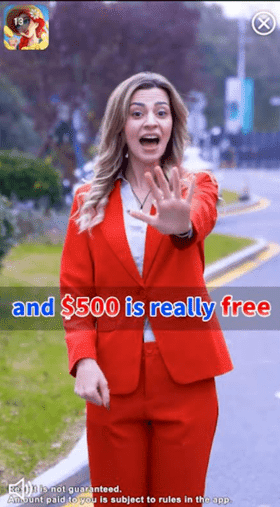 Many people don't pay attention to the small sprint that says "result is not guaranteed" and download the app with no hesitation.
You may be sick of playing fake money games that don't pay a dime. Or, maybe you are completely new to this industry and need to know what happens if you try to cash out.
So, is Happy Farm Slots legit? Does it pay or not? I am here to save your time, so let's find out!
Before you leave, don't forget to check out my top-rated GPT site. Members are making $200+ on the side by completing simple tasks and referring friends. Cash out via PayPal and gift cards!
Happy Farm Slots App Review
Full Name: Happy Farm Slots
Developer: baorongtang
Payout Threshold: $500
Type: Entertainment with no financial risk
Price: 100% free to play
Overall Rating: 1/5

This reward platform is going viral! Cash out via PayPal, Visa, Gift Cards, and in-game currencies - Click here to find out how to generate an extra $10+ per day! 
What Is Happy Farm Slots? 
Happy Farm Slots is an android game that allows you to spin the 5-reel slot machine for free and earn money. It's very similar to Lucky Farm Slot and Jackpot Carnival.
You just have to tap the Spin button and collect virtual dollars with absolutely no effort.
The best part is that players don't need to deposit and risk their hard-earned money.
That's why many people don't even think twice before installing and playing Happy Farm Slots.
What most people don't realize is that they are being lured into watching lots of videos with no guarantees.
While the developer is making profits, you have to spend time and cross your finger.
How Does Happy Farm Slots Work?
Installation  
Happy Farm Slots is available on Android devices and you can play it with no registration.
It's important to notice the app has access to your precise location, photos, media and files.
Be careful if you store important data on your phone or tablet. We never know how these app are operated behind the scenes.

How to Play Happy Farm Slots? 
As soon as you launch the game, they will offer you a $100 bonus.
Next, they ask you to open your cash wallet, which says you need to have $500 to cash out with PayPal or Amazon gift card.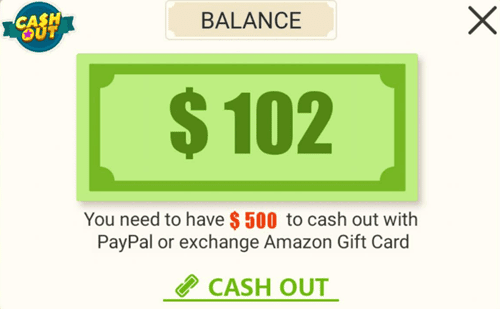 Tap the green "spin" button to rotate the 5-reels and have the chance to collect cash rewards. Hold this button to auto activate the auto spin.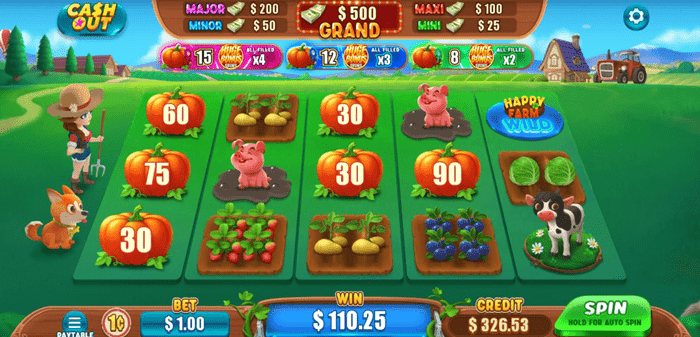 Keep in mind that each spin takes away $1 from your cash balance.
At the bottom-left corner, you will find a small paytable icon. Open the paytable to understand how the symbols need to be arranged in order to trigger cash prizes.
All wins begin with the leftmost reel and pay left to right on adjacent reels, except scatters, wheel and Huge bonus prizes (pumpkins).
You can only win the Huge Bonus Prize when the Huge Bonus feature is activated.
Happy Farm Slots is extremely confusing for anyone who has never played this type of slot machine before.
You can struggle to figure out which combinations of symbols you need in order to get a reward.
But don't worry because you just have to tap spin and collect the virtual dollars.
It won't take too long to reach $500 and press the cash out button! The amount of advertising until you reach the target is tolerable, so you won't spend too much data and time.

Is Happy Farm Slots Legit? Does it Pay? 
No, it doesn't! Happy Farm Slots is like most games that use cash reward as bait to maximize profits.
They make you believe you will receive the money as long as you collect $500.
But once you reach the target and request the payment, they ask you to watch 36 videos. 
It's only so the developer makes more profits since advertisers are paying him/her for each video view!
Many people believe they can eventually cash out if they meet all the requirements. But it's just hopeless! 
You may also get an error message after trying to enter your email address. 
One user said he email the company to ask about the cash out requirements and rules. But they just replied that the game has analytics that control the payouts. 
There is no evidence that the developer is rewarding anyone. The high cash prizes and the number of negative reviews are good reasons to suspect you won't make a dime!

Conclusion 
Don't waste your time tapping the spin button and watching hundreds of videos that only benefit the developer. Virtual items have no currency value!
Happy Farm Slots entices players with the opportunity to win real money, but there is no payment proof.
In fact, Google Play is jam-packed with negative comments from people who didn't receive the money.
Just like most money games, the PayPal money and gift cards don't exist! Players are, therefore, wasting too much time and data for nothing!
Verdict: Not Recommended
Earn A Full-Time Income Online
People are making thousands of dollars per month by providing helpful information on different topics.
I am not talking about becoming an influencer with millions of followers, although that would be nice!
I am talking about average people who set up their own site, get high rankings and generate life-changing commissions.
You may have no clue about how to start and grow this type of business.
I was in the same boat back in 2015, but I am glad I found this excellent program who guided me every step of the way.
It doesn't take long to learn the ropes and start building your online business like I did.
The best part is not the money, but the freedom to set my own schedule and work from anywhere I please.
Final Words
Thanks for taking the time to read my Happy Farm Slots app review. I hope it helps you avoid other pitfalls and find better opportunities in life.
So, what do you think about this game? Leave us your thoughts in the comment box down below.
Peace!