Welcome to my Wayang Blast app review!
I was testing a mobile game when I came across an advert from Wayang Blast with a woman in front of a yellow Audi car.
In the video, she apologises to everyone who got scammed by fake money-making apps. 
She says it takes too much time and you can't withdraw any money.
Then, she entices players to download this application and claim you will get a big bonus.
After finishing this sentence, she points to the incredible Audi behind her and promise that every dollar can be withdrawn.
They also show high cash prizes for those who play for 9 days.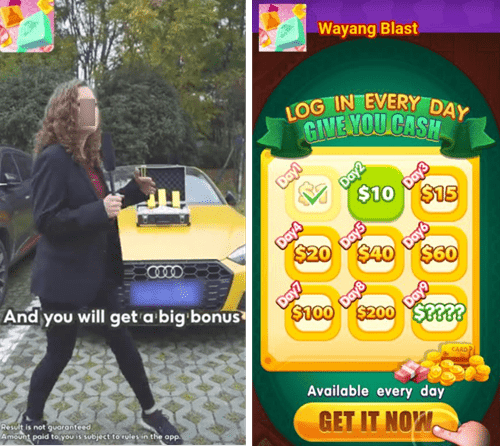 Many people are unaware there a small print that says "result is not guaranteed". But considering the game is completely free, you may think it's still worth giving it a shot!
So, is Wayang Blast legit or fake? Does it pay and can you really win the Sports car? Let's find out!
Before you leave, don't forget to check out my top-rated GPT site. Members are making $200+ on the side by completing simple tasks and referring friends. Cash out via PayPal and gift cards!
Wayang Blast App Review
Full Name: Wayang Blast
Developer: Seru Studio
Payout Threshold: $0.10
Price: Free
Overall Rating: 1/5
What Is Wayang Blast? 
Wayang Blast is another match puzzle game that gives virtual dollars for completing levels.
Players just have to tap any block surrounded by at least one other block of the same color.
The more blocks you eliminate at once, the higher your score and the more stars you will collect.
In order to cash out, you must meet specific conditions depending on the amount you wish to withdraw.
What about the Audi car? Well, it's probably parked in someone else's garage.
Wayang Blast has been installed by over 1 million people worldwide. Surprisingly, the app is not "Early Access" as, so the reviews are available for everyone to see on Google Play.
How Does Wayang Blast Work? 
Installation 
Wayang Blast is available for Android users in all countries. After installing the app on Google Play, you can launch the game and start collecting the dollars.
The good news is that, unlike other money games, the developer doesn't have access to file on your phone.

How to Play Wayang Blast?
Just click on the same colors to destroy the blocks. Try to eliminate as many blocks as possible to complete the level with a high score.
You will earn 1, 2, or 3 stars depending on your performance.
Don't forget to use three props to help you reach the target. You can rearrange blocks, change their colors or destroy them using the hammer.
When you clear the stage, you will receive a level reward worth a few cents of the dollar.
They claim that by playing the game, you can get $20 to be withdrawn into your bank account.
Tap the button and watch the video to double your cash reward.
Click here to discover the best reward app to earn money by playing games.
How Do You Get Paid? 
As you play Wayang Blast, the virtual dollars will be accumulated in your account.
Tap the card icon at the top to open your cash wallet and see your balance and withdrawal terms.
The minimum cash out requirements is $0.10 and you can pull after collecting 150 stars.
There are many other cash rewards if you log in for specific days.
The highest prize is $2o, which you can withdraw after logging in for 30 days.

Is Wayang Blast Legit? Does it Pay? 
Wayang Blast stands out from other money games because it pays small amounts of cash, such as $0.10 and $0.20.
Many people reported receiving the money, which is reassuring! However, it takes a long time to collect 150 stars only to make 10 cents.
Unfortunately, you will get very disappointed to know that the developers is not processing the $20 payments to many players.
I checked lots of reviews on Google Play and didn't find anyone who cashed out this amount.

This reward platform is going viral! Cash out via PayPal, Visa, Gift Cards, and in-game currencies - Click here to find out how to generate an extra $10+ per day! 
You will play the game for 30 days and watch hundreds of videos for pennies. It's very unlikely that you will receive more than $0.20 in your bank account.
It's a shame that Wayang Blast advertises the game as an opportunity to win $1 on day 1, $10 on day 2, and even $200 on day 8. That's FAKE!

Conclusion 
Wayang Blast is a nice game, but the developer is trying to get people to play it with the wrong expectations.
It will transfer a few cents to your bank account and give you a glimmer of hope that you will eventually cash out $20.
But the highest prize is not provided despite all the conditions are met.
It's can be a very frustrating experience to anyone who put in the time and effort completing hundreds of levels.
I advise you to play Wayang Blast only for fun, because the $0.10 prize doesn't pay for all the internet data consumed.
Is There an Alternative to Wayang Blast? 
Toy Town is another match-3 game where you can collect tickets for a chance to win thousands of dollars.
It's a legit app, but the odds of winning are extremely low! That's why many players convert entries to cash and try to withdraw when they reach $10.
The problem is that many players don't receive the money, but your chances are much higher with this app.
Earn A Full-Time Income Online
In 2015, I created a website that allowed me to attract a large audience and make a decent amount of money.
In my opinion, this is one of the best ways to work remotely and achieve freedom from the dreadful 9-5.
Thanks to my online business, I was able to quit my job and visit many places in South East Asia with my wife.
I didn't have a clue how this business worked until I found this excellent step-by-step program. 
The best part is the freedom! I can open my laptop from anywhere and work at my own pace. There is no boss or customer to ruin my day.
Final Words
Thanks for taking the time to read my Wayang Blast app review. I hope now you have a more realistic approach to the so-called money games.
So, did you earn any money from Wayang Blast? Did you reach $20? Kindly share your experience with everyone in the comment box below.
Peace!