Welcome to my Pop It Dash app review!
I just saw an advertisement saying you can get paid every 24 hours for playing Pop It Dash.
It turns out the developer is using JustPlay's advert to promote his own app. Not a good start, huh?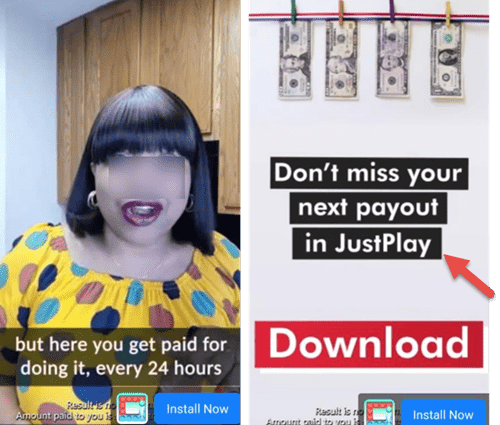 As soon as you launch the app, it shows a big PayPal logo saying you must reach $1000 to withdraw.
The app also claims you can win a real iPhone 13 Pro if you collect 300 puzzles and watch 100 videos.
Since you don't need to pay a dime to play this game, you have been tempted to download it and earn free money.
The problem is that games like Pop It Dash have been proven time and time again to be fake, and you don't want to waste time.
So, will you get paid? Is Pop It Dash legit? I urge everyone to read this post until the end to find out!
Before you leave, don't forget to check out this GPT site. Members are making $200+ on the side by completing simple online tasks. Cash out via PayPal and gift cards!
Pop It Dash App Review 
Full Name: Pop It Dash
Developer: Bough Studios
Payout Threshold: $1000
Price: Free (no in-app purchases)
Overall Rating: 1/5
What Is Pop It Dash?
Pop it Dash is a puzzle game where you swipe to move the colored ball along a single path.
It's inspired by the popular popping toy made of silicone for relaxation! You have probably seen it for sale somewhere.
You will collect virtual dollars and iPhone puzzles as the ball move from one corner to the other.
Once you meet the requirements, you can supposedly cash out or claim the iPhone 13. 
Not only that, but you can also redeem a $449 iWatch for free if you clock in for three days. Crazy!
Pop It Dash has been installed over 50,000 times and received many complaints on Google Play.
How Does Pop It Dash Work? 
Installation 
You can install Pop It Dash for free on Google Play on your Android device.
Before using any app or site, I always advise people to check the Terms of Service.
However, Pop it Dash provides none, meaning they don't owe you any money since there is no agreement between you and the developer.

I also want to warn you that the app can access your photos, media, and files. They can read and delete the data as stated in the "permission" section.
How to Play Pop it Dash?
Just slide your finger to move the ball along the "silicone" path full of bubbles.
As the ball moves from one corner to the other, it pops all the bubbles and paints them with the same color.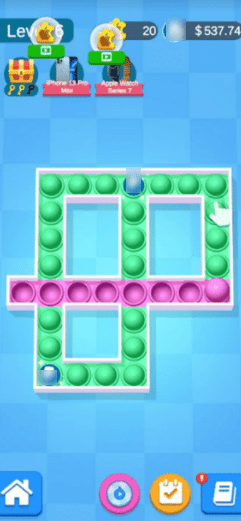 Note you will earn a few cents just for popping the bubbles.
When you pop one with the PayPal logo, you will receive a cash coupon for over $100. The reward will decrease as you get closer to $1,000.
However, you must tap and watch the video until the end to collect the cash reward.
Of course, the game wants you to watch a significant amount of advertising that generates revenue for the developer.
You will also collect puzzle pieces along the way!
Pop it Dash gives you four gift boxes once you paint the entire path and complete the level.
Tap the box and watch the video to collect more virtual dollars. You will also win an iPhone puzzle after opening all the boxes.
Check out the best survey apps that put real money in your pocket.

Is Pop It Dash Legit? Does it Pay? 
No. I am 100% sure you won't get paid even after meeting all the conditions.
It still amazes me the fact that many people are still playing money games with the expectation of winning big money.
But it's important to write reviews and warn people about those applications.
Once you reach $1,000 and try to cash out, Pop It Dash will ask you to watch 100 videos to activate the order.
You will find that the word "activate" doesn't mean anything!

This reward platform is going viral! Cash out via PayPal, Visa, Gift Cards, and in-game currencies - Click here to find out how to generate an extra $10+ per day! 
Believe it or not, some people took the time to watch all the videos only to find another hidden requirement.
They ask for another 150 videos and then reject your payment because of allegedly abnormal activity.

What is next? You are told you need to prove that you are a real person by watching 200 videos! 
I don't even need to draw what's going on here! Your pen dropped a long time ago when I said the developer gets paid by advertisers.
Conclusion 
Pop It Dash provides virtual dollars that have no real-world value.
The developer lures players to watch videos, making them eligible to withdraw the money via PayPal.
However, this is bait to hook the player into endless rounds of video requirements.
You won't receive any money, iPhone or iWhatches! It's just an illusion created to boost profits.
The game itself is glitchy as the balls don't move easily. So, it's not even a pleasant activity to pass the time!
Verdict: Not Recommended
If you want to make money by playing games, I highly recommend you learn more about this gpt site.
This platform also pays you for sharing your opinions with marketing research companies.
Now, if you ask me whether I would spend hours on games and surveys, the answer would be no!
The reason is that I make a lot more money with content marketing. 
This business model allowed me to quit my day job, become a digital nomad, and travel to many countries without breaking the bank.
If you want to build this powerful source of income from your laptop, click here and check out my top recommendation. 
Final Words
Thanks for reading my Pop It Dash app review. I hope it helps to raise awareness about this and other countless fake money games.