Welcome to my BlackChip 21 app review!
I came across BlackChip 21 while playing another similar game on my phone.
The commercial claims players are getting paid every 3 hours with no minimum cash out requirement.
At the end of the video, it says players earn money easily and shows a "Get Rich" button with a PayPal logo at the top.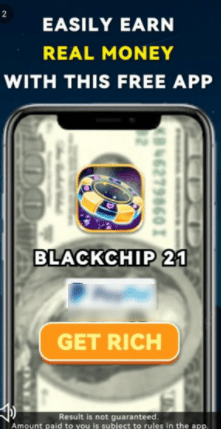 I always cringe when I see this kind of advertisement and which something could be done against it.
But it seems that advertisers, developers and everyone in between are getting a slice of the pie. So, they will keep the business as usual.
Thousands of people are playing this game and watching lots of videos with high hopes of making hundreds of dollars. 
Since you are a smart person, you are here to find out the truth about BlackChip 21. Is it legit or fake? Will they pay you once you collect enough dollars?
Let's find out!
Before you leave, don't miss out on my top-rated GPT site. Members are making $200+ on the side by completing quick surveys and offers. Cash out via PayPal and gift cards!
BlackChip 21 App Review
Full Name: BlackChip 21
Developer: Infinity Game LLC.
Eligibility: Worldwide
Payout threshold: 
Price: Free
Overall Rating: 1/5
What Is BlackChip 21? 
BlackChip 21 is an Android game in which you match 3 same chips to merge and collect virtual dollars.
As you are playing BlackChip 21, you will earn virtual PayPal coupons worth a decent amount of money. 
Not only that, but you can supposedly claim an iPhone 13 Pro worth $1299 once you collect 100 iPhone puzzles.
Now you understand why apps like BlackChip 21 go viral and attract thousands of players within weeks.
How Does BlackChip 21 Work? 
Installation 
BlackChip 21 is available for Android users worldwide. The app is free and has no hidden charges, so you don't risk losing money.
It's important to mention the developer can access photos, media and files on your phone. Check the permissions for more details.
Sign in Bonus
As soon as you launch BlackChip 21, you will receive an unrealistic bonus of $100. Just tap "Claim" and collect free cash!
They suggest you will get up to $500 just by signing in for 7 consecutive days. That's crazy!

How To Play BlackChip 21? 
Just move a chip in any position and try to match 3 same numbers to merge.
BlackChip 21 is a game similar to the popular Candy-Crush.
The major difference is that the discs will merge into a higher number chip. For example, when you put 3 chips '4' side by side, they will be replaced by a chip '5'.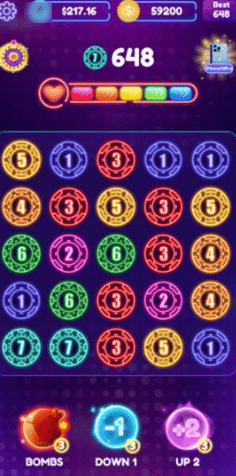 If you move a chip but fail to merge them, you will lose a heart.
The game is over if you consume 5 hearts, and they will entice you to watch a short video to continue playing.
However, you can just ignore the message and restart the game because you won't lose your cash balance.
BlackChip 21 also features the Lucky Spin, which allows you to collect more rewards, including iPhone Puzzles.
Just tap the spin button and watch the sponsored video to claim the prize.
Tired of fake money game that never pay? Click here to discover my top-rated reward platform! 
Earning Cash 
Whenever you merge chips, BlackChip 21 gives you 100 gold coins that can be redeemed for cash rewards.
You will need  680,000 coins to withdraw $100 via Amazon, Google Play, Xbox, Steam, Visa and Mastercard.

BlackChip 21 also dishes out cash coupons from time to time, but you must click the "Claim" button and watch the sponsored video.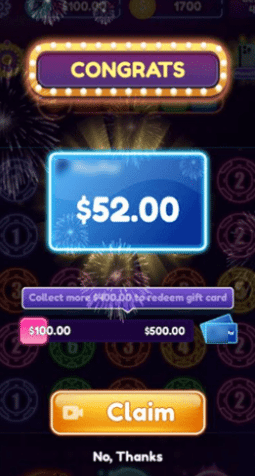 You may only withdraw the money when your cash balance reaches $500. 
Is BlackChip 21 Legit? Does It Pay? 
No, it doesn't pay. BlackChip 21 will never transfer the hundreds of dollars you accumulated in your account.

This reward platform is going viral! Cash out via PayPal, Visa, Gift Cards, and in-game currencies - Click here to find out how to generate an extra $10+ per day! 
The reason is that virtual cash has no monetary value, and the developer has no obligation to reward players.
Also, don't expect they will ship an iPhone 13 once you collect 100 puzzles.

Touch wood, but players are more likely to get struck by lightning than receive a single penny from this company.
Make no mistake. You will watch hundreds of videos and uninstall the app with no money to show for it.
You already know who benefits from this game. The only ones who are making consistent profits are the developers and advertisers.
Conlusion 
Don't be fooled by games that entice players with unrealistic cash rewards. There is no such thing as easy money! 
If you play BlackChip 21 you will waste not only time but also mobile data.
I want to warn you that this game will show you lots of advertisement about other fake money games.
These videos try to continue people they can become rich just by playing games. Don't install any of these apps because they are all fake!
If you already played BlackChip 21 and wasted time watching their videos, don't blame yourself.
Many people believe the opportunity because the application uses the PayPal logo to display earnings.
Don't worry. What's done is done, and now you can move on to better things!
Verdict: Not Recommended 
Earn A Full-Time Income Online
Imagine receiving commissions that amount to thousands of dollars per month!
Many people are working from home by providing valuable content that ranking on the top pages of Google.
In my opinion, building an online business is one of the best ways to make money. Seriously!
I don't have to deal with bosses, co-workers, customers and the stressful daily commute.
Not only that, I can set my own schedule and take as many days off as I want.
This excellent program showed me step-by-step how to set up an affiliate site and attract thousands of visitors.
Thanks to this training and helpful community created by Kyle and Carson, I was able to achieve my becoming a digital nomad.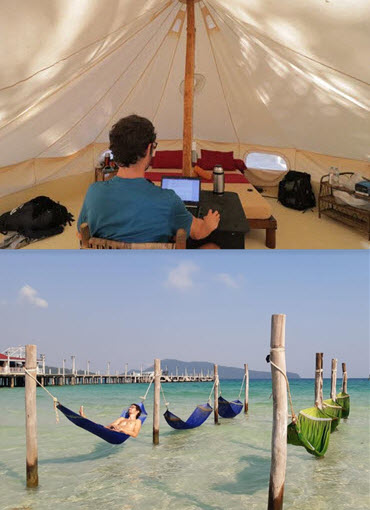 If you want to create a powerful source of online income, click here and start today! 

Final Words
Thank you for visiting my blog and reading my BlackChip 21 app review.
If you want to spread the word about this game or ask any question, feel free to use the comment section below.
Peace!