Welcome to my Candy Cube app review!
Candy Cube is being advertised as an opportunity to get rich just by playing a casual match-3 game.
In one of their advertisements, there is a woman encouraging everyone to install the application and win $500.
She shows her phone with a PayPal balance of 500 USD! Here are some screenshots of this unbelievable advert: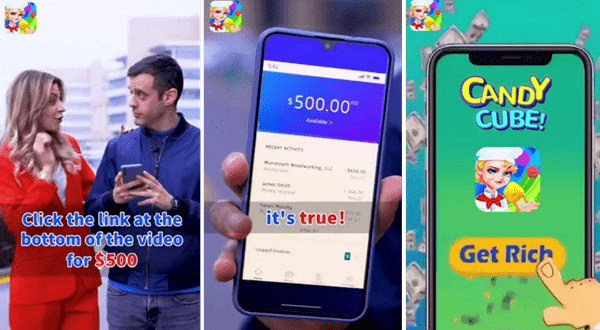 You are here because you deserve to know what will happen if you play this game and try to cash out.
Will the developer of Candy Cube pay you? Is it legit or fake? I am here to answer all your questions and save you a lot of time!
Before you leave, don't forget to check my recommended reward site. Members are making $200+ on the side by completing simple tasks. Cash out via PayPal and gift cards!
Candy Cube App Review
Name: Candy Cube
Developer: Togo Studio
Type: Puzzle
Eligibility: Worldwide (+18)
Price: Free
Overall Rating: 1/5
What Is Candy Cube?
Candy Cube is another block matching game that claims to pay you a decent amount of money. You just have to pass the level by eliminating cubes of the same color!
Each level has a specific goal, which must be achieved with the least number of steps.
Once you complete the level, you will get virtual dollars and stars depending on your performance.
Then, Candy Cube allows you to withdraw the money to your PayPal account once you meet all the conditions.
This game has been installed over 1 million times and rated 3.3 stars on Google Play.
Candy Cube is not an innovative app. So, you can easily find hundreds of similar games such as Cashman Blast, Lucky Blast and many others!
How Does Candy Cube Work? 
Installation 
Candy Cube is available on Google Play for Android users in all countries.
You don't need to sign up in order to play the game, but you should be aware of their permissions.
It says the app can read sensitive log data, which can put your privacy at risk depending on what kind of data they are collecting.
Also, only people over the age of 18 are eligible. If you are under 18 years old, you will need permission from your parents (guardians).

How to Play Candy Cube? 
The first step is to check the goal and try to eliminate the cubes using the least number of moves.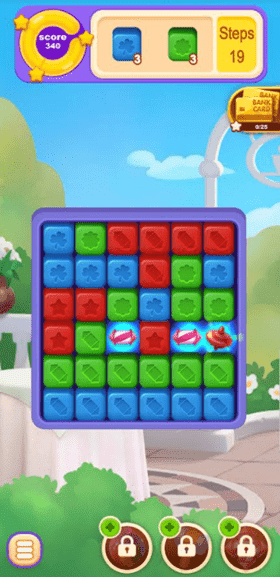 On the first level, the player should blast at least 3 blue and 3 green cubes.
Simply tap 2 or more blocks of the same color eliminate them. When you destroy 6 or more cubes, you will unlock boosters with the power to eliminate multiple cubes at once.
For example, a Bazooka can destroy all the cubes in a horizontal or vertical line.
As you achieve higher levels, you will unlock props that can make your work easier.
Candy Cube will show you a lengthy advertisement after each level, consuming a big chunk of your internet data.
Check out the top game apps to earn cash here!
Earning Cash Rewards
Once you eliminate all the cubes, you will receive the level reward worth a few cents of dollar.
You can always double your cash earnings by tapping the green "Double" button and watching the sponsored video.
You will also receive 1, 2 or 3 stars depending on how many moves you needed to achieve the goal.
How do You Get Paid? 
You can request a payout by tapping the golden "bank card" at the top and meeting all the conditions. 

Here are all the requirements for each cash prize:
$0.10 – cash out after accumulating 25 stars.
$0.50 – log in for 3 consecutive days.
$1 – Log in for 5 consecutive days.
$2 – Log in for 7 consecutive days.
$5 – Log in for 14 consecutive days.
$10 – Log in for 30 consecutive days.
$100 – Cash out after accumulating $100.
According to the app rule, the cash will enter your bank account within just 10 minutes after the withdrawal is successful.
Large amounts of cash will be reviewed reviewed within 1 – 3 working days.
Is Candy Cube Legit? Does it Pay? 
No, Candy Cube doesn't pay a single dime! I collected the first 25 stars and was able to enter my PayPal account to cash out $0.10.

This reward platform is going viral! Cash out via PayPal, Visa, Gift Cards, and in-game currencies - Click here to find out how to generate an extra $10+ per day! 
However, the company didn't transfer the money, so I headed over to Google Play to check the reviews.
The first reviews were all positive, but none of them were mentioning the cash rewards. Players think the game is relaxing and fun, but what about the money?

So, I scrolled down and finally started seeing the complaints and accusations.
Some people reported they didn't receive the money because Candy Cube updated the requirement to 550 stars.
Other players said their cash balance went back to $0 or stopped earning cash rewards before reaching $100.
Regardless of your experience with your cash balance, it's important to note it has no monetary value. 
I checked the User Agreement and found something that will infuriate many players.
It says you need to successfully invite 3 friends to withdraw the money. It's very confusing, but it also claims that you (or your friend?) must reach the amount of 50 yuan within 14 days.
They didn't mention anywhere on the game you would have to get 3 referrals to receive the money.
Those who don't take the time to read the TOS will never find out!
But you know what? it doesn't really matter because even if you invite 3 friends, you won't get paid. 
The reason is that the company has the ultimate right to interpret the gold coin reward, activity and withdrawal rules in the application.
Conclusion
Candy Cube is a complete joke of a game because it doesn't transfer the money as advertised.
They lure players into watching videos with the expectation of earning hundreds of dollars.
At the end of the day, only the developer is generating big profits with this game. The more videos you watch, the more money they make!
Don't waste your time and mobile data playing Candy Cube. They don't deserve to profit from your playtime.
Is There An Alternative To Candy Cube?
Toy Town gives you the chance to win over $3,000, but the odds of winning are very low. It's called Toy Town.
The good news is that you can save your tickets in the vaunt and exchange for cash. However, you can withdraw the money to PayPal once you have saved $10.
Nevertheless, you should not get your hopes high since many users don't receive the dollars.
How I Make REAL Money Online
I am not a big fan of completing simple tasks and playing games in return for very little money.
I'd rather grow my online business, which currently allows me to cover all my living expenses.

But money is not actually the best part. I love the freedom to open my laptop and work whenever I want without a boss to tell me what to do!
In short, I publish content for this website and make profits with affiliate marketing and advertisement.
You can use the same method to generate thousand of dollars per month if you attract a decent audience to your site.
It's not that difficult, but it will require some consistent work for sure!
This training program is helped me build and grow a lucrative online business since 2015!
I am sure it's still the best training platform for digital marketers. Click here to learn more! 
Final Words
Thanks for reading my Candy Cube app review. I hope it was helpful!
Have you played this game? If so, please share with us your thoughts in the comment box below.
Peace!