Welcome to my Hyper Crack app review!
The developer of Hyper Crack uses the most disgusting method to advertise a mobile game.
In one of the video ads, there is someone showing a box full of cash and the saying:
$3.977 in 1.5h playing this game
Then, it shows a simulation where the player earns over $1,000 in a blink of an eye and withdraws via PayPal and Cash App.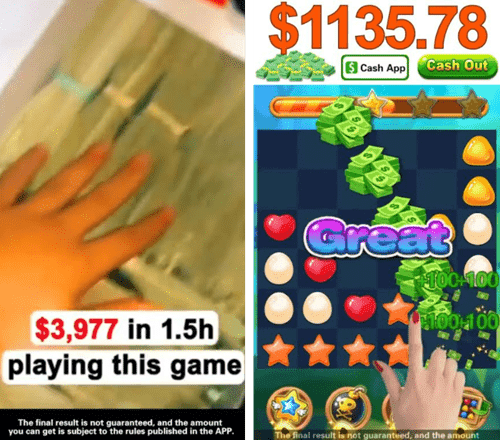 It seems too good to be true! That's why you are searching for information to make sure you won't waste your time.
So, can you really make free money with Hyper Crack? Is it legit or fake?
Let's find out!
Before you leave, don't miss out on my top-rated GPT site. Members are making $200+ on the side by completing quick surveys and offers. Cash out via PayPal and gift cards!
Hyper Crack App Review
Full Name: Hyper Crack
Developer: XIGAMEASY
Eligibility: Worldwide
Payout threshold: $1000
Price: Free
Overall Rating: 1/5
What Is Hyper Crack? 
Hyper Crack is a match-3 game when you tap identical items to eliminate them and collect virtual dollars. 
As you destroy the green banknotes, a decent amount of cash is added into your balance.
Once you clear the stage, you also have the chance to multiply your earnings and get other items.
For example, you can also earn puzzle pieces redeemable for skins on Roblox, League of Legends, Free fire, and other games!
Hyper Crack has been installed over 50,000 times and is becoming increasing popular.
That is because of its over-hyped commercial coupled with the fact that many people are struggling to pay their bills.
How Does Hyper Crack Work? 
Installation and Permissions 
You can start the game immediately after installing Hyper Crack on your Android device.
Before you do so, it's important to know the app can access to content in your USB storage.
It means the company can read, modify, and even delete your files. I don't think this kind of permission is justified for an app that doesn't require uploads.

How to Play Hyper Crack? 
Simply tap the identical items (patterns) until you clear the stage.
Whenever you eliminate banknotes, Hyper Crack will instantly deposit a few dollars in your virtual cash balance.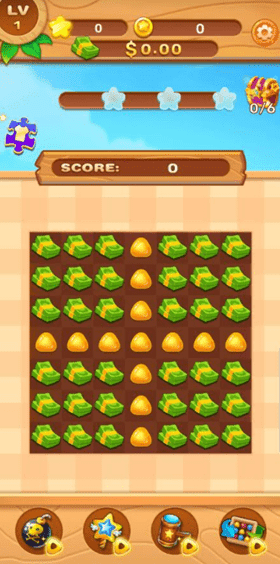 Once you complete the level, you can multiply your cash rewards by watching a sponsored video.
In addition, you will earn hammers, gold coins, and puzzle pieces.
Collecting 10 hammers will trigger the golden eggs game in which you can collect more rewards.
Every time you get a certain number of stars, you will trigger a treasure box game to earn lots of rewards.
Use the coins to purchase the following props:
Bomb: Blow up the selected pattern and all the patterns around 5×5.
Magic wand: the selected items will become US dollars.
Hammer: knock out the selected patterns.
Rearrange: click any item on the screen to rearrange and will link all the same patterns.
Earn Game Skins
Click the puzzle icon and choose 3 games.
The skins of the character for the specific game will appear randomly on the screen.
Collect the corresponding puzzles to obtain the skin.
After collecting 50 fragments, you will be prompted to enter your Player ID number.
Hyper Crack claims it will send your reward within 5 or 7 working days.

How do You Get Paid? 
You can only redeem once your cash balance reaches $1000. PayPal and Cash App are the two payments options available.
Is Hyper Crack Legit? Does it Pay? 
No, it doesn't. It would be very unrealistic to win $1000 just for playing a free casual game on your phone.
Hyper Crack will get you to jump through hoops and watch hundreds of videos. But unfortunately, you will never be able to withdraw the money!

This reward platform is going viral! Cash out via PayPal, Visa, Gift Cards, and in-game currencies - Click here to find out how to generate an extra $10+ per day! 
There are 3 likely outcomes for those why to reach $1000:
The game will probably crash before you get the chance to press the "cash out" button.
It can increase the minimum payout amount.
Your cash balance can vanish overnight!
One thing is certain: you will never receive $1000 in your PayPal or Cash app account.

Sure, Hyper Crack is fun and helps to pass the time. But if I am sure you can find similar match 3 games that are not wasting people's time, patience and mobile data!
Is There an Alternative to Hyper Crack? 
It would be great to find a casual game that actually paid users. There are many choices, especially the ones that pay Bitcoin.
Here is a similar game that will transfer BTC to your Coinbase account.
However, they are giving aways fractions of bitcoin (satoshi) worth very little money. 
In practice, you would have to play the game for a year to make $1 or $3 at best.
Therefore, you are much better off using loyalty apps where you can collect points for trying new games such as Mistplay and steeple.
There is an even better alternative if your focus is to make money online. You can get paid for completing app offers and surveys from a reputable GPT site like Prizerebel!
Some members are making over $200 per month with this platform thanks to their many offer walls and survey partners.
Conclusion
Hyper Crack provides fake dollars and uses the PayPal logo to lure players into watching countless videos.
It's impossible to receive the money, so you are just wasting your time while the developer gets richer.
Of course, because only the company can generate profits with the sponsored videos.
Avoid Hyper Crack and use other apps or sites to make money online. If you are sick of making pennies online, discover the strategy I use below.
Earn A Full-Time Income Online
Imagine making online commissions that cover all your living expenses!
Many people (me included) are working remotely just by publishing valuable content on the internet.
We don't have to sell/ship any product nor provide any type of service as a freelancer.
All we do is write articles that rank on Google and attract visitors all over the world searching for information.
In my humble opinion, building this type of online business is the best ways to make money. I am serious!
The main reason is that I don't have to deal with stressful bosses or customers yelling at my years!
Most importantly, I can set my own schedule and live long term at my holiday dream destination.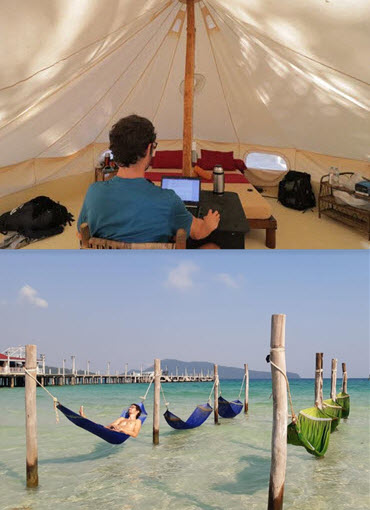 Growing my business while enjoying life in South East Asia
This excellent program showed me step-by-step how to set up an affiliate site and attract thousands of visitors per month.
If you want to create a powerful source of income from your laptop, click here and start today! 
Final Words
Thank you for visiting my blog and reading my Hyper Crack app review.
If you want to spread the word about this game or ask any question, leave us a comment below.
Peace!
Final Words