Welcome to my Go Jump app review!
I recently found Go Jump after watching a crazy advertisement saying I could make thousands of dollars.
The video makes some very unrealistic claims such as…
Sign in and get $99
Get $199 for free after 10 minutes of gameplay
Earn $299 for 1 day after logging in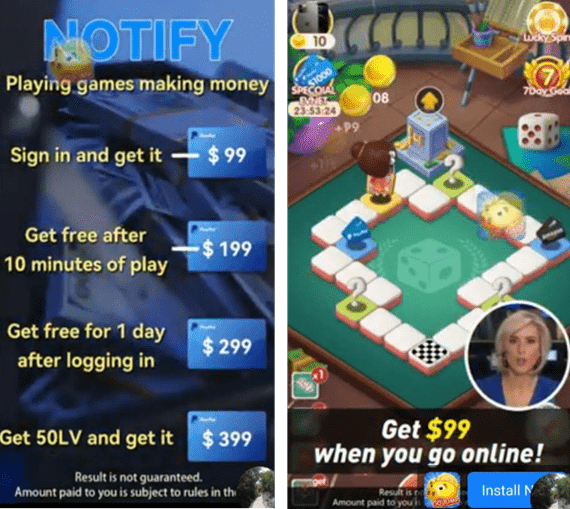 Then, it shows how to withdraw easy money directly via PayPal and many other payment methods.
Go Jump has gone viral during the last 2 weeks, attracting over 100,000 players worldwide.
With so many fake games out there, you need to make sure you are using a legit application that reward players for their time.
Promoting a game that supposedly transfer real money without actually paying is unacceptable.
So, can you really cash out with Go Jump? Is it real or fake? Let's find out!
Go Jump App Review
Name: Go Jump
Developer: LinkLvFeng
Eligibility: Worldwide
Payout Threshold: $1,000
Price: Free
Overall Rating: 1/5
What Is Go Jump? 
Go Jump is the classic board game that makes people believe they can win real money.
They give you virtual dollars after you throwing the dice and landing on virtual PayPal coupons.
Cash rewards are so high that you will reach $1,000 in less than 30 minutes of gameplay. It's just insane!
Playing Go Jump is free to play because it's entirely funded by advertisers!
How Does Go Jump Work? 
Installation 
Go Jump is available for Android devices in all countries where reward apps are legal.
By clicking "Permissions" on Google Play, you will find the developer can read, modify, and even delete content in your USB storage.
This actually concerns me because games like Go Jump don't need this kind of permission to operate.
Be Careful!
Once you launch the game, they show the PayPal logo and encourage you to fill in your withdrawal account.
This first page claims you will receive a $1000 PayPal card by playing the game.

There is a form to enter the information with two spaces. Unfortunately, some people will probably enter their PayPal email and password by mistake.
The reason I ask you to be careful is that the developers may collect the information you provide in that space.
And if you give your credentials, you are putting your PayPal account at risk. If you already submitted your password in that space, I urge you to log in to your account and change it asap!
How to Play Go Jump? 
All you have to do is tap the dice to move the character along the board according to the number you get.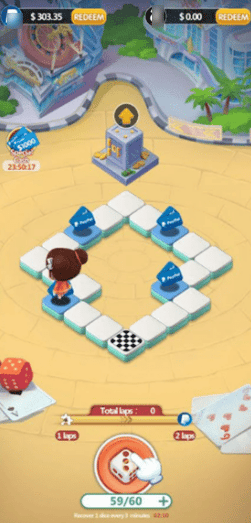 You start with 60 dices and a new one is recovered every 3 minutes.
Along the board, you will find PayPal and Amazon cards.
You will get excellent cash rewards whenever you land on these cards and watch the sponsored video.
There are also cards with the interrogation mark, which gives you the chance to open 4 cards and win more rewards!
Win puzzle pieces by flipping the 4 cards. You can supposedly claim an iPhone 13 once you collect 120 fragments.
But if you think the prize bonanza is over, you are dead wrong!
Check in for 3 consecutive days to redeem an Apple watch series 7 for free! Choose your styles and fill in your delivery address.
There are a lot more opportunities to win rewards such as the Sign in, Lucky Spin, Fruit Machine and Turntable.

I could write a book about Go Jump, but I will cut to the chase and answer the most important questions.
Is Go Jump Legit? Does it Pay?
No, it doesn't! There is no chance you will receive payments or gifts from the Go Jump app.
Once you get to $1,000 and try to cash out, you will need to watch 5 videos.
Many people watch them because it still feels like free money!

This reward platform is going viral! Cash out via PayPal, Visa, Gift Cards, and in-game currencies - Click here to find out how to generate an extra $10+ per day! 
If you comply, your order will stay under review and they ask players to watch another 30 videos within 24 hours.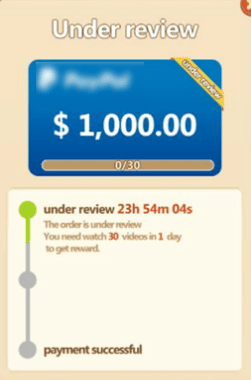 You are thinking this has gone too far, but trust me, more videos will be required! 
Unfortunately, many people believe they will eventually get paid and will do whatever it takes to cash out.
But make no mistake, Go Jump doesn't pay a dime even if you meet all the video requirements.
The number of negative reviews on Google Play is eye-opening, and I feel sorry for everyone who fell for this game.
Conclusion 
Go Jump is falsely advertised as an opportunity to make at least $1,000. You will never see the money in your PayPal account!
Therefore, it's just an illusion to get players to watch endless adverts that fill up the developer's pockets.
Don't waste your time playing Go Jump or any other game that supposedly makes you rich in a short time.
Verdict: Not Recommended
Final Words
If you want to create a reliable source of income from home, click here and check out my top recommendation
Thank you for visiting my blog and reading my Go Jump app review.
If you want to share your thoughts about this game or ask any question, leave us a comment below.
Peace!