Welcome to my Bitcoin Wrecking Ball app review!
I was using another application when a commercial about Bitcoin Wrecking Ball popped up on my screen.
In this video, the advertiser claims you can earn $600 per day worth of BTC just by playing the game for a few minutes.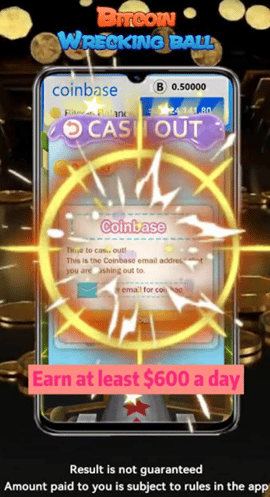 This outrageous amount of Bitcoin can be withdrawn into your Coinbase account. They also display the PayPal and PicPay logo, suggesting that you may also redeem cash rewards.
You are here because you don't want to play a game that will take you for a fool.
So, is Bitcoin Wrecking Ball legit or fake? Will they pay you or just make you watch countless videos for nothing? Let's find out!
Don't forget to check out the best gpt (get-paid-to) site where members are making $300+ on the side by completing simple tasks. Easily cash out via PayPal and gift cards. 100% Legit!
Bitcoin Wrecking Ball App Review
Name: Bitcoin Wrecking Ball
Developer: BBYV
Availability: Worldwide
Minimum payout: $0.50
Overall Rating:

1/5
What Is Bitcoin Wrecking Ball?

This reward platform is going viral! Cash out via PayPal, Visa, Gift Cards, and in-game currencies - Click here to find out how to generate an extra $10+ per day! 
Bitcoin Wrecking Ball is a 3D game where you collect points by shooting cubes and supposedly exchanging them for Bitcoins.
The developer promotes the game as if the player could win large amounts of Bitcoin.
However, the currency you get when you complete the level doesn't actually represent the actual amount of BTC.
Instead, they give you points worth USDT, which stands for Tether, a stablecoin with the price of $1 U.S. dollars.
How Does Bitcoin Wrecking Ball Work? 
Bitcoin Wrecking Ball is available on the Play Store for Android users.
Upon launching the game, they will receive a message saying you will get USDT by using the Bityy account.
You can sign in with your Facebook or continue as a guest.
Just tap where you want to throw the ball and knock down all the objects off the platform.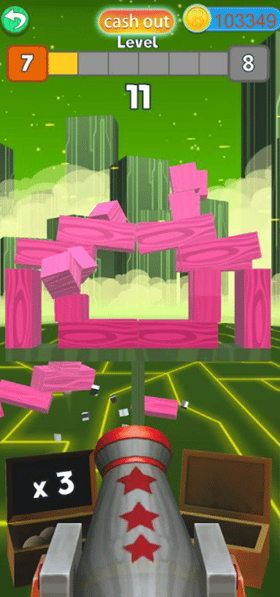 You need to complete the objective before running out of balls.
What I like about this game is that its mechanics are very realistic and addictive! I must confess that I found it hard to stop playing!
Once you succeed 6 times, you will complete the level and receive 4 lucky cards. Tap the card and watch the video to earn points worth $15.
Open all of them to claim the big treasure chest.
Earning Crypto
It's important to notice that your BTC balance does not reflect the real value since 10000 equals 10 USDT in the game.
They are giving 4 lucky cards with over 15,000 points or 15 USDT every time you complete the level.
Since 1 USDT is equivalent to 1 U.S. Dollar, they are suggesting you will earn 15 U.S. Dollars per level, which is insane!
How do You Get Paid? 
Bitcoin Wrecking Ball allows you to cash out by entering the email linked to your Coinbase account.
I checked the Coinbase website and they do accept USDT on the Ethereum blockchain. 
However, when you press the cash out button, it keeps saying the first withdrawal can only withdraw 0.01 USDT.

Is Bitcoin Wrecking Ball Legit? Does it Pay? 
No, you won't receive the amount USDT that you hold in your account. The rewards are definitely fake since they won't let you redeem!
Every time you try to withdraw, they say the minimum is 0.01 USDT and nothing happens!
Despite watching hundreds of videos and collect thousands of dollars, you won't receive your payment.
Bitcoin Wrecking Ball is just another game for the developer to make profits off of your time.
They entice the player with misleading advertising, but right at the bottom, there is a small print that says:
"Result is not guaranteed. Amount paid to you is subject to rules in the app."
What if no one gets paid? Are they allowed to promote the game as an opportunity to make lots of money and not pay any player?
I doubt the small print would be enough to bypass advertising regulations in many countries.
Conclusion

It's impossible to earn real crypto with Bitcoin Wrecking Ball, so I advise you to uninstall the app unless you enjoy it.
The game is great! It has excellent 3D graphics with realistic mechanics, but the developer will not pay you.
There is another identical game on the Play Store called Bitcoin Shooting Ball. This one also claims to pay, but it doesn't!
So, don't bother searching for alternatives because none of them will transfer the funds to your Coinbase account.
If you want to get real Bitcoin by playing games, try one or more Bling Games, such as Sweet Bitcoin and Bitcoin Pop.
They are 100% legit and always transfer BTC to your Coinbase account. The downside is that they will pay you 1 cents or fractions of a cent per level. So, it takes ages to earn even a dollar!
How I Make REAL Money Online
I was never a big fan of earning pennies for doing easy tasks on the internet. I always felt like I was undervaluing my time just to make other people rich.
It's not a good feeling when you know someone is making a lot more money than you just because they are recruiting people to do the job!
That's why I set up my own online business to have more control over my earnings.
Thanks to this step-by-step program, I created a website, achieved high rankings on Google and quit my job in 2019.
I really enjoy working as an online entrepreneur because I get the chance to travel the world while making money wherever I go.
In short, I publish articles for this site and earn affiliate commissions!
If you want to learn more about how you can grow this type of business and succeed, check out my top recommendation here. 
Final Words
Thanks for reading my Bitcoin Wrecking Ball app review. I hope it was helpful!
So, did you play this game? If so, share your thoughts about it in the comment box below.
Peace!