Welcome to my Bitcoin Run App review!
Bitcoin Run is a casual game that supposedly rewards users for just for deflecting the obstacles with the coins.
I found this game as a recommendation after searching for this game that claims to transfer $600 per day. 
Bitcoin Run is another application that entices players with the possibility of winning Tether (USDT), a cryptocurrency with the same value of a dollar.
Not only that, you can also exchange USDT for the sought after iPhone 13!
You are reading this page because need to find out whether Bitcoin Run will pay you or not. Is it legit? Let's find out!
Don't forget to check out the best gpt site where you can make hundreds of dollars just by completing simple tasks. Easily cash out via PayPal and gift cards. 100% Legit!
Bitcoin Run App Review
Name: Bitcoin Run
Developer: Roth Company
Availability: Worldwide
Minimum payout: $0.01
Overall Rating: 1/5
What Is Bitcoin Run?
Bitcoin Run is a nice 3D game where you collect Bitcool points while moving the coin along the path.
The developer gets people's attention by claiming they can cash out via USDT (Tether), which has the same price of the U.S. dollar.
This game is a lot more convincing than others that promise to pay hundreds of dollars.
The reason is that you will get 1 or 2 cents worth of USDT per level, which seems plausible!
However, due to teh sheer number of deceitful application on the Play Store, I feel naturally skeptical.
How Does Bitcoin Run Work? 
Bitcoin Run is available in the Play Store and is completely free!
Upon launching the game, they will tell you to use the same account for all Bitcool games and log in with your Facebook account. But you may also continue as a guest if you wish.
Just swipe gently left or right to direct the coin along the path full of obstacles.
As you move along the path, you must collide with other golden coins to earn Bitcool points.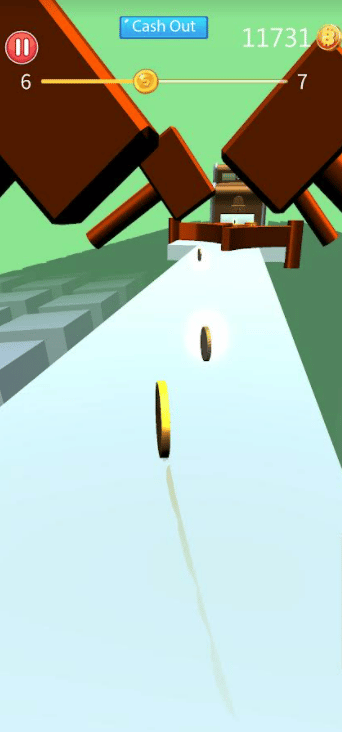 The good news is that these points are credited to your account even if you fail to reach the finish line.
However, you will need to watch an advertisement until the end to continue.

The control is very sensitive, so it can struggle to collect the coins and complete the level. But with practice, you can make it!
Earning Crypto
It's important to notice that Bitcoon points are not the same as the amount of Bitcoin, even though your balance is represented by ₿.
The company claims that 10,000 points are worth 0.01 USDT, which has the same price as the U.S. Dollar.
How do You Get Paid? 
When you click the "Cash Out" button right at the top, it states the total amount of dollars that you have.
You reach 10,000 points ($0.01), you can enter your Coinbase email to request the payment.
If you don't have one, you must click the button "Create a Coinbase account".
Is Bitcoin Run Legit? Does it Pay? 
Bitcoin Run pays your first 0.01 USDT, but if you want to earn more, you must watch hundreds of videos and even invite friends.
Still, there is no guarantee that you will receive the payment to your Coinbase account.
When I tried to withdraw for the second time, it keeps saying the first withdrawal can only be accomplished at 10000 Bitcool points.
So, I suspect they won't even let me try and earn more than $0.01.

The developers are earning a lot more than you are because of all the sponsored videos they make you watch.
It's definitely not worth playing Bitcoin Run with the expectation of earning a decent amount of money.
The game is fun enough to play even if you are not receiving payouts, though.
But if you just installed Bitcoin Run to earn easy BTC, you will be very disappointed.
Conclusion 

This reward platform is going viral! Cash out via PayPal, Visa, Gift Cards, and in-game currencies - Click here to find out how to generate an extra $10+ per day! 
I like the game itself, but the fact that you have to watch an advert every time you complete the level or fail is annoying.
I don't recommend this game if you are just playing in hopes to cash out a decent amount of BTC.

You will probably receive $0.01 and nothing else! I don't think 1 cent will make much of a difference in anyone's life.
In my opinion, the first reward is only a bait to raise people's expectations and get them to play for much longer!
But you should not expect to earn more than 1 cent worth of USDT.
Final Words
Thanks for visiting my blog and reading my Bitcoin Run app review. I hope it was helpful!
So, did receive your first reward? How about the other requirements? Please let us know your story in the comment box below.
Peace!