Welcome to my Diamond Slots app review!
Perhaps you saw an advert enticing you to click the link at the bottom of the video for $500.
The guy shows his smartphone with $500 to make you feel envious and willing to do whatever it takes to replicate his achievement.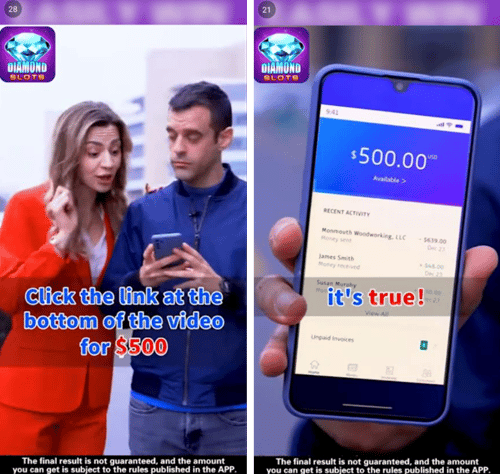 Then, the woman in the red dress ends the video by saying that if you won't believe her, you will lose a lot.
They go the extra mile to convince you it's possible to make lots of money and get rich with this game.
But unfortunately, most people don't realize the small print that says the result is not guaranteed.
You don't want to spend hours activating this virtual slot machine and complete endless tasks for nothing. So, is Diamond Slots legit? Does it pay or not? Let's find out!
Don't forget to check out the #1 reward site here. You can make hundreds of dollars just by completing simple tasks. Then, quickly cash out via PayPal and gift cards. 100% Legit!
Diamond Slots App Review
Name: Diamond Slots
Developer: Vovfire51
Availability: Worldwide
Type: Entertainment with no financial risk
Price: 100% free to play
Overall Rating: 1/5
What Is Diamond Slots?
Diamond is a slot machine game that allows you to win excellent rewards if you meet certain conditions.
The developer claims you can cash out if you reach at least level 5 or accumulate $500.
You can also earn diamonds redeemable for awesome gifts such as a MacBook Pro, a PS5, an iPhone 13, and more!
To collect virtual items, tap the Spin button or the floating Amazon card. Then, watch the video until the end to claim the reward.
Diamond Slots is entirely free, so you won't put your hard-earned money at risk. That explains why so many people get hooked on such apps!
How Does Diamond Slots Work?
Diamond Slots is available in the Play Store for Android users in all countries.
They claim you can get different amounts of cash according to your game level after three days.
To consume the coins, you need to tap "Spin" and level up. Every time you activate the slots, your level bar increases and your level goes up once it's complete.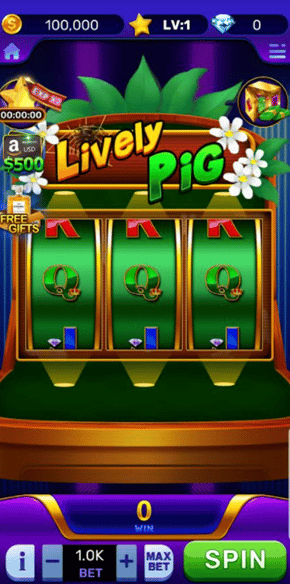 Whenever you match 3 symbols in the 3-reel slot machine, you will earn more coins or trigger the lucky wheel to collect more rewards.

By activating the wheel, you have the chance to win coins or diamonds. In the end, Diamond Slots allows you to spin the wheel again if you play the short video.
Sometimes, you will see the balloon with free coins. Then, tap the balloon, watch the video and collect a considerable number of coins.
Just bear in mind that you cannot exchange coins for real prizes. The following section will explain how you can cash out using Diamond Slots, which doesn't mean you will get paid.
Earning Rewards
There are only 3 ways to win prizes with Diamond Slots.
The first one I already mentioned in this article. You can redeem cash rewards after the first 3 days if you complete a specific number of levels.
$5: Level 5
$100: Level 10
$500: Level 20
$1000: Level 50
$5000: Level 100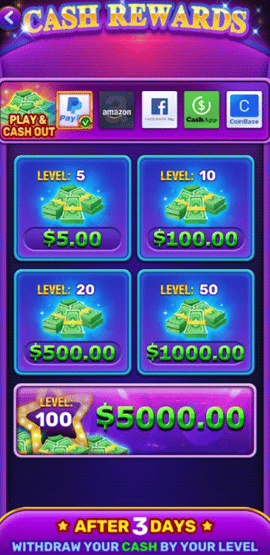 Select from 5 popular payment methods: PayPal, Amazon, Facebook Pay, Cash App, and Coinbase.
The other option is to collect Amazon coupons that appear in inside bubbles on your screen.
You need to tap the bubble and watch the video to collect the money. However, you can only cash out after reaching $500, which will take ages!
Diamonds can be used to redeem excellent prizes such as the iPhone 13, Nintendo Switch, Kindle, PlayStation 5, and more!
For example, you need 80,000 diamonds to claim the iPhone 13.
Is Diamond Slots Legit? Does it Pay? 

No, it doesn't! You will not collect any money no matter how many levels you reach or what videos you watch.
It will take forever to earn $500 worth of Amazons because the rewards drop significantly as you get closer to the payout threshold.
But every time you reach the target, they add more requirements in a never-ending circle.
One user said when she tried to cash out $500, Diamonds Slots told her to accumulate 100 million coins. Then, she had to complete more missions!
Someone reported that when she reached $494, Diamond Slots didn't let her watch more videos to collect more cash.
Another person got to level 345 and couldn't cash out since she was stuck at $499!

This reward platform is going viral! Cash out via PayPal, Visa, Gift Cards, and in-game currencies - Click here to find out how to generate an extra $10+ per day! 
These are just a few examples, but I noticed different issues that prevent people from receiving the money.

Conclusion 
Don't expect to receive any money or prize from Diamond Slots. It's another game developed with only the developer's pockets in mind.
Thousands of people are playing Diamond Slots to earn real money, as the advertisement suggests, but it's all an illusion.
You will spin thousands of times and watch hundreds of videos only to realize this is not a money-making application.
I am sure many people feel extremely frustrated and cheated after playing this game for hours.
The way the developer advertises and operates his app is wrong on so many levels. Therefore, it should not be allowed on Google Play.
There are countless fake slots game such as Frenzy Slot and Happy Farm Slots.
Don't believe you will win real money just by playing free slots in the comfort of your home and without putting your money at risk.
Verdict: Not Recommended
Final Words
Thanks for reading my Diamond Slots app review. I hope it was helpful!
If you want to share your results and opinions about this game, feel free to leave us a comment below.
Peace!