Welcome to my Frenzy Slot app review!
The developers of Frenzy Slot are promoting their application as an opportunity to win real money.
They guarantee you will get paid every 24 hours via PayPal and Amazon gift cards.
The game comprises a classic slot machine, which you can activate as many times as you want. The best part is that it's completely free!!
It encourages you to press the "spin" button and collect at least $1000 in order to cash out.
I already reviewed a couple of slots games that don't transfer any money despite all the conditions are met.
In fact, Slots of Happy is identical to Frenzy Slot and is also operated by AlwaysWin.
You don't want to spend hours on this game only to find out it's fake. So, will Frenzy Slot transfer the money? Is it legit or not?
Let's find out!
Top recommendation: This step-by-step program helped me achieve 2,000 US Dollars per month and quit my job in 2019. Free membership is only available here!
Frenzy Slot App Review
Full Name: Frenzy Slot
Developer: AlwaysWin
Type: Entertainment with no financial risk
Payout Threshold: $1,000
Price: Free
Overall Rating: 1/5
What Is Frenzy Slot?
Frenzy Slot is a free mobile game that supposedly allows you to play slots and win real money.
You get virtual items just by tapping the spin button, matching specific symbols and watching videos.
The game profits by displaying videos that advertise other unrealistic money-making games.
They enticed you to watch these videos by giving the opportunity to claim rewards and get extra spins.
Frenzy Slot has been installed over 100,000 times and rated 4.4 out of 5. It seems great until you scroll down to the review section and start reading.
How Does Slots For Happy Work?
Installation
Frenzy Slot is available worldwide for your Android users. There are no in-app purchases in order to access the game and activate the slot machine, so you are not risking your money.
Getting Started
After launching the game, they ask you to confirm that you agree with their Privacy Policy. Click the link, read the document and select "Yes".
Right off the bat, I noticed Frenzy Slot has no User Agreement, which proves the developers are not bound to any rule.

You should not trust any application or website that doesn't provide the Terms of Service.
Get paid real money for simple online tasks. Click here and join Prizerebel for free!
How to Play Frenzy Slot?
After accepting the Privacy Policy, you will see a PayPal card with $1000 and the saying:
"Collect $1,000 to collect PayPal card."
Also, there is a countdown that implies that you need to reach the target in 24 hours.
Just tap the spin button to trigger the 3-reel slot machine and cross the finger.
You will start the day with 10 free spins, but you get one every 2 minutes. You can also watch a video in exchange for 10 extra spins.
If you match 3 symbols, you will earn the corresponding virtual item or bonus. In the beginning, it's easy to match 3 PayPal logos and collect $70 – $90.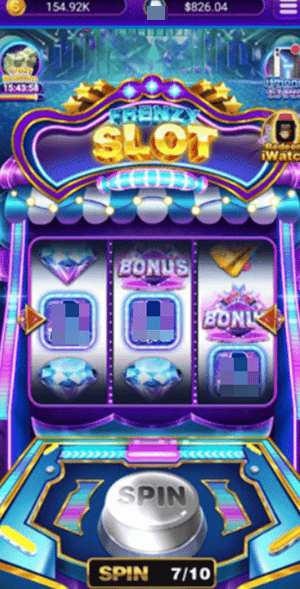 You can also win gold, Amazon cards, diamonds, bells and golden coupons. In the next section, you will find how you can supposedly redeem cash rewards with these tokens.
There are so Many Rewards!
As you already know, you can collect many distinct items by playing Frenzy Slot.
The first thing you will notice is that you can't cash out until you reach $1000. You need this amount to redeem via PayPal.

However, you can also redeem a $1000 gift card by collecting a specific number of tokens. Here is the full list:
Gold – 900k
Amazon card – 100
Diamonds – 100
Golden Coupons – 100
Bells – 100
Choose one from 6 gift cards including Amazon, Visa, Steam, Google Play, PlayStation and Xbox.
Do you think the prize bonanza is over? You can also exchange 300 puzzle pieces for an iPhone 13 pro, and if you check in for 3 days, you can redeem an iWhatch.
How generous! Now let's see if everything is real or fake!
Is Frenzy Slot Legit? Does It Pay?

This reward platform is going viral! Cash out via PayPal, Visa, Gift Cards, and in-game currencies - Click here to find out how to generate an extra $10+ per day! 
No, it doesn't. Unfortunately, the rewards you see in this game are just illusion.
Frenzy Slot is not different from other fake money apps that profits off of users watching videos.

Matching 3 PayPal symbols is easy in the beginning, but it gets more difficult to match as you get closer to $1000. That's proof that the slots are rigged!
After you get to payout threshold and try to redeem, Frenzy Slot will put your order under review until you watch 10 videos.
However, this is just the tip of the iceberg as they will ask for 200 more videos and eventually put you on a waiting list.
One person expressed his frustration after completing many requirements and seeing the game reset the next morning.
Well, this is just one review, but if you visit the Play Store, you will stay all day reading complaints after complaints.
Unfortunately, the developer won't reimburse all the time he lost watching countless commercials.
The developer gets paid off how many videos you watch, which explains why this is a trap.
Conclusion
Frenzy Slots is seducing the player with virtual cash rewards and iPhones 13 to get them to watch videos.
Don't waste your time and data jumping through hoops with the expectation to cash out. You won't get paid!
There is no real money to be made with this game and is not even fun to play.
Verdict: Not Recommended
Earn A Full-Time Income Online
You can make thousands of dollars from your laptop by creating a website and providing content.
That's what I did back in 2015 with no regrets. In fact, I feel lucky to have found this opportunity and grabbing it with both hands.
The good news is that this strategy still works in 2022 and it's only getting better!
If you want to get started, you only need a computer with an internet connection and a strong desire to succeed.
This step-by-step program helped me set up the site and attract thousands of visitors per day.
Thanks God it allowed me to quit the dreadful 9-5 routine and travel to many countries ever since.
Does this lifestyle appeals to you? If so, click here to learn more!
Final Words
Thank you so much for reading my Frenzy Slot app review until the end. I hope it was informative enough!
Kindly share your experience playing this game in the comment box below. See you in the next post!

Peace!