Welcome to my Sparkle Tree app review!
Sparkle Tree is another game where you have to tap your screen to earn money.
The commercial seduces the global audience by saying the player can win $200 by playing for just 3 hours.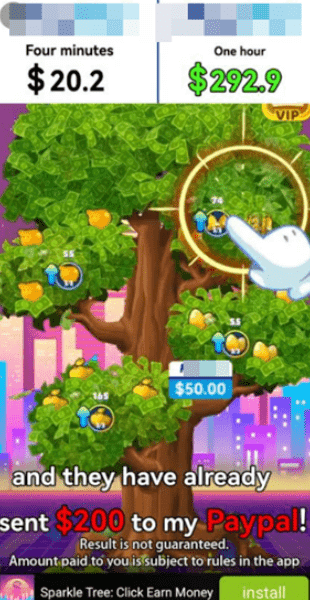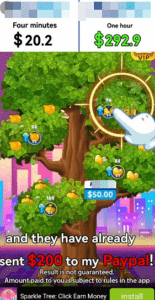 As usual, they are using the PayPal logo to suggest the developer will pay you using this popular payment platform.
What's more, they promise Sparkle Tree has no advertisement, and you can play for free!
I am writing this blog to warn people that this game may waste your time and leave you empty-handed after hours of gameplay.
So, is Sparkle Tree legit or fake? Will they pay you? Let's find out!
Top recommendation: This excellent program helped me generate over 2,000 US Dollars per month online and quit my job for good in 2019. You can replicate my results by joining the Free membership here! 
Sparkle Tree Review
Full Name: Sparkle Tree
Developer: libluceabc
Payout Threshold: $1000
Price: Free (VIP = £5.99/week)
Overall Rating: 1/5
What Is Sparkle Tree?
Sparkle Tree is the classic "get-rich-quick" simulation in which you tap the money tree to collect cash rewards.
The developer claims that you can withdraw the money via PayPal if you collect $1000 (US) or £704.10. I am talking about real money!
By tapping the money tree, you will drop PayPal coupons and diamonds.
You will also get puzzle pieces to share the massive bonus pool of £700,000 with users worldwide.
Sparkle Tree is free to play, but it has a VIP function for players who want to avoid advertisements. To become a gold member, you must subscribe and pay £5.99 per week.
How Does Sparkle Tree Work?
Sparkle Tree profits off of every video you watch on your phone.
They advertise the game as if you didn't have to watch the adverts, but in reality, only Gold members are free from them.
If you play the free version, they will ask you to click the "get Button" and watch the video. Otherwise, you won't receive the reward.
Many legit apps pays you to play games on your phone. Check out my complete list here!

How to Play Sparkle Tree?
Tap continuously on the money tree to collect green dollars and press "grow" to upgrade.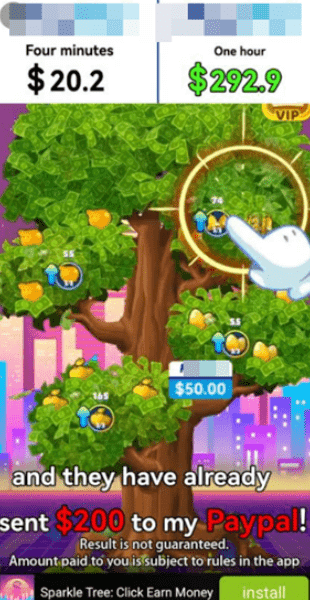 Higher levels generate more green banknotes per tap, but leveling up gets more expensive over time.
It's a very tedious game because of the simplistic gameplay and frequent interruptions.
As you shake the tree, PayPal cards and diamonds eventually fall from it, triggering the corresponding reward.
You can watch the video to collect the item or close the window to skip the video. But then you will miss the prize.
When you upgrade your tree to level 3, it will generate banknotes on autopilot until a certain amount. Then, just tap the PayPal bubbles to collect them.
Also, you will supposedly share the bonus pool of £700,000 with over 100,000 users if you complete the puzzle.
You can buy pieces for £1.79 or watch videos to collect random fragments.
Sparkle Tree also features Scratch cards to receive even more cash rewards. But when you try to take part, it says you need to invest £4.39.
How do You Get Paid?
Players cannot cash out until their virtual PayPal balance reaches £704.10 or $1000.
68000 diamonds can be converted for £140.82 and withdrawn into your PayPal account.
Although Sparkle Tree gives you all these options to make money, the TOS does not mention the possibility of cashing out. This is a big red flag!

Is Sparkle Tree Legit? Does it Pay?
No, it doesn't! So forget about making real money with Sparkle Tree because the rewards are fake.
Do you expect to receive thousands of dollars from your favorite TV channel just because you are watching their commercials?
Of course not! If a famous TV show won't pay you? Why do you expect an unknown developer to do so?
Just because he shows dollar signs and PayPal logos on the screen doesn't mean it's real.

This reward platform is going viral! Cash out via PayPal, Visa, Gift Cards, and in-game currencies - Click here to find out how to generate an extra $10+ per day! 
It will take just a few minutes to reach $1000!
But once you reach the payout threshold and enter your email address, surprise, surprise!

They will update the cash-out requirement and state that you must watch 34 videos to activate the order.
There is a countdown to complete this task, but I advise you not to proceed since you won't get a penny.
Most people give Sparkle Tree a good rating, but that is because the developer asks players to rate the game right after they request the payment.
As expected, many people give it five stars since they don't know what awaits them.
However, if you check the reviews on Google Play, you see no one received the money as advertised.
Conclusion
Sparkle Tree won't transfer the funds to your PayPal account even if you complete all their requirements.
The cash reward is an illusion to lure players into watching countless videos. That's how the developer maximizes profits!
This type of game should not be allowed in the Play Store since they frustrate millions of people worldwide.
Many people are in a delicate situation and need real money to pay their bills. They don't deserve to spend all day playing a game with the false expectation of winning cash rewards.
Final Words
Thanks for reading my Sparkle Tree app review!
I hope this post helps you realize you are just helping the developer get richer by watching the commercials.
Uninstall the game to avoid more disappointment unless you enjoy growing a virtual money tree.
Kindly share your thoughts about Sparkle Tree in the comment box below.
Peace!