Welcome to my Pop Pop Zumba app review
The developer of Pop Pop Zumba has jumped on the bandwagon by offering unrealistic cash rewards to players.
In one of his advertisement, a woman claims that you can win 200 USD!
Then it shows a PayPal balance with 3 payments of $50, $50 and $100. Here is a screenshot that proves how they are promoting this application: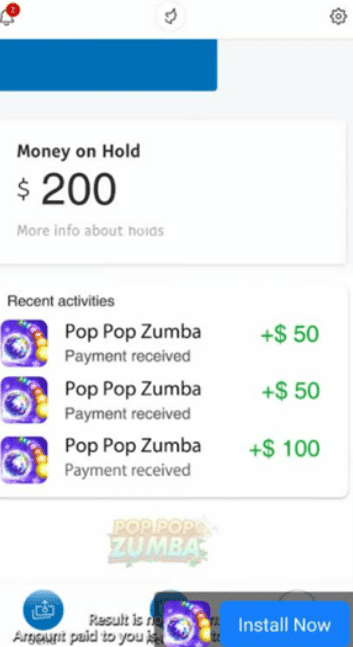 Many people come to my blog in search of honest reviews about the so-called money games.
A significant part of my audience is struggling to pay rent, food and even medical bills.
So, they are lured into installing these apps with high hopes of making an extra income and save the day.
You are here because you suspect that Pop Pop Zumba is fake and won't pay you. In this post, I will answer all your questions about this app.
Top recommendation: This step-by-step program helped me achieve 2,000 US Dollars per month and quit my job in 2019. Free membership is only available here!
Pop Pop Zumba App Review
Full Name: Pop Pop Zumba
Developer: Krikarcher
Payout Threshold: $200
Price: Free (VIP Membership – £5.99/week)
Overall Rating: 1/5
What Is Pop Pop Zumba?
Pop Pop Zumba is a puzzle game in which you supposedly earn cash rewards by merging gems. It reminds me of this marble shooting games.
The developer claims that if you collect $200, you can withdraw the money via PayPal.
You can also enjoy a 50% discount on an iPhone 13, a MacBook Pro and an Apple iPad after collecting enough puzzle pieces.
Pop Pop Zumba has been installed over 100,000 people worldwide and rated 4.8 stars out of 5.
However, you should not assume that most users are having a great experience and making real money.
How Does Pop Pop Zumba Work?
Pop Pop Zumba is available on Google Play for Android devices.
The app generates revenue by displaying sponsored videos, especially after you try to collect the reward.
They try to convince you they will transfer $200 to your PayPal account once you reach the target.
As a result, the player will stick to the game for longer and maximize profits for Advertisers.

How to Play Pop Pop Zumba?
When you launch the game, you will see a gem in the middle and a circle.
Tap the screen to shoot the gem somewhere in the circle where it will stick.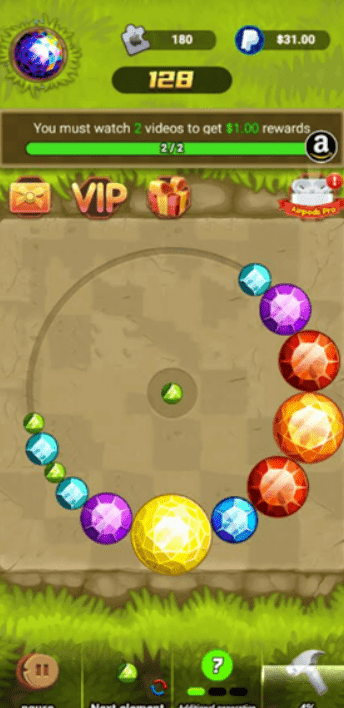 Whenever you place two identical gems side by side, they will merge into a bigger gem of different color.
The challenge is to keep merging gems and always open more space to match.
The game is over when you cannot place more gems in the circle.
Collecting Rewards
As you destroy the gems, Pop Pop Zumba will release PayPal and puzzle bubbles.
The PayPal bubble will give you virtual dollars once you tap the button "Earn Rewards" and watch the sponsored video.
There is another button that allows you to receive the money directly. However, you must become a VIP member to skip the advert.
With the puzzle bubble, you will collect iPhone, MacBook and iPad fragments.
The game claims that you will enjoy 50% discount on these products if you collect enough of these puzzle pieces.

At the top of the screen, it says you must watch only 2 videos to get a $1 Amazon voucher. There are even higher cash rewards if you meet other conditions before the countdown.
If all this wasn't good enough, Pop Pop Zumba entices you with Airpods Pro worth $249 if you check in for 3 consecutive days.
VIP Membership
By activating the VIP function, you will be able to remove adverts, get 20 lucky coins daily and activate VIP order.
The VIP membership costs £5.99 per week, and you can activate VIP for life once you invite 100 real users.

This reward platform is going viral! Cash out via PayPal, Visa, Gift Cards, and in-game currencies - Click here to find out how to generate an extra $10+ per day! 
How do You Get Paid?
Request the payment as soon as you reach $200, but there are even higher payments of up to $800.
The iPhone 13, MacBook Pro and iPods can be redeemed once you collect 1000, 2000, and 1500 fragments, respectively.

Is Pop Pop Zumba Legit? Does it Pay?
No, it doesn't! Pop Pop Zumba is not a real money-making app since the rewards don't fit their business model.
The app doesn't generate enough revenue to provide such generous prizes to so many players. So, you won't get paid, and you won't receive any Apple product!
When you reach $200 and try to cash out, they update the requirement and ask you to watch 18 videos to activate the order.
As the saying goes, "There is nothing new under the sun!". I have reviewed hundreds of games using the same tactic to maximize video views and, as a result, profits.
Don't proceed since they will update the page and get you to watch even more videos for nothing!
Some people report that after collecting enough puzzles, they were told they had to pay for shipping the product. But make no mistake, you will lose your money!
Now, I want to warn people who entered their information in the payment form.
They don't ask you to enter your PayPal email. Instead, they seem to confuse people by saying they must enter the payment information.
What information? With no clear instructions, people may enter their PayPal email, password and even bank details. This is very dangerous!
When you enter the crazy withdrawal section and tap "Redemption", it says "Sending failed", please re-enter. But you cannot withdraw your Amazon gift card!
Conclusion
Pop Pop Zumba doesn't transfer money to players who reach complete their "tasks".
The developer goes the extra mile to maximize profits at the expense of people's time and even money.
They not only generate revenue by displaying videos, but also by selling VIP memberships and asking people to pay for shipping.
It doesn't even provide the User Agreement about the rewards, which is enough evidence they don't exist.
If you are trying to make some money online, avoid Pop Pop Zumba at all costs!
My Recommendations
You are much better off joining a GPT platform and completing simple tasks. It doesn't pay much, but at least you can cash out $5 by completing a handful of surveys or offers. Fair enough!
But if you want to dive deeper and create a significant source of income online, I suggest internet marketing.

The strategy consists of providing helpful content to build and monetize your audience. It's not complicated, but you need to learn the mechanisms and put in the work.
I created a lucrative online business from the ground up thanks to this excellent step-by-step training.
It's worth having a team of expert marketers who will guide you every step of the way.
Today, I make enough money to cover all my living costs. The best part is that I don't have a boss and can work whenever and wherever I want.
Final Words
Thanks for reading my Pop Pop Zumba app review!
I hope this post helps you understand how the game works, and why you need to avoid it.
If you have something to say about it, kindly leave us your comment below!
Peace!