Welcome to my Gem Desert Grow app review!
Gem Desert Grow is encouraging people to download the game and get paid directly to your account.
The commercial displays a dashboard with lots of $100 payments received and a PayPal balance of $256.63.
I took this screenshot to prove they are enticing the audience with decent cash prizes.
Google Play is infested with fake money games that are causing frustration in millions of people worldwide.
Most of the time, the player has to learn the hard way that they will never receive the money.
You don't want to spend hours on this get-rich-quick kind of app only to benefit the developer.
So, is Gem Desert Grow legit? Will this app transfer the money you accumulate in the game? Let's find out!
Top recommendation: This excellent program helped me create a lucrative site and generate over 2,000 US Dollars per month online. You can make it happen, too by joining the Free membership here and taking massive action.
Gem Desert Grow App Review
Full Name: Gem Desert Grow
Developer: NiuBin Studio
Payout Threshold: $300
Price: Free
Overall Rating:

1/5
What Is Gem Desert Grow?
Gem Desert Grow is a "get-rich-quick" game where you tap the tree to collect cash coupons.
The app claims that if you collect at least $300, you will be able to cash out via PayPal or Amazon gift cards.
As you tap, you will collect banknotes that can be used to grow your tree and maximize your earnings.
There are countless similar games for Android, such as Huge Lemon Tree, Crazy Pop Tree, and Galaxy Tree. Check out my Crazy Pop Tree review here.
Despite a large number of app installations, I only found Gem Desert Grow yesterday after watching its commercial.
The app has already been installed over 100,000 times and received many negative reviews.
How Does Gem Desert Grow Work?
Gem Desert Grow generates revenue by enticing you to watch sponsored videos before collecting virtual dollars.
They try to convince players that once they collect $300, they can withdraw the money via PayPal or Amazon.
You can play this game for free after a quick installation on the Play Store.

How to Play Gem Desert Grow?
Tap the money tree to earn green dollars, and then press "grow" to level up your tree.
The higher the level, the more banknotes you will get at once.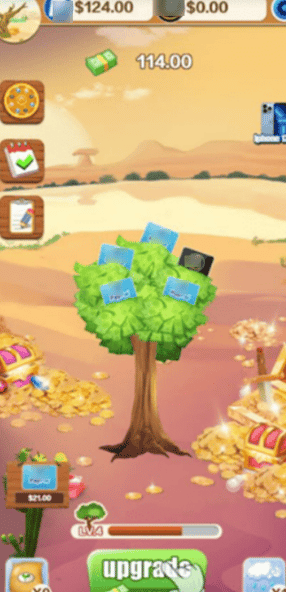 However, the target to complete the level will increase, making it increasingly difficult to grow your tree.
You can use the fertilizer or the Stormwater to raise the high of the tree.
What really matters is that a larger tree won't help you earn more cash rewards.
Speaking of cash rewards, you will regularly receive Amazon and PayPal coupons throughout the game.
As long as you watch the video until the end, you will achieve fast progress towards the $300 threshold.
Gem Desert Grow will also give you puzzle pieces from time to time. You can supposedly claim an iPhone 13 Pro once you collect 300 fragments.
Amazing, right?
If you want to get paid for playing games, try the best reward app for gamers here.
Is Gem Desert Grow Legit? Does it Pay?
No, it doesn't! Unfortunately, the developer won't transfer any money to your account.

I knew that reaching $300 wouldn't be enough to request the payment right away, but I wanted to prove this to you.
So, I kept playing and watching the videos until I made it to $300. It was fast, but after entering my email address twice, they told me this:
"Your account has been successfully bound – After you complete some simple tasks, all the money you earn during this period will be automatically transferred to your account within about seven working days."
Then, it brought me back to the redeem page, where it said I must watch 30 more videos to activate the order. What a joke!
I feel sorry for players who still persist after this point because they will certainly regret it.
Note there are always updates at the bottom of the screen saying that someone withdrew $200, $1,500, and even $2,000 a few minutes ago.

This reward platform is going viral! Cash out via PayPal, Visa, Gift Cards, and in-game currencies - Click here to find out how to generate an extra $10+ per day! 
They don't reveal the emails nor show proof that the payments are real.
If they were real, I am sure you would find lots of positive reviews on Google Play saying how easy it was.

Instead, all I see are people complaining that they didn't receive the money as advertised.
Conclusion
Gem Desert Grow will get you to watch an insane number of videos and wait for weeks. But money will never be transferred to your PayPal account.
The iPhone 13 is also an illusion since the developer is not obligated to reward players.
These money games maximize profits by enticing the user with virtual dollars that will never convert to real money in the bank.
The reason is that the developer could never generate enough revenue to pay everyone.
This type of business is cruel on all levels and should be avoided at all costs.
Many people are in a delicate financial situation and should not be wasting hours of their lives with this.
Also, be careful with this new mone-tree game.
Final Words
Thanks for reading my Gem Desert Grow app review!
I hope this post makes things clear about the nature of this type of application and helps you avoid more disappointment.
Kindly share your thoughts about this game in the comment box below. We'd highly appreciate that!
Peace!