Welcome to my Golden Fishery app review!
Guess how he got all those cash!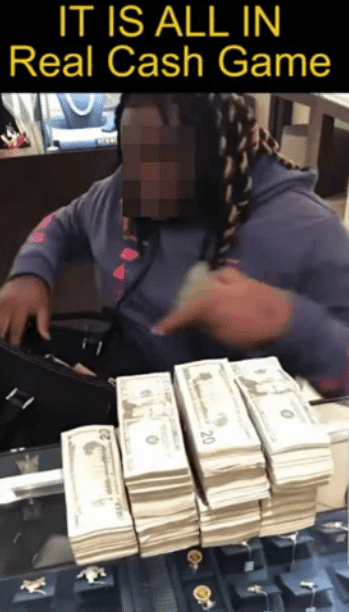 It's all in this real cash game, says the commercial of Golden Fishery.
You may have seen this advertisement while playing another mobile game on your phone.
Have you noticed that developers, YouTubers, and other internet marketers are always trying to get your attention by promising easy money?
That's because it always works… for THEM, of course!
These people have taken their tactics to a whole new level with the advent of mobile apps.
You are here because you are not willing to spend more time playing Golden Fishery if the cash reward doesn't exist.
So, is Golden Fishery legit or fake? Does it transfer the dollars to your PayPal account or not? Stop the game for a while and read this post to find out!
Top recommendation: This step-by-step program helped me achieve 2,000 US Dollars per month and quit my job in 2019. Free membership is only available here!
Golden Fishery App Review
Full Name: Golden Fishery
Developer: Steven Gold Andrew
Payout Threshold: $14,999
Price: Free to play
Overall Rating: 1/5
What Is Golden Fishery?
Golden Fishery is another Android game that seduces players with the possibility of winning $14,999!
Simply tap your screen when the hook is aligned with the fish you want to catch.
The gameplay is very similar to this mining game. But instead of catching gold, you get fishes in the sea.
If the fish has the PayPal logo, you will receive hundreds of dollars by clicking the "collect" button and watching the video.
Golden Fishery has been installed 10,000 times thanks to the aggressive marketing tactic of offering cash rewards.
How Does Golden Fishery Work?
Installation
Golden Fishery works on any Android device, and the free download is available on Google Play.
Keep in mind, the app has access to content in your USB storage. Therefore, it can read, modify and even delete files on your phone, such as pictures and documents.

How to Play Golden Fishery?
This is a very simple game that doesn't require any strategy. You just have to tap the screen when the claw is aimed at the fish you want to catch.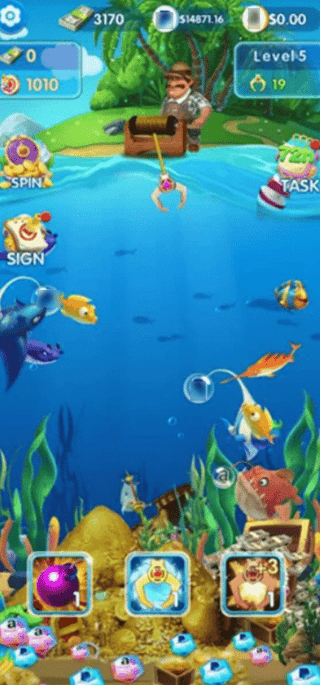 Focus on fishes that have the PayPal or Amazon logo. The reason is that when you get them, you will earn virtual dollars.
Even if you decide not to collect the money, Golden Fishery will push video down your throat.
It's very annoying, but since you are making progress towards the big prize, you keep going with a big smile on your face.
You will collect green dollars when you catch the other fishes. According to the developer, you can redeem real money using this virtual currency.
When you reach a specific number of green dollars using limited baits, you will pass the level. As a result, you can open 4 cards and get more PayPal and Amazon cards.
Golden Fishery also features the Lucky Spin game that gives you more opportunities to win gifts.
How do You Get Paid?
You can supposedly cash out once you collect $14,999 in your PayPal balance or $10,000 in your Amazon balance.
With Golden Fishery, you can exchange 1,500,000 green dollars for $1000 via PayPal.
They also claim you can redeem $1000 immediately after completing 3-day tasks.
There are so many opportunities, but will you actually get the money? I'm revealing the truth in the next section!

Is Golden Fishery Legit? Does it Pay?
No, it doesn't! Golden Fishery works just like many fake money games that don't pay a dime.
While you are catching fishes and accumulating fake dollars, advertisers are paying the developer to promote their apps to you.
So, you are the once biting the bait!
In the beginning, your cash balance will grow significantly fast since each coupon is worth $800 – $1000.
But the closer you get to the payout threshold, the less you will earn.

This reward platform is going viral! Cash out via PayPal, Visa, Gift Cards, and in-game currencies - Click here to find out how to generate an extra $10+ per day! 
Not only that, but the PayPal and Amazon fishes become scarce, so you have no option but to reach the gems at the bottom of the sea.
It's hard because of all the fishes on your way, and at some point, the gems become scarce too!

It's so frustrating to see your cash rewards getting smaller and smaller.
From all the money games I reviewed in this blog, I think Golden Fishery is the one that gets the largest number of video views.
Despite watching hundreds of videos and spending hours on this game, you may never reach $14,999.
I closed the game and when I returned, they had removed $400 from my PayPal balance. So, I just gave up!
Conclusion
Don't waste your time playing Golden Fishery with the expectation of making real money. It won't pay you!
Unfortunately, thousands of people will get furious when they realize they will never get paid.
There should be a serious investigation about these apps because they are causing too much frustration.
Asking people to watch videos by saying they can win lots of money if they reach the target is atrocious!
Avoid Golden Fishery at all costs!
Final Words
Thanks for reading my Golden Fishery app review!
I hope this post raises awareness about this type of application and helps you save time!
Were you able to request the payment? Please, share your results with us!
Peace!