Welcome to my Money Storm app review!
I watched a commercial saying Money Storm could pay me hundreds of dollars straight into my account.
They showed a brief game simulation and a PayPal dashboard with lots of $100 payments.
All you have to do is tap the banknotes and upgrade distinct features to earn passive income
It's feels like a real money-making machine and dream come true, even for the upper middle class.
You have been lured into downloading and playing this free game with the expectation of making easy money.
But does Money Storm transfer the money, or is it another fake game? Don't play until you read this post until the end!
Top recommendation: This step-by-step program helped me achieve 2,000 US Dollars per month and quit my job in 2019. Free membership is only available here!
Money Storm App Review
Full Name: Money Storm: Swipe Empire
Developer: Joygames studio
Payout Threshold: £3520.50
Price: Free (VIP = £8.99 per week)
Overall Rating:

1/5
What Is Money Storm?
Money Storm is a clicker game similar to Tap Money rain and many other get-rich-quick simulations.
The application persuades you to swipe the banknotes in order to collect in-game currency.
It awards PayPal or Amazon virtual cash that accumulates in your account as you achieve milestones.
Then, you can supposedly withdraw the money once you reach £3520.50 or $5000, which is the maximum prize.
More than 50k people have already installed Money Storm to cash out and laugh all the way to the bank. But are the dollars even real? We will find out soon!
How Does Money Storm Work?
Installation
Money Storm can be installed for free on any Android device via the Play Store.
Before installing this jaw-dropping game on your phone, I advise you to read their Terms of Service and Privacy Policy.
Unfortunately, when you click the link to both pages inside the app, it directs to an empty page with the saying: "Sorry this website has been removed."
Many countries require apps and sites to provide Privacy Policy in a prominent location. But you can only access Money Storm's privacy statement through the Play Store.
How to Play Money Storm?
Slide the banknotes to accumulate in-game currency and use the money to purchase businesses.

You should level up and upgrade each enterprise to speed up earnings per second.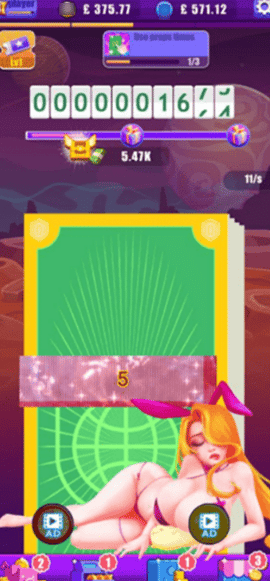 Just keep in mind this type of virtual cash is not the one that can be cashed out. You can only withdraw the money that comes when you get PayPal or Amazon coupons.
Money Storm will give you random cash coupons after you tap the banknotes a few times.
You will also get them after you complete the progress bar or when you reach a milestone.
Most of the time, you will tap the "get" button and watch the short video to collect the reward.
Who doesn't like the idea of making lots of money just by tapping on a mobile screen?
How Do You Get Paid?
Just like most reward games, Money Storm only allows you to cash out if you collect enough virtual dollars or pounds.
The minimum payout threshold for either PayPal or Amazon is $5000.
I am sure many people will spend sleepless nights trying to meet this requirement. Can you imagine the number of videos you will be required to watch?
If you have done it already, but didn't get paid, you are not alone. In the next section, you will find whether you will receive the money or not.
Is Money Storm Legit? Does it Pay?

No, it doesn't! Money Storm is just another simulator that uses the PayPal and Amazon logo as a persuasive tactic to maximize profits.
They advertise the application as an opportunity to make easy money, but it's all fake.
Now, here is the sequence of events you will experience in case you try to complete all the tasks.
Once you reach $5000, they will ask you to watch 58 videos.
After that, you need to wait for 24 hours. However, you can reduce the waiting time by watching more deceptive videos.
Do you think they will pay you after the countdown is over? No, they won't.

This reward platform is going viral! Cash out via PayPal, Visa, Gift Cards, and in-game currencies - Click here to find out how to generate an extra $10+ per day! 
Then, instead of cutting to the chase and saying the player is not a winner, they will ask you to watch an extra 80 videos. It's so absurd!
Money Storm may also put you on a queue, giving the impression you just have to wait for your turn to get paid.

But then again, it's just another lame excuse because you won't receive any money.
Don't waste more time! Mistplay is one of the best options to earn money with mobile games.
Conclusion
Money Storm is another get-rich simulation that doesn't provide real cash rewards.
Sadly, thousands of honest people are wasting not only time but also mobile data with this application.
If only the game was challenging and helped to pass the time. But it doesn't even fit the purpose of a proper game, which should always be to entertain the player.
Heck, you would be so much better off leaning something new instead of playing Money Storm.
You could also be using platforms like Prizerebel and completing paid surveys and offers.
Verdict: Not Recommended
Final Words
Thanks for reading my Money Storm app review. I hope this post raise awareness and helps you save time!
What are your opinions about this application? Share your thoughts in the comment box below.
Peace!