Welcome to my Links Master app review!
Today I found another mobile game that says you may win $300 in a short time.
The woman in the advert encourages the audience to download the app and get your money right now.
Links Master provides virtual dollars just for finding and eliminating two identical patterns.
It feels like you will get rich overnight just for playing a very easy and relaxing game.
There is enough reason to suspect Links Master is fake, but what if this is a one in a lifetime opportunity?
On the flip side, you cannot afford to waste time because you desperately need money to survive.
So, is Links Master legit? Will they transfer the money to your PayPal account? Let's find out!
Recommendation: Check out this top-rated GPT site before you leave. Members are making over $100 every month by completing surveys and offers.
Links Master App Review
Full Name: Links Master
Developer: NiuBin Studio
Payout Threshold: $1000
Price: Free
Overall Rating:

1/5
What Is Links Master?
Links Master is a matching puzzle game that claims to pay a decent amount of money via either PayPal or Amazon gift cards.
It's very similar to the traditional Mahjong, a Chinese game developed in the 19th century. Here is Mahjong game that also entices players with excellent cash prizes.
As you reach milestones, you will get cash coupons worth hundreds of dollars.
That's why lots of people are installing this app and trying to complete the minimum requirements.
You can actually reach $1000 with just a few minutes of gameplay and request the payment. It's insane!
Links Master has been installed 50,000 times on Google Play and rated 4.5 out of 5.
How Does Links Master Work?
Links Maters is available on Google Play for Android users worldwide.
After launching the game, you will immediately earn a bonus of $50 bonus.
The developer also promises to give you $100 if you give him a positive review on Google Play.
With such a generous incentive, it's no surprise the app has received 4.5.

How to Play Links Master?
The goal is to clear the board by connecting pairs of tiles with identical patterns.
You need to spot two identical tiles that are either adjacent or around the edges of the board.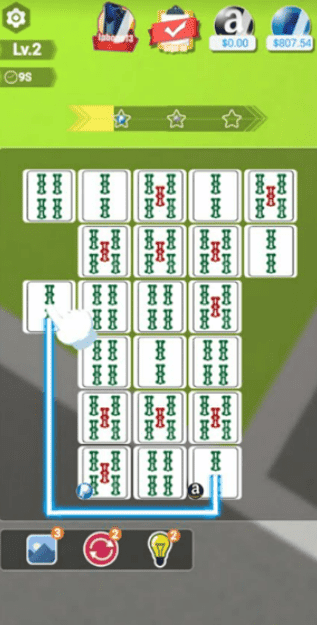 Remove all the tiles before the time runs out. If you are stuck, swap the image locations or tap the lamp to get a hint.
Some tiles have a small PayPal or Amazon logo. Whenever you link these patterns, you will collect the money in separate wallets.
Once you complete the level, you will get 4 gift boxes. Select them and watch the video to collect more cash or iPhone puzzle pieces.
Open 4 boxes to claim a $114 PayPal card.
Links Master also features the Lucky Wheel and the scratch off game to earn even more prizes.
How Do You Get Paid?
Links Master allows you to cash out at least $1000 via PayPal and $500 via Amazon.
You may also redeem the expensive iPhone 13 if you collect 300 puzzle pieces.
Are you struggling to make money online? Check out this reward site and get paid for simple tasks.
Is Links Master legit? Does it Pay?

No, it doesn't! Links Master doesn't reward players who meet all the requirements.
It takes less than 10 minutes of gameplay to reach $1000 and request the payment.
However, after you enter your email address twice, you will get the following message:
"Your account has been successfully bound. After you complete some simple tasks, all the money you earn during this period will be automatically transferred to your account within about 7 working days. "
Then, it shows the $1000 PayPal card as "Processing" and claims that you must watch 29 or more videos to activate the order.
There is no transparency because they want you to think it will be easy to withdraw the funds. It's not!

This reward platform is going viral! Cash out via PayPal, Visa, Gift Cards, and in-game currencies - Click here to find out how to generate an extra $10+ per day! 
Those who complete the first task will entice you to watch even more videos to reduce the waiting time.
But of course, this is a win-lose situation, so you will never get paid.

One user published a review saying that she played Links Master and did everything to cash out.
Despite meeting all the conditions, she has been waiting for almost two weeks now. Some people tried to contact the developers, but didn't get a response.
Conclusion
Links Master is a challenging game that helps to pass the time and exercise the brain.
However, you should not expect to receive a single cent from NiuBin Studio.
The game persuades players to watch countless videos and eventually withdraw the money.
But virtual dollars have no monetary value, and developers never show proof of payment.
If the company was transferring the funds, they would probably post screenshots of the bank transactions.
I would also expect to see winners featured on the app, just like many sweepstakes platforms do.
Don't waste your time with Links Master unless you enjoy the game and would play anyway despite the fake dollar signs.
If you want to earn a little extra cash for playing games, try JustPlay or Mistplay. Both apps won't let you down!
Final Words
Thanks for taking the time to read my Links Master app review.
If you want to contribute to this blog, leave your honest opinions about the game below.
Peace!