elcome to my Merge Animals app review!
Merge Animals has been advertised as a mobile game that pays $300 a day.
As crazy as it may seem, thousands of people around the world are downloading this app to cash out.
The commercial says you can get a $100 prize bonus and directly withdraw the money to your Cash App. Of course, it seems too good to be true!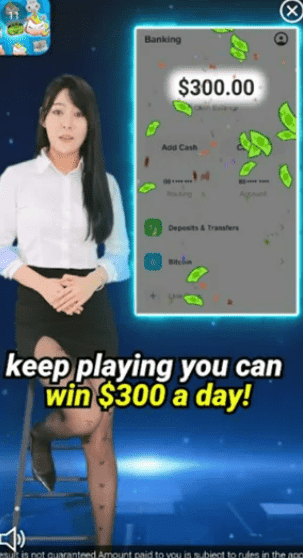 Perhaps you already spent a lot of time trying to reach the requirements, but you haven't been paid yet. If that's the case, you need to find the answer to these questions:
Is Merge Animals legit or fake? Will they transfer the money? Keep reading to find out!
Before you leave, don't forget to check out this top-rated GPT site. Members are generating $300+ on the side by completing simple tasks and referring people. Cash out via PayPal or gift cards!
Merge Animals App Review
Full Name: Merge Animals
Developer: wintertreess
Payout Threshold: $300
Price: Free to play
Overall Rating: 1/5
What Is Merge Animals?
Merge Animals is another match-3 puzzle game that supposedly pay those who meet the payout conditions. All you have to do is synthesize a higher level animal from three identical animals.
It's very similar to countless games I reviewed in this blog, such as Crazy Merge Chip.
The game claims that if you collect $300, you will be able to withdraw the money to PayPal, Cash app, Coinbase and other methods.
Since they are using the logo of each payment processor, many people are confident that Merge Animals is offering real cash rewards. But are they?  
How Does Merge Animals Work?
Installation
Merge Animals is available for Android users worldwide. Once you install the game on your phone through the Play Store, you can start merging the animals and collecting the dollars.
Before you do so, I highly recommend you read the Terms of Service and Privacy Police. I will discuss some important information about rewards later in the post. For now, I would like to show you how the game is played!  
How to Play Merge Animals?
It's very simple! Your job is to merge three identical animals by placing at least 3 of them side by side. You just have to slide to change the animal's position. Identical animals have the same level, and when they merge, they synthesize a higher level creature.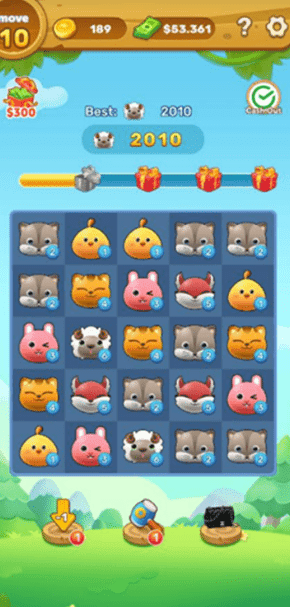 You will use one move every time you fail to merge. But don't worry because you will always be able to continue even if you run out of moves.
Don't forget, you can also use props to level down or eliminate an animal. Note there is a progress bar at the top which loads whenever you combine the animals.

Once the bar reaches a gift symbol, a window pops up, showing a generous amount of cash on your screen. In one occasion, I made $132.73, which is insane!
You must click the button and watch a sponsored video to claim the reward. Merge Animals also triggers the slot machine when you accomplish combos, giving you the chance to collect money, puzzle pieces and coins.  
Redeem Gift
Merge Animals allows you to earn puzzle pieces for watching videos.
Once you collect enough fragments, you can supposedly redeem MacBook Pros, Samsung Galaxy smartphones, iPads, game consoles and more!
You must enter your name, address and phone number to receive the prize.
According to the developer, your personal information will only be saved on the device, and will only be uploaded when you submit a claim application. Then, simply tap "get Random rewards" and watch the clip until the end.  
How do You Get Paid?
Tap your cash balance or the "Cash Out" icon in the top-right corner. Next, select your favorite payment method and redeem the cash amount you have accumulated.
The minimum cash out requirement is $300, and you can withdraw up to $5,000 at once. You may also redeem $300 once you have reached 3 million coins.  
Is Merge Animals Legit? Does it Pay?
 No, it doesn't! Merge Animals will ignore your payment request, just like many other applications do.
Since the developer is making profits with your gameplay, he wants you to stick to the game for as long as possible. Reaching $300 is quick, but when you try to cash out, it says:

"Please unlock 9 levels to approve the order. At this point, I already knew this would be just the tip of the iceberg.
However, I wanted to go ahead and uncover what would be their next excuse. So, I played for another 15 minutes to unlock the animal number 9.
When I opened the redeem page, I noticed they put me in a huge queue with 9031 people in front of me.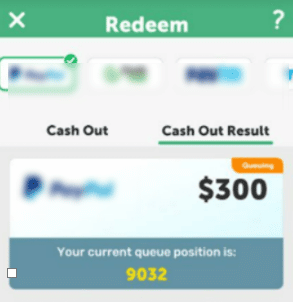 I clicked the cash coupon, and it said there are too many applicants for this award, and it needs to be reviewed by the staff. The same will happen if you try to redeem $600 and more. Trust me, you won't receive the money!
Also, forget about the gifts they told you could get by collecting 10 or 20 puzzle pieces. Don't take my word for it. If you want, check out more reviews on Google Play and see the sheer number of complaints. It's insane!

This reward platform is going viral! Cash out via PayPal, Visa, Gift Cards, and in-game currencies - Click here to find out how to generate an extra $10+ per day! 
Conclusion
  Thousands of people are playing Merge Animals with the expectation to earn money effortlessly. But what most of them don't realize is that the dollars in the game have no currency value.

According to their terms of Service, it's up to the company to select winners at random.
But since the developer doesn't need to show proof of payment, it's hard to believe the prize is real. Besides, there are too many people saying they didn't make any money.
Verdict: Not Recommended
Earn a Full-Time Income Online
If you want to make real money online, you need to provide value in the form of content, service or products. I chose the first option 6 years ago and didn't regret my decision.
Today, I run a profitable site that attracts thousands of people daily and generates me a decent income every month.
If you want to generate thousands of dollars online, I highly recommend the same strategy that I use. Here is the best step-by-step training to set up this type of business and succeed!
The best part is that you can join for free and get started with no strings attached!  
Final Words
Thanks for taking the time to read my Merge Animals app review. If you want to contribute to the discussion, kindly share your thoughts about this game in the comment box. Peace.