Welcome to my Merge Star 2048 app review!
In today's post, we will expose another game that claims to reward players with in-game currency.
Merge Star 2048 is all about shooting and merging cubes of the same number to receive diamonds.
Then, the player is encouraged to collect enough gems and choose their favorite game to redeem.
Marge Star 2049 is very appealing to people who cannot afford or don't want to spend money on gaming.
It has decent 3D graphics, and it helps to pass the time. So, why not earn some free credits while having fun with another cool game?
You see, the problem with games that seem too good to be true is that they never prove me wrong.
But maybe Merge Star 2048 is one of a kind, so I gave it the benefit of the doubt and played it for a while.
In this post, I will share with you my findings. Is Merge Star 2048 legit or fake? Does it transfer ROBUX, Free Fire diamonds and other in-game credits to your Player ID?
Let's find out!
Top recommendation: Before you leave, don't forget to check out my #1 reward platform. Members are making over 200 USD on the side just by completing simple tasks. Exchange points for real money or gift cards!
Merge Star 2048 App Review
Full Name: Merge Star 2048
Developer: DoraBmonkey
Payout Threshold: 10,000 diamonds
Price: Free
Overall Rating: 1/5
What Is Merge Star 2048?
Merge Star 2048 is an addictive merging game which supposedly rewards players with in-game currency.
Simply aim and shoot the cube towards another cube of the same number and color.
After both cubes collide, they will merge into a cube of a higher number, which is double the previous one.
Instead of offering cash incentives like Shoot Cubes 2048 does, Merge Star 2048 gives you diamonds redeemable for in-game currency.
Pick 3 games from the list provided and collect enough gems to redeem the credits to your Player IC
How Does Merge Star 2048 Work?
Merge Star 2048 is available for free on Google Play for Android devices.
Despite having over 50,000 installations, the game is still classified as "Early Access". That means the app hasn't been fully released yet.
One of the key benefits of such classification for developers is that it prevents users from publishing reviews on the platform.

However, you will notice that Merge Star 2048 is working fine and generating revenue for the developer.
As soon as you launch the game, it will ask you to pick 3 games you wish to redeem rewards. This is the current list: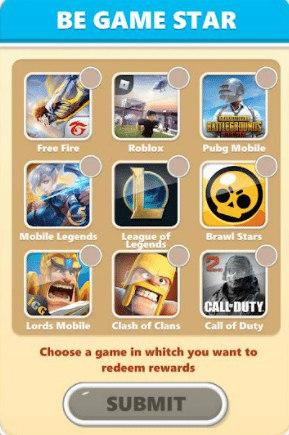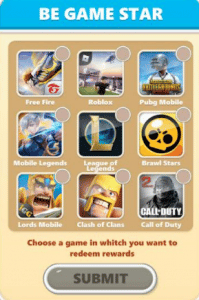 How to Play Merge Star 2048? 
As I mentioned earlier, you have to shoot and merge cubes of the same number.
When the cubes bump with each other, you synthesize another cube with a higher number following the sequence:
2, 4, 8, 16, 32, 64, 128… 2048.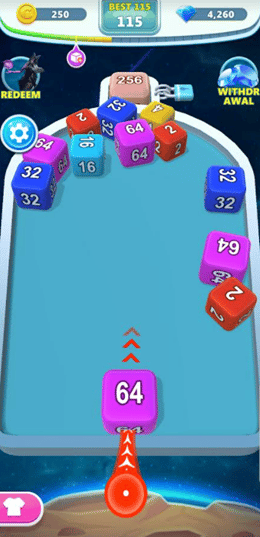 Whenever you unlock a higher number for the first time, you will receive a significant number of diamonds.
You can always activate the multiplier and earn up to 10 times more rewards by tapping "Get more" and watching the video.
The game will also give you random coins and diamonds while playing Merge Start 2048. Coin can also be redeemed for in-game currency after reaching the minimum requirements.
You need to keep merging to reduce the number of cubes and avoid losing the game.

Sometimes, you will see a puzzle bubble on the board. Shoot this bubble to collect skins for your three favorite games.
Merge Star 2048 suggests that you can claim the skins if you collect a specific number of puzzles.
I must confess this is a great game to pass the time, but the sheer amount of advertising is unbearable.
They will push an advert down your throat almost every 10 seconds, which makes it a dragging gameplay.
How do You Get Paid? 
You can request the payment by tapping the "Withdrawal" icon at the top and choosing your reward.

This reward platform is going viral! Cash out via PayPal, Visa, Gift Cards, and in-game currencies - Click here to find out how to generate an extra $10+ per day! 
For example, if you pick Roblox, you will need at least 10,000 diamonds or 300 million coins to redeem +6,800 and +10,200 Robux, respectively.
We are talking about $80 and $120 worth of Robux, which is insane!

According to the instructions, your rewards will be issued within 3-15 business days.
Is Merge Star 2048 Legit? Does it Pay? 
No, it doesn't! Merge Star 2048 does not transfer game currency to your Player ID, regardless of how long you play.
The rewards are just used as bait so that you are lured into watching a ridiculous amount of videos.
Unfortunately, there are no reviews on Google Play since the developer has not fully launched the application yet, and I think he never will.
However, it'safe to assume the developer will not pay you because a simple game cannot afford to offer such generous prizes.
I've reviewed countless games using the exact same tactic, and none of them has been proven to pay.
It's likely that once you reach 10,000 diamonds and enter your Player ID, they will ask you to watch a ton of videos to activate the order.
But it may not be enough, so they can ask once again for more videos.
Don't get your hopes high even if they say you will receive the currency because you won't.
It's important to understand that Merge Star 2048 has no legal agreement, so they are not liable for not meeting expectations.
Conclusion 
Don't install Merge Star 2048 in the hope of redeeming FF diamonds, Robux, or other game credits. You won't get them!
It's a shame what app developers are doing to maximize profits. They get paid by advertisers to display videos that you watch with the illusion that you will win something.
This is wrong on so many levels!
Verdict: Not Recommended 
I am not aware of any platform that allows you to earn free in-game currency for those games.
However, I can highly recommend a GPT site where you can collect points and cash out via PayPal and gift cards. It's called Prizerebel. Learn how to earn cash with Prizerebel here!
Then, you can use the money to purchase anything you want online, which is much better! Don't you agree?
Final Words
Thanks for taking the time to read my Merge Star 2048 app review. I hope it was informative enough!
If you want to share your thoughts about this game, please leave us a comment below to engage this blog post.

Peace!