Welcome to my Bitcoin 2 Moon review!
I just found another merging game that allows you to win cryptocurrency just for playing it. The best part is that you don't need to invest and put your hard-earned money at risk.
The game is called Bitcoin 2 Moon and is available on Google Play for Android users worldwide.
Unlike other reward applications like BFast Bfree and Bitcoin Food Fight, Bitcoin 2 Moon gives away insane amounts of crypto.
It seems fake because you will get 0.01 BTC worth $370 in less than 10 minutes of gameplay. How is it possible? Just because you are watching a couple of videos?
You are here to find out whether Bitcoin 2 Moon is a legit opportunity to make money or a complete joke!
So, keep reading to find out, and don't forget to leave your comments below to help engage this post and reach more people.
Top recommendation: This step-by-step program helped me generate over 2,000 US Dollars per month and kiss my job goodbye in 2019. You can make it happen too! Free membership is only available here! 
Bitcoin 2 Moon Review
Full Name: Bitcoin 2 Moon (aka Bitcoin to the Moon)
Developer: wangbin1983
Payout Threshold: 0.025 BTC or 0.25 ETH
Price: Free
Overall Rating:

1/5
What is Bitcoin 2 Moon?
Bitcoin 2 Moon is an addictive game in which you drop and merge two identical coins to make them bigger.
The application is completely free and claims to transfer real Bitcoin or Ethereum to your crypto wallet.
Although Bitcoin 2 Moon has been installed over 100,000 times, the game is still in "Early Access."
That means users cannot publish reviews and express their opinions on the Play Store. It's not fair because the game is making profits off of people watching the videos.
How can the developer be held accountable for his claims if players cannot publish their results?
How Does Bitcoin 2 Moon Work? 
Installation 
Bitcoin 2 Moon is available on Google Play for Android, and it's free to play.
You should be careful when installing the so-called "money games" on your phone because most of them have access to content in your USB storage.
They can read, modify, and delete files, including photos, videos, and documents.
How to Play? 
As soon as you launch Bitcoin 2 Moon, it encourages you to collect 400 puzzle pieces and check in for 7 days to redeem an iPhone 13 Pro. 
It also shows a Bitcoin stamp with a progress bar and a countdown from 24 hours.

You need to slide your finger and drop the coins towards another identical coin. When these two coins collide, they will merge into a bigger coin with different symbol and color.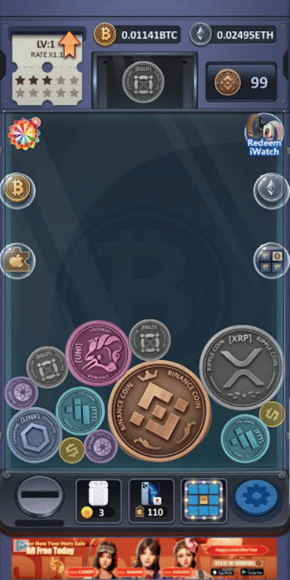 Every 5 seconds, the game will interrupt you with a puzzle piece or 0.003 BTC. That's over $100! 
There is no specific target you need to reach to get the reward. But sometimes, you will drop a special coin that can merge with coins of any size.
This type of coin has either a Bitcoin or Ethereum symbol and will always trigger the reward.
Most of the time, you have to tap the button and watch the video if you wish to collect puzzles, BTC, or ETH.
Bitcoin 2 Moon allows you to redeem all the crypto you collect after 24 hours. Alternatively, you can request the payment immediately after reaching 0.025 BTC or 0.25 ETH.
At some point, you will be encouraged to watch a video to level up and multiply your earnings by 10%.
Bitcoin 2 Moon allows you to take part in sweepstakes to win a MacBook Pro, Apple iPad, and Airpods.
Not only that but if you check in for three consecutive days, they promise to give you an iWatch worth $499. Crazy, right?
Is Bitcoin 2 Moon Legit? Does it Pay? 
Bitcoin 2 Moon is trying to convince players they will earn almost $1000 worth of BTC just by playing the game for 1 or 2 hours.
Some people will even spend the entire night glued to their phones in the hope of making as much money as possible.

Unfortunately, Bitcoin 2 Moon will not transfer the cryptos to your digital wallet.
Also, forget about winning the iPhone 13 or another other Apple product. No payout is possible, and no prize is given! 
Here is what many people experience after 24 hours or after reaching the payout threshold.
Bitcoin 2 Moon will ask the player to watch 30 videos to activate the order. That's a classic excuse to lure players into playing for much longer than initially suggested.
After that, they ask you to watch an extra 100 videos with no guarantee this will be the last requirement. They have lost all credibility at this point!
Then, your reward will be "processing" for 359 hours, but not surprisingly, each video will reduce the waiting time by 1 hour.

This reward platform is going viral! Cash out via PayPal, Visa, Gift Cards, and in-game currencies - Click here to find out how to generate an extra $10+ per day! 
Of course, they are not serious about rewarding those who complete all the tasks! The reason is that the developer operates from abroad and is not obligated to process rewards for anyone.

Is There an Alternative to Bitcoin 2 Moon? 
Some games do transfer Bitcoins to the player's Coinbase account. I am talking about those developed by Bling, such as Bitcoin Blocks, Bitcoin Pop, and a few others. 
After trying some of them, I received the payment, but it was just $0.03 worth of BTC.
Therefore, they are only suited to those who already play similar games for fun.
If your top priority is money, you're better off joining a platform like Prizerebel. It's 100% legit and free!
Conclusion 
Don't waste your time playing Bitcoin 2 Moon with the expectation of winning crypto. They are just worthless pixels on your phone screen!
This is not an opportunity to earn real Bitcoin since the amount is incompatible with the business model.
I believe the developer could afford to pay only one player among thousands, but why would he do that?
There is no obligation to pay anyone, which is why so many developers get away with their fake money games!
None of them are held responsible for advertising the opportunity to earn money and not paying anyone.
I reviewed hundreds of games that won't transfer a penny, let alone thousands of dollars!
Such terrible business practice continues to frustrate millions of users worldwide due to poor regulations.
As of now, the only way to help people is by publishing reviews to raise awareness. I am doing my part!
Final Words
Thanks for taking the time to read my Bitcoin 2 Moon review.
If you want to help with the discussion, kindly share your thoughts about this game in the comment box below.
Peace!