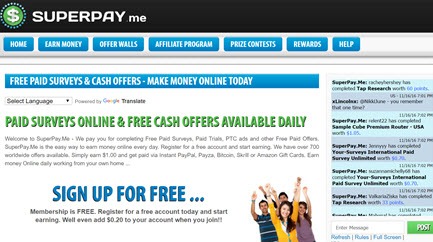 The first time I heard about superpay.me I thought I would dive into a great opportunity to make money online. To my disappointment, it was another GPT site, which rewards people for completing offers, online surveys and other simple tasks.
GPT sites are mostly legitimate, but the payout is always very low. You usually get paid in exchange for your opinions and for trying out products and services, which is easy. However, there are always the bad platforms that will try to mislead you somehow. So, is superpay.me a scam or a legit GPT site?
Check out my review and discover what you can expect from it.
Superpay.me Review
---
Platform Name: Superpay.me
Website: superpay.me
Price: Free
Score:

7/10
What is Superpay.me? 
---
Superpay.me is a type of website known as GPT, which stands for get-paid-to. The platform allows users to get paid for completing online surveys and trial offers.
The company behind Superpay.me it is called 99 Ventures Ltd, which is a Worldwide Internet Advertising Provider based in London.  The company also owns two other GPT sites: Rewardingways.com and Offernation.com.
Is Superpay.me a Scam?
No, Superpay.me a legitimate website. As with any other GPT site, there are some people that did not have a good experience with it. However, I didn't find any serious complaint against the company, so there is no reason to call it a scam.
Pros and Cons
---
Pros
Free to join
Minimum payout limit – $1
Many opportunities
Payment via Paypal included
Generous referral program – 25% commissions
Surveys and offers are added daily
Available in all Countries
Cons
Very low-income potential
You need to be careful when completing offers. Otherwise, you can be charged for services you don't really want.
Signing Up
---
Signing up if free and anyone with over 18 can join. But they will ban you if you try to create multiple accounts. Another interesting fact is that you will be considered a cheater and be banned if you use the OPERA web browser.
Inside The Platform
---
There are two main ways to earn money with superpay.me: Online Surveys and Offers.
You can find online surveys and offers both in the "Earn Money" and Offer Walls" sections. In my opinion, the site is not well organized, and you need to browse both sections to find the type of opportunity you want.
For example, if you want to complete surveys, you can find them both in the "Earn Money" tab or in one of the Offer Walls.
Offer Walls such as Peanut Labs, OfferToro, and Radium One are let's say… "mini" GPT platforms inside the main GPT platform.
So, when you click on one Offer Wall, you will get a range of other opportunities because they represent different companies.
Currency Value VS Points
---
If you are completing surveys or offers from the "Earn Money" tab, you will get paid in currency value, whereas if you are using one of the Offer Walls, you will only receive points.
1 point is the same as $0.01, and you can convert points to cash and cash to points at any time.
It's also important to mention that you can only withdraw Amazon Gift Cards using points. Besides, can convert cash to points in order to achieve the minimum requirement of 500 Points = $5.
Completing Online Surveys 
---
Superpay.me will connect you with different marketing research companies such as Precision Sample, GlobalTestMarket, Samplicio, TapResearch and many others.
Indeed, the number of opportunities is remarkable, and they are all honest companies to work for. The great thing is that you will always get many new survey opportunities every single day.
Payment: Depending on the length of the survey, which varies from 5-20 minutes, you will get paid from $0.40 to $1.50. Thus, it's true that you can reach over $100 per month if you complete around 4 surveys per day. Even though, remember that your time is extremely undervalued, and you may end up getting rejected after completing pre-qualification questions.

Completing Offers
---
It's quite easy to make money with offers, but you need to be really careful with their terms and conditions. For example, let's say you accept an offer from NOW TV in order to make 250 points or $2.50.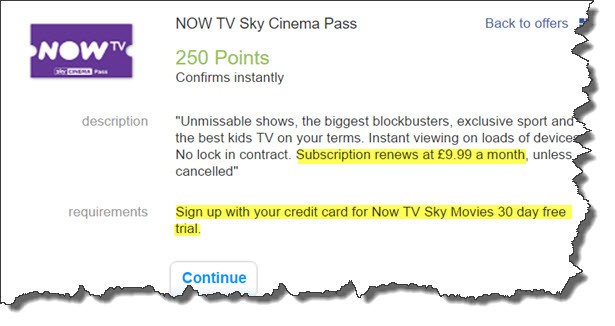 You must sign up with your credit card to get the 30 day free trial. In case you forget to cancel your subscription, you will receive the delightful £9.99 bill and more 30 days to enjoy NOW TV.
Another important thing to mention about offers is that a lot of them will ask for your landline phone. Needless to say, thy will bombard you with annoying telemarketing calls. And if you don't keep track and cancel these subscriptions, your phone will become a source of stress for many years to come.
Making Money With Referrals
---
Superpay.me offers a generous commission for those who refer people to the platform. Once someone signs up through your referral link, you will get 25% of what this person earns for life.

But how do you refer other people? Simply by copying your unique referral link and sending it through many different ways. You can send the link via Facebook, Tweeter, email, forums, blog posts and many other ways!
If you click on "Referral tips", you will see all the methods that they recommend for promoting this link. On of them is through paid advertising. Please, don't follow this strategy!
Don't invest money promoting superpay.me because it's expensive and there is a high chance you won't be able to cover the costs.
Cashing Out
---
The minimum amount you can withdraw is $1, which is quite low compared to other GPT platforms. You can get paid via Paypal, Bitcoin, Payza, Skrill and Amazon Gift Cards.
Conclusion
---
Superpay.me is a legitimate GPT platform, but you won't be able to make a significant income online.
If you are in a difficult financial situation and don't know where to get more money, then this can help you. Here are some other legitimate GPT platforms you can try:
Verdict: Legit

A Much Better Strategy to Make an Income Online!
---
If you want to make the best of your time, I highly recommend you build your own online business. It will grow little by little and eventually become your main source of income. That will never be possible through online surveys!
What's great about building an online business is that you can choose something you are passionate about. Let's say you are passionate about travelling! You can create a website about any destination you love and make money promoting many different products and services.
You earn commission without dealing with customers, suppliers, employees… How cool is that? All you need to do is to write helpful articles for your audience in conversational style. Yes, you don't need to be a professional writer or expert in anything. Also, building a website is getting easier and easier, so this is something anyone can do after following simple step by step instructions.
If you want to make decent to full-time income online, check my #1 recommendation. It will give you excellent step by step training, support and essential tools to succeed. That's the platform that helped and still helps me build a profitable online business. Click on the link below to read a thorough review of this reputable platform and discover how it can change everything for you.
>> Check Out My #1 Recommendation Review
I hope this review was helpful and enjoyable. If you have any questions, please don't hesitate to contact me via the comment section below or through stefan@myroomismyoffice.com. I will be more than glad to help you out!

This reward platform is going viral! Cash out via PayPal, Visa, Gift Cards, and in-game currencies - Click here to find out how to generate an extra $10+ per day! 
Your friend
Stefan