Welcome to my Royal Coin Box review!
You probably installed Royal Coin Box with the expectation of winning free Robux while playing casual games on your phone.
The developer claims you can redeem game currency once you accumulate 10,000 Robux.
You are reading this post because you are a smart person who believes this offer sounds too good to be true.
After all, 10,000 Robux is sold on the official website for $99.99!
I have tested several games that promise to transfer Robux, FF diamonds, and many other in-game currencies. This knife-throwing game is just one example. 
Unfortunately, they all turned out to be fakes that only waste people's time and data.
That's why I'm not starting this review with high hopes for Royal Coin Box. So, is it rewarding players? Is it legit or fake?
Let's find out!
Stop chasing fake promises! Start earning your $10 Robux cards at Prizerebel today, a platform that values and rewards your online activities.
Royal Coin Box Review
Name: Royal Coin Box
Developer: Yolanda App Inc
Availability: Worldwide
Price: Free
Threshold: 10,000 Robux
Overall Rating: 0/5
What Is Royal Coin Box? 
Royal Coin Box is a free Android app that brings together hundreds of casual games in different categories.
Curiously, entertainment is far from being its main attraction!
The reason Royal Coin Box has been installed over 1 million times is the possibility of earning thousands of Robux!
Astute observers will immediately notice that the app's description doesn't mention a single word about rewards.
If the opportunity to win free Robux is genuine, why keep it a secret for people browsing the Play Store? That makes no sense at all!
How does Royal Coin Box work? 
Royal Coin Box is a free application available to Android users worldwide.
After launching the app, they ask if you want to win 10,000 free Robux.
Tap yes, and you will be prompted to bind your Roblox account so they can transfer the game currency through the official website.
Next, Royal Coin Box will award you 2,000 Robux for being a lucky user.

The app's dashboard features many online games you can play instantly without additional installations.
At first, I thought they would give Robux based on how long we play those games. But that's not the case!
Unlike popular apps like Mistplay, JustPlay, and The Lucky Miner, Royal Coin Box doesn't pay you for playing games.
You will only get credit if you tap the progress bar or the annoying chest bubbles floating on your screen.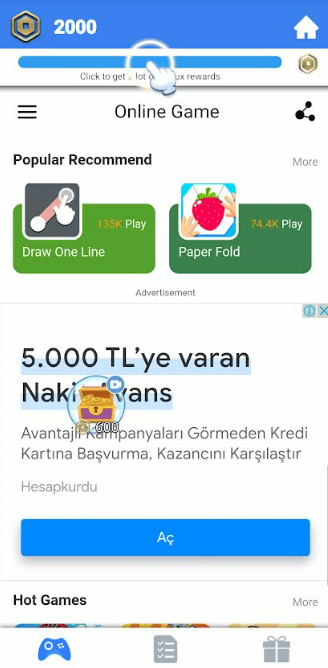 Clicking on these two locations will trigger the commercial, which you must view to receive the reward.
Then, you must wait 10 seconds until the progress bar is fully loaded before repeating the process.
Tapping "get double" instead of claim makes no difference because they will force you to watch the video anyway.
You can only withdraw after you have accumulated 10,000 Robux. After redemption, the developer promises to transfer the game currency to you through the official Roblox website.
Is Royal Coin Box Legit? Does it Pay? 
No, it doesn't! Royal Coin Box is another fake reward platform that capitalizes on your desire to earn free Robux.
The app behaves the same as in Emoji Liner, Cut Grass, Lets Pop, and many others!
It takes significant time to reach 10,000 Robux and press the redeem button.

The reason is that they will decrease your earnings as you get closer to the minimum withdrawal requirement.
Almost all fake money games use this strategy of diminishing incentives to get you to view more and more videos.
I spent over two hours tapping and watching clips to collect 10,000 Robux. It starts with hundreds of Robux and eventually reduces to fractions!
When you reach 999.50, they will start offering you 0.01 – 0.08!
It's frustrating because, at this point, you don't even know if the target is attainable and the Robux is real.
But if you persevere, you will eventually achieve 10,000 Robux, only to discover this inconvenient message:

This reward platform is going viral! Cash out via PayPal, Visa, Gift Cards, and in-game currencies - Click here to find out how to generate an extra $10+ per day! 
"Congratulations on your successful redemption! You need to watch 25 videos to activate this order within a limited time. Otherwise, it will be invalid."
Here is a screenshot to prove that I made it this far!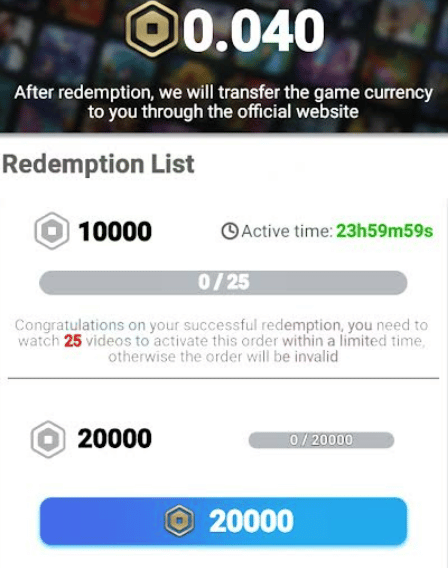 Please don't go for it, because it's totally fake! Instead, here is a legit app to earn coins and redeem for Roblox gift cards! 
Another thing I would like to mention about Royal Coin Box is that it's still in development despite having 1 million installs.
Early Access apps are suspicious because they don't allow users to publish reviews on Google Play.
Great companies always welcome positive feedback, whereas bad ones are never open to criticism!
Conclusion 
Royal Coin Box offers a variety of free and interesting games to play on your phone. However, users don't need to play any of them to collect virtual currency.
Instead, it wants you to tap and watch hundreds of videos that generate passive income for the developer.
Unfortunately, he will never deposit actual Robux in your account since the prize is very unrealistic!
Be careful! While playing Royal Coin Box, you will encounter numerous other games that offer an unbelievable sum of money.
All of them are fake! So please, don't fall into the rabbit hole, or you will unnecessarily waste your time, data, and battery!
The fact is that there is no application giving away lots of money or game currency for users who meet specific requirements.
Final Words
Thank you for reading my Royal Coin Box review. Kindly contribute by sharing your thoughts about this app in the comment box below. What do you think about it? Have you watched all the videos?
Peace!