Welcome to my Lets Pop review!
I recently saw an advertisement claiming people could win free Robux by playing the puzzle game. Here is a screenshot: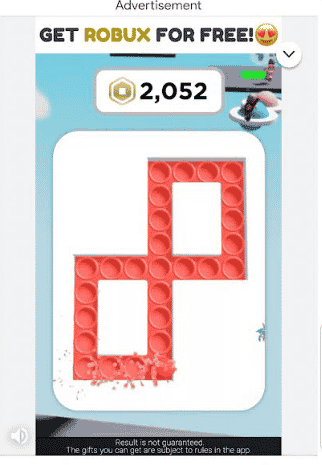 At first glance, you may assume the developers are hosting sweepstakes with only a few players winning the prizes.
But that's not the case because there is a redeem button for those who reach 10,000 Robux.
The company doesn't mention that you may not win the prize even if you reach the goal.
Instead, they encourage you to play and watch a ton of videos with the expectation of receiving the game currency.
I reviewed lots of Robux games that have been proven to be fake!
So, you have to be careful! Even though they are not chasing your money, they are profiting off of your time!
Is Lets Pop legit or fake? Will they transfer Robux to your game account? Let's find out!
Before you leave, don't forget to discover my recommended GPT site, where members are making $200+ on the side. Then, cash out via PayPal and gift cards!
Lets Pop Review 
Full Name: Lets Pop
Developer: Phoengod
Requirement: 10,000 Robux
Price: Free (no in-app purchases)
Overall Rating:

0 stars
What Is Lets Pop?
Lets Pop is a relaxing puzzle game inspired by the popular fidget toy made of silicon called "Pop It." You've most likely seen it for sale in the market.
The app entices people to play the game by giving them virtual Robux every time they complete the level.
Pop it Dash is an identical game that claims to transfer thousands of dollars and reward players with the new iPhone 13!
Lets Pop has been installed over 5 million times and received an incredible number of complaints on the Play Store.
So, despite being rated four stars, I believe the overall rating accurately reflects the general consensus.
How Does Lets Pop Work? 
You can install Lets Pop for free on your Android device through the Play Store.
Before playing any game on your phone, I always advise people to check the reviews and even read the Terms of Service.
Once you launch the game, it will ask you how much free Robux you want. There are three options available: 10,000, 20,000, and 30,000 Robux.

Click "Continue" and then enter your Username. Next, it says you can earn free Robux in the easy game!
How to Play? 
Each level has a unique path you must paint by pushing the colored ball over the entire maze.
Swipe in any direction to advance the ball to the next slot until the full path is painted.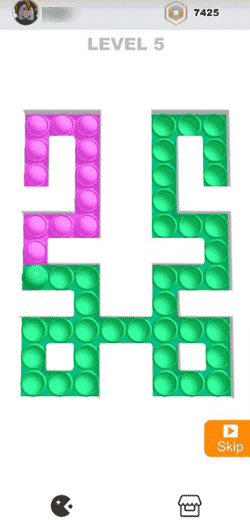 Once you complete the level, Lets Pop will award you Robux, which adds to your balance.
You can tap the "Get More" button and watch the video to multiply your reward by up to 5 times.
Since the game generates revenue through advertisements, they will push a video down your throat even if you select "No, thanks."
You may skip the level if you don't want to play the game by clicking the play icon and watching the video.
How to Receive Robux? 
You can only redeem the game currency if you meet the minimum requirement of 10,000 Robux.
The reason behind this condition is that the developers want you to play for a long time before you can redeem.
As a result, they get you to watch many commercials and maximize profits.
After you press the "Redeem" button, enter your Roblox account so that Lets Pop transfer the game currency from the official site.

Is Lets Pop Legit? Does It Pay? 
No. I am confident you won't receive a single Robux despite completing hundreds of levels. The reward is fake, just like in Cut Grass, Emoji Liner, Knife King Party, and many others.
It starts off with a reasonable number of Robux, but as you move closer to your goal, the rewards dwindle to decimals.
One person said he was at level 146 when he reached 10,000 Robux, only to find he had to watch 50 videos in 24 hours.
What a joke!

This reward platform is going viral! Cash out via PayPal, Visa, Gift Cards, and in-game currencies - Click here to find out how to generate an extra $10+ per day! 
This is an old tactic used by game developers who just care about pushing advertising with no regard for players.
I was reading the reviews and couldn't find anyone who received the Robux as advertised.

Another player reported the game asked him to watch another 50 videos before it stated "Processing." However, he is still waiting for game currency!
I checked the Terms of Service, which doesn't mention a single word about Robux. Instead, it talks about cash coupons and how it has no monetary value.
It seems they just copied the TOS from another so-called "money game."
Conclusion 
Lets Pop is a fun game for passing the time, but it does not transfer actual Robux to your Player account.
The developer can increase revenue by allowing players to win something of real value. In this case, Robux.
However, the amount of Robux they propose to transfer is worth more than $100, making it completely unrealistic!
While playing Lets Pop, you will probably discover many other games that promise to pay hundreds and even thousands of dollars.
They claim you can win large sums of money, but no one is actually paid.
Please don't waste your time and data making developers rich unless you enjoy the game.
Still, I suggest playing a similar game that does not entice the player with fake prizes.
Final Words
Thanks for reading my Lets Pop review. I hope it helps to raise awareness to save your time and energy!
Peace