Welcome to my VidzBox review!
This article is about VidzBox, an Android application that has gone viral in the last two weeks.
The company advertises the app by claiming that users can win $300 a day just by watching videos!
The creators pledge to pay you immediately via Cash App no matter how much you win. Not only that but the transaction will be completed within 1 minute!
I took some screenshots to show you how they are promoting the app.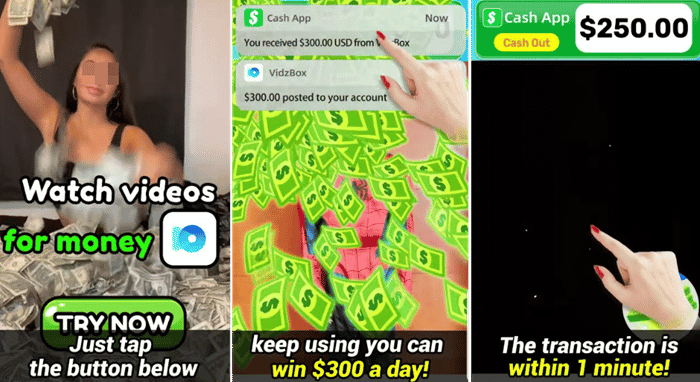 Undoubtedly, hundreds of people are biting the bait and downloading this application daily.
After all, who doesn't like the idea of making money effortlessly?
I have tested many similar applications that supposedly pay users to watch videos.
ClipClaps is one of the most popular of its kind, but it does not pay anywhere near what VidzBox does.
Are you as skeptical as I am? In this review, I will reveal whether VidzBox pays or not. Is it legit or fake?
Let's find out!
IMPORTANT: VidzBox has been rebranded to TubeBox
VidzBox Review
Name: VidzBox  -Now TubeBox
Developer: xatarigame
Payout Threshold: $300
Price: Free (no in-app purchases)
Overall Rating: 

0 stars
What is VidzBox? 
VidzBox is an Android application claiming to pay users a ridiculous amount just for watching videos.
The advert entices people with the opportunity to withdraw funds via Cash App.
However, there is no mention of financial incentives on the Play Store. Instead, it claims you can win various products through the prize draw after meeting the fragment requirements.
Vidzbox has gone from 50k to 100k installs in the last two days, indicating that the company is investing heavily in advertising.
Indeed, I saw their commercial more than five times while playing the past two games reviewed on my blog.
How Does VidzBox Work? 
Installation and Registration 
VidzBox is available for free on Google Play and is compatible with Android 5.0 and above.

Unlike other similar applications, it won't ask you to create an account before you can access the dashboard.
From my experience, this is a big red flag since legit reward apps require basic details to ensure you are not a bot.
Collecting Virtual Cash 
After loading VidzBox and selecting "Day 1", you will receive a welcome bonus of  $100. That's unbelievable!
Next, it states that you will get rewards when watching the video.
VidzBox is pulling up videos from YouTube to give you the impression you are getting paid to watch them. But that's not the case!
Instead, you will get virtual items every time you watch the commercial, not the YouTube video.
Note that a progress icon on the left side of the screen advances clockwise.
It reminded me of ClipClaps and Cashzine since they behave similarly while users watch a video or read the news. Here is my full Cashzine review! 
The bootstrap progress bar will continue to move as long as the application is open.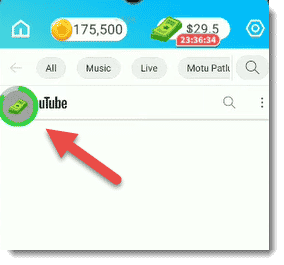 Whenever it completes a full circle, you will get $1 – $2 and the opportunity to multiply your winnings by watching the video. That's a commercial and not a YouTube video!
Keep in mind the developer is making real money every time you watch these videos to increase your cash prizes.
In addition to dollars, you will automatically earn coins that may be redeemed for cash.

You must tap the claim button and watch the video to collect the virtual items.
How Do You Get Paid? 
You can supposedly withdraw the funds once your cash amount reaches $300 or the coin balance hits 3 million.
Some payment methods include PayPal, Cash App, Paytm, Tez, and Coinbase.
According to the app's instructions, your reward will be sent to you within 3 – 15 business days.

This reward platform is going viral! Cash out via PayPal, Visa, Gift Cards, and in-game currencies - Click here to find out how to generate an extra $10+ per day! 
Mystery Box
In addition to cash rewards, VidzBox allows you to open the Mystery box draw and win fragments corresponding to several prizes.
Here is the complete list:

Channel bag
Rolex
MacBook Pro 13
PS5
Nintendo Switch
Dyson Supersonic
iPhone 13 pro
Oculus Quest VR
Airpods Max
Air Jordan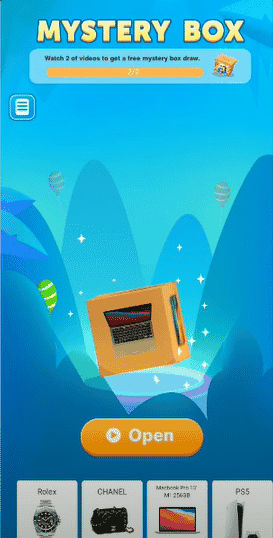 You must watch two videos to open the box and collect the puzzle pieces.
They make you believe you can claim the prize if you accumulate 100 or 50 fragments. But is there a real sweepstake in place? If yes, how many awards are given away each day?
There are no rules, and if you check the Terms of Service page, you won't find anything about rewards. 
Is VidzBox Legit? Does it Pay? 
No, it doesn't! VidzBox is one of those applications using fake dollars as bait to maximize revenue.
There is no chance of winning $300 because the developer only earns a few cents from each video you stream on your phone.
The YouTube videos are merely a pretense of making you think you're getting paid to watch them.
In reality, they only want you to watch advertisements when the progress bar is full.
It takes a very long time to reach $300 since your earnings drop significantly over time.
If you persevere, you will eventually get there and press the cash-out button only to find you need to watch 30 videos to activate the payment.
They didn't say anything about having to complete another requirement, but apparently, they may do anything they want!
As said before, VidzBox has no prize rules or user agreements regarding prizes. Therefore, it has no obligation to pay anyone!
The advert claims that transition takes 1 minute, but that's not true!
After watching all the videos, they will ask you to wait for six days. But unfortunately, they won't pay you a dime! 
Conclusion 
VidzBox is not an actual money-making application like the ones I've discussed in this post.
They give you an obscene amount of virtual money to hook you up and entice you to watch countless videos.
It operates just like the hundreds of fake money games I've exposed on my site over the last four years!
At least some of them are fun and help to kill boredom. VidzBox, on the other hand, is nothing more than a browser that accesses YouTube videos.
Please don't waste your time and data using this app because it only helps the owners make more profits.
Verdict: Not Recommended 

Many legit applications pay users for watching videos. However, I feel like none of them deserves my recommendation.
Earn a Full-Time Income Online 
Imagine earning a decent income online and not depending on any job to put food on the table!
What would you do? Spend more time with your family at home. Travel the world? Escape the big city and live in a small village with better quality of life?
In 2015, I wanted to quit my physically demanding job and work from my laptop. I also craved the freedom to travel whenever and wherever I wanted!
Thanks to this excellent step-by-step program, I could grow a lucrative site that pays all my living expenses, even while I am traveling!
It's mind-blowing, and sometimes I don't even believe I have reached this level of success.
I've met many members throughout the years who have likewise succeeded after putting in the time and work. It just works!
Final Words
Thanks for reading my VidzBox review! Feel free to use the comment box below if you want to ask something or share your thoughts on this app.
Peace!