Welcome to my Money Choice review!
I was playing a game earlier today when I came across a commercial for Money Choice.
The advert shows a disappointed woman speaking on the phone, asking customer service why she can't withdraw the money.
She thought there was no payout threshold in the game!
The staff then asks if she downloaded the game through the link in the advert, to which she replies no.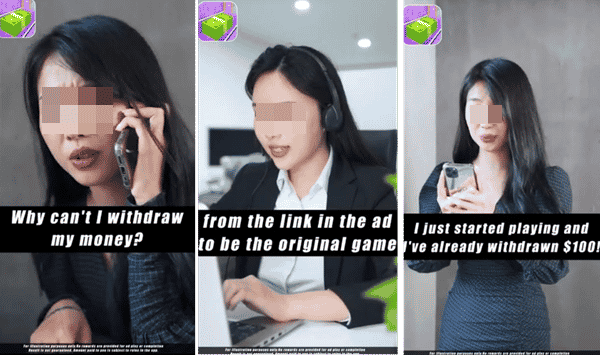 The attendant advises that if she uses this method, she will be able to play the original game and withdraw as much as she wants. Even $0.10!
Money Choice is promoting the idea of making hundreds of dollars and no limit to cash out!
But is it legit or fake? Does it pay? I'm here to expose another game, so you don't have to waste time figuring it out on your own.
Before leaving this page, check out the step-by-step system that helped me generate $2,000+ per month and quit my job in 2019.
Money Choice Review

This reward platform is going viral! Cash out via PayPal, Visa, Gift Cards, and in-game currencies - Click here to find out how to generate an extra $10+ per day! 
Name: Money Choice
Developer: FunerLeague
Payout Threshold: $100
Price: Free (no in-app purchases)
Overall Rating: 

0 stars
What Is Money Choice? 
Money Choice is an addicting game in which you control virtual coins along a straight path.
It was probably "inspired" by the popular running game called Count Masters.
You begin with a certain amount of money and work your way up by rolling the coins through various gates.
As you complete the levels, you will earn virtual cash that can supposedly be redeemed for real money to your PayPal account.
Money Choice has gone viral recently, reaching the incredible mark of 100k installs on Google Play.
How Does Money Choice Work? 
Money Choice is available on Google Play for all Android devices and is 100% risk-free. Meaning you don't have to make any purchases to play the game and collect the rewards.

After loading the game, you can play immediately without registration.
Before you start the game, you can increase your cash bonus and the starting number of coins. Then, you can level up by watching sponsored videos.
Swipe left or right to slide the coins through the best gate, which will result in the most cash.
Each gate will multiply, sum, divide or subtract your money until you reach the finish line.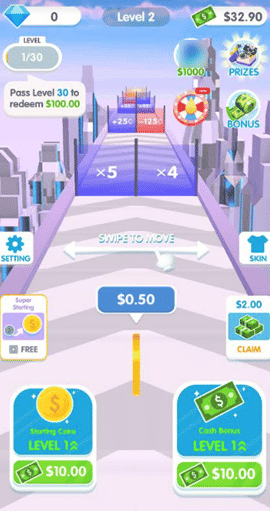 Along the way, you may also collect diamonds that can be redeemed for cash rewards.
Your job is to complete the circuit with as much money as possible. If you are good at maths, you will do pretty well and accumulate a lot of money in a short time.
Once you complete the level, you can multiply your earnings by up to 10 times by selecting "Get More" and watching a video.
However, Money Choice will push an advert even if you choose " No, thanks."
Select the "Bonus" icon at the top to activate the game, where you can earn a lot more money by controlling banknotes.
How do You Get Paid?
Remember when Money Choice said there was no minimum withdrawal requirement? That is not true!
Like most money games, you can only cash out after meeting certain conditions.
You can supposedly redeem $200 if your cash balance reaches 5000.

So, the dollars you see on your screen while rolling the coins do not reflect the actual amount of cash.
Also, you will need at least 1000 diamonds to convert them for $100.
Many payment options are available, including PayPal, Line Pay, Alipay, PayPay, and TrueMoney.
Puzzle Prizes
Money Choice features a prize section where you can collect puzzle pieces to win iPhone 13, MacBook Pro, Sony TV, and many other expensive items.
Of course, you will have to watch videos to earn fragments in the Bubble of Puzzle and Lucky Spin.
Is Money Choice Legit? Does it Pay? 
No, it doesn't! Money Choice is another fake money game like hundreds of others available on the Play Store.
It's a shame that thousands of people will spend hours rolling coins only to find they won't be paid.
Although the developer is generating revenue, it's not near enough to transfer hundreds of dollars to players who reach the goal.

Can you imagine if they had to pay everyone who installed the app and played for a few hours? It's ridiculous!
But, you may wonder, what if they just pay a few players?
No, they don't! And you know why? This is a company that operates outside the US and Europe and has no obligation to pay anyone.
There is no mention of financial incentives on their Terms of Service, which is evidence that they do not pay anyone.
Once you reach $5000 or 1000 diamonds, Money Choice will probably ask you to watch more ads to activate your order.
It's really a trick to entice you to watch more videos and so maximize income for the app developer.
How to identify a fake money game? 
Here are some red flags that will help you identify fake money games:
Are they advertising the game as an opportunity to win hundreds and even thousands of dollars?
Is the game in early access?
Do you have to high minimum cash-out requirement before you can withdraw?
Is the game using the PayPal or Amazon logo?
Do you have to watch a video to collect virtual dollars?
Did they ask you to watch more videos to activate the order?
Conclusion 
Please don't waste your time playing Money Choice since it's not an app you can use to withdraw real money.
By rolling coins and watching videos, you are just helping developers, and advertisers increase their revenue.
I recommend you avoid Money Choice and learn practical strategies to make money online. Here is my top recommendation! 
Final Words
Thanks for reading my Money Choice app review! If you share your thoughts on this app, feel free to use the comment box below.
Peace!