Welcome to my Money Turn review!
I was browsing the play store in search of reward apps when I found Money Turn.
The company claims you can collect coins by playing games on your phone and exchange them for real cash rewards.
You may also deposit your coins in the piggy bank and receive interest on your investment.
That seems pretty cool! But after testing so many similar applications, I learned not to get my hopes high to avoid disappointment.
With so many dishonest developers, you must be vigilant and always check reviews before installing an app.
I am here to show you everything you need to know about Money Turn so you can avoid unnecessary frustration. Is it legit or fake? Will they pay you?
Let's find out!
Before leaving my blog, check out the step-by-step system that helped me generate $2,000+ per month and quit my job in 2019.
Money Turn Review
Name: Money Turn
Developer: JustDice GmbH
Payout Threshold: $0.20
Price: Free (no in-app purchases)
Overall Rating:

2.5/5

This reward platform is going viral! Cash out via PayPal, Visa, Gift Cards, and in-game currencies - Click here to find out how to generate an extra $10+ per day! 
What is Money Turn? 
Money Turn is an Android application that rewards users for installing apps and playing games on their devices.
The app was developed by JustDice GmbH, the same company behind Cash'em All, Money Flame, AppStation, and many others.
They all work the same way, tracking your playing and giving coins for each minute of playtime or level finished.
Launched in May 2022, Money Turn has some unique features that the other don't similar apps have.
For example, you can invest their coins and earn at least 3% interest, depending on your level.
You can collect more coins by completing online surveys and installing sponsored applications in the offer section.
How Does Money Turn Work? 
Installation and Registration
You can install Money Turn on any Android and start collecting coins after a quick setup.

When you launch the application, it will prompt you to read and agree with their Terms of Service.
Next, you can choose your login method, including Facebook, Google, or email. Then, enter your age and gender so the company can suggest apps that match your interests.
The next step is to provide Money Turn tracking permission so that it can detect your playtime and award coins.
Simply click "Accept," select the Money Turn app on the list, and toggle on "Allow Usage Tracking."
Congratulations! You will get 1800 coins as a welcome gift, which will be added to your first payout.
How Much are Coins Worth? 
It depends on your country. In the United States, 1000 coins are equivalent to $0.10. 
To find out how much coins are worth in your country, check the withdrawal dashboard and divide the minimum cashout amount in your currency by 2000 coins.
How to Collect Coins? 
Money Turn allows you to collect coins by playing games, installing apps, and answering surveys.
Learn how to use the three ways listed below.
Earn with games
In this section, you will find a list of sponsored games that award you coins while you are playing.
By clicking "Play Now," you will be redirected to the Google Play store, where you can install the application.

Then, all you have to do is open the game through the application and play it on your phone or tablet.
Depending on your country, Money Turn will give you coins per minute of gameplay or after passing each level.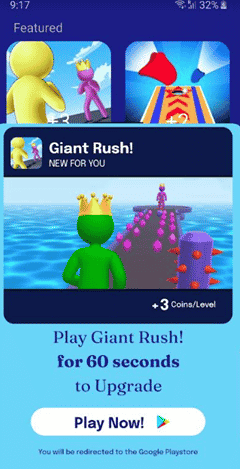 The problem is that even if you start earning coins per minute, it will eventually revert to coins per level.
Many players complain about this change since they need to put more time and effort into the game to get rewards.
The earning potential is always higher in developed countries. For example, players earn over 100 coins per minute in the USA!
What I like about Money Turn is that it provides some stats for each game you have on your list. For example, it shows how many hours you have played and how many coins you have accumulated.
It's important to note there is a cap on how many coins you can earn per game. Therefore, Money Turn will stop giving you coins after you have reached a certain threshold.
Check out the best app to earn money with games! 
Earn With Apps
Money Turn has partnered with Fiber, an offer wall that allows you to install and use third-party applications in exchange for coins.

You just have to install the app and follow all the instructions, such as achieving a certain level or milestone.
Some applications will only give you coins if you make a purchase. I would avoid them because if Money Turn does not pay you, you will lose your hard-earned money.
It may take a few days for advertisers to validate your participation and release the coins.
So, if you don't receive coins right after finishing an offer, wait a few days.
If you don't get the credits, I advise you to contact Fiber directly and inform them you didn't receive your reward through the Money Turn app.
Earn With Surveys
Depending on your country, you will also get access to the Tap Research survey router.
Here is where you can participate in marketing research studies and earn coins for your honest opinions.
The first is to answer a few profiling questions before opening the list of survey opportunities.
Next, select the survey and complete the qualification questionnaire. If you are a good fit, Tap Research will let you complete the survey and receive coins through the Money Turn platform.
Investing Your Coins
Money Turn allows you to invest your coins into the deposit dashboard and earn at least 3% return on investment.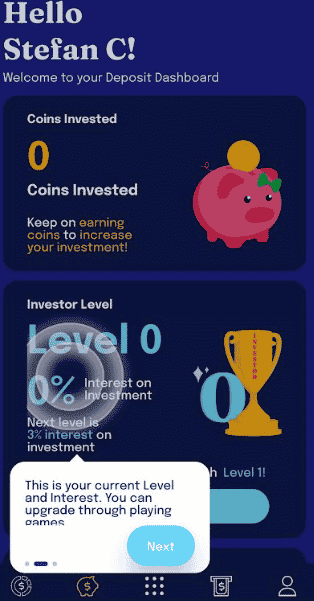 You start at level 0 and jump to level 1 after playing the first game for 60 seconds. At level 1, you will receive a 3% return, and at level 2, you will receive 7%.
For example, if you deposit 1000 coins, you will earn 30 coins per day w
How to Withdraw Your Funds? 
You can cash out the minimum amount of 0.20 USD via PayPal as soon as you accumulate 2000 coins.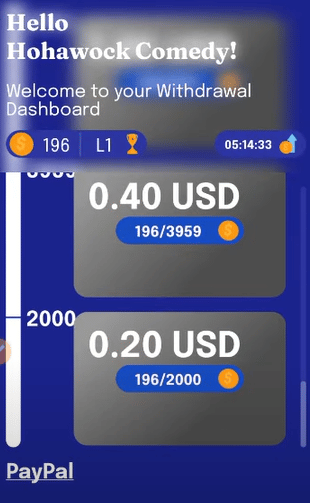 By withdrawing higher amounts, you can increase the value of each coin. For example, instead of 10,000 coins, you will need 9700 coins to redeem 1 USD.
Therefore, you would save 300 coins to use for your subsequent withdrawal.
Keep in mind Money Turn may ask you to submit a selfie for face recognition. According to the provider, this procedure is necessary to avoid bogus accounts taking advantage of the signing bonus.
Even though the cash reward is presented in your currency, JustDice will pay you in Euros since the company is based in Germany.
Is Money Turn Legit? Does it Pay? 
Yes, Money Turn is 100% legit, but there are important things you should know while using this application.

If you check the Terms of Service, you will find the company does not guarantee any winnings. 
Therefore, there is a chance you won't receive the money even if you follow all the instructions and reach the payout threshold.
Technically speaking, that doesn't mean the app is a scam since you have no rights to payouts.
But are players receiving the money? Unlike many fake apps on Google Play, many users report receiving the money with no issues.
Unfortunately, I have also found many people struggling to cash out due to frequent glitches and missing credits.
Some people are banned due to suspicious behavior, yet they insist they did nothing wrong.
Conclusion 
Money Turn is a legit application for people who want to earn a little extra cash by trying new games.
The earning potential is very low since you have to play for hours only to earn a few cents. One person claimed to have made one dollar in one week.
Therefore, I don't recommend it to people who don't regularly play mobile games because it undervalues your time.
Furthermore, there is a chance that you will not get rewarded after putting in the time and effort.
It can be very frustrating when checking your coin balance and finding the application and don't track your gameplay.
If you want to get paid by completing gaming offers and surveys, check out my top-rated Gpt platform. 
Sick and tired of earning pennies online? Then, keep reading!
Earn a Full-Time Income Online
To earn real money online, I suggest you attract an online audience by creating helpful content.
Internet marketing is a great business model since anyone can benefit from and generate excellent commissions.
In 2015, I took steps to establish a website and profit from the digital economy.
After seven years, I am still making excellent profits from the site I built back then. It's a proven strategy that works for those who put in consistent work!
This amazing step-by-step course assisted me in learning everything I needed to know about this business model and achieving success.
Final Words
Thank you for sticking with me until the end of this post. I hope my Money Turn review was helpful to you!

If you would like to share your opinions on this app, feel free to use the comment box below.
Peace!