Welcome to my Rewards Well review!
I saw an advertisement for another money-making application and couldn't resist putting it to the test.
The commercial entices the audience to install Rewards Well, play games for 60 seconds, and earn real money.
What surprised me about this app was that the company doesn't make unrealistic income claims.
Instead, they show a $2 payment made through PayPal, suggesting you can cash out small amounts.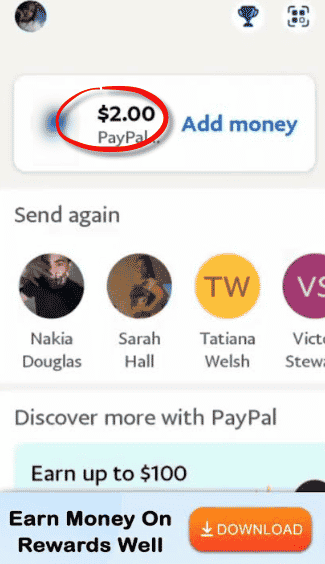 Although Rewards Well appears more convincing than other apps, it's essential to investigate further to find whether the developer pays or not.
In this review, I will show you everything you need to know about this app and give you my honest opinion. Is it legit or fake? Let's find out!
Before leaving my blog, check out the step-by-step system that helped me generate $2,000+ per month and quit my job in 2019.
Rewards Well Review
Name: Rewards Well
Developer: ccyrusgames
Payout Threshold: $100
Price: Free (no in-app purchases)
Overall Rating:

1/5

This reward platform is going viral! Cash out via PayPal, Visa, Gift Cards, and in-game currencies - Click here to find out how to generate an extra $10+ per day! 
What is Rewards Well? 
Rewards Well is another app that claims to pay you for experiencing new games and apps on your Android.
It follows the same concept as Money Well, Money Turn, Mistplay, and many others.
As an active member, you will collect cash rewards by installing applications and completing the requirements of each offer.
Rewards Well has gone viral in recent weeks, with over 100,000 installations on Google Play. This can be explained by massive advertising investments.
How Does Rewards Well Work? 
Rewards Well is available for free on the Play Store and has no in-app purchases.
Upon launching the app on your Android, you will get a welcome bonus of 2,000 tokens worth $0.20. 
You just have to tap "Receive" for the tokens to be added to your account.

Next, you must grant Rewards Well access to your usage data so they can track your usage and give you rewards based on your playtime.
Tap "Open & Earn," select the Rewards Well app from the list, and activate "Allow usage Tracking."
This allows the developer to monitor which apps you are using and how long you are using them.
After allowing usage tracking, you will earn an additional 500 tokens ($0.05).
Collecting Tokens
Tap on "Offers" to explore all the sponsored applications.
You will find a list of apps and the total number of tokens you can earn for trying them out.
Right off the bat, Rewards Well enticed me to install a shopping app and use it for 1 second to earn 2418 tokens ($0.20). Bear in mind I didn't have to make any purchases to get rewarded.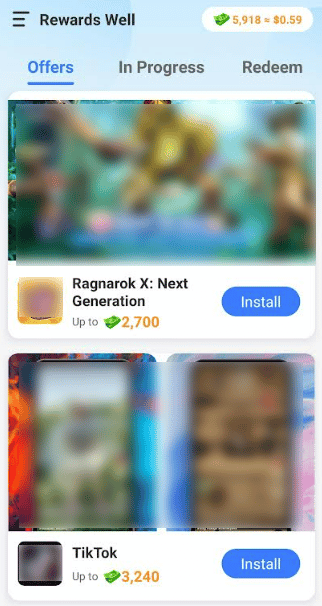 All the apps you install through Rewards Well will be listed in the "Progress" tab, where you can see how long you need to use the app to receive the tokens.
Because there is a limit on how much you can earn for each application, they will extend the time required to get the same number of tokens.
Therefore, Rewards Well behaves just like the other applications I mentioned earlier.
Each offer gives between 2,000 and 5000 tokens ($0.20 – $0.50), which is reasonable given that the developer is getting paid a few dollars.
Enough of earning pennies! Check out my top recommendation and build a lucrative online business that pays you thousands of dollars every month!

How do You Get Paid? 
All my good expectations about Rewards Well were thrown out of the window when I opened the redeem page. 
Remember when I said the commercial showed small payments of $2?
That is impossible since the minimum cashout requirement is 1 million tokens ($100). So, the advertising is either outdated or very deceptive!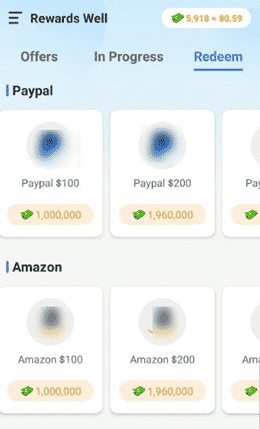 Considering you will get, on average, 3000 tokens for each offer, you will need to install and use over 300 apps to be able to cash out.
That's just insane!
If you manage to fulfill this requirement, you cash out via PayPal or Amazon gift cards.
Is Rewards Well Legit? Does it Pay? 
No, I do not believe Rewards Well transfers real money to participants since the cash-out requirement is almost unachievable.

Users have to collect one million coins even though most app offers don't award more than 5,000 tokens.
Unfortunately, many people will only realize how ludicrous this task is when they have been using Rewards Well for several weeks.
Because Rewards Well is currently under development, it doesn't allow reviews to be published on Google Play.
I don't recommend apps still in "Early Access" because such classification may be used as an excuse to avoid criticism in the comments.
Many game developers are using this tactic to prevent people from finding the game is fake.
It's also important to mention that the Terms of Use don't say a single word about cash rewards.
This is quite suspicious because genuine platforms have rules that must be respected.
Conclusion 
At first glance, Rewards Well seems like a legit platform that pays users for playing games and installing third-party applications.
They advertise the app in a realistic fashion, but the withdrawal conditions are utterly ridiculous!
You are expected to reach at least 1 million tokens even though each offer awards a few thousand tokens.
Therefore, I firmly believe you won't receive a single penny from this company. It's not worth the risk of wasting a significant amount of time and data hoping to cash out.
If you want to get paid for playing games and completing simple tasks, check out my top-rated GPT site here. 
Also, JustPlay is one of the best applications to earn money with games! But unfortunately, it's not available worldwide yet.
Final Words
Thank you for sticking with me until the end. I hope my Rewards Well review was informative and helped to raise awareness!
So, did you make it to 1 million tokens? Please share your experience in the comments area below.
Peace!