Welcome to my Color Bird Sort review!
A growing number of app developers are enticing gamers with cash prizes to boost their profits!
I have recently discovered Color Bird Sort, which claims to transfer hundreds of dollars to the player's PayPal account.
The commercial for this game gives the impression you can earn over $100 in just a few seconds of gameplay.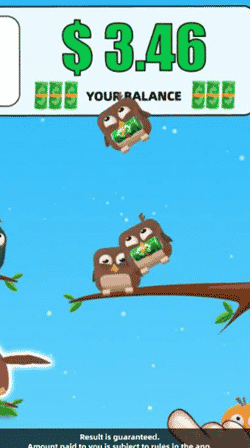 It uses the same old tactic I have extensively covered in my blog in the past three years. It's crazy!
Yet, many people are still unaware of fake money games and wind up wasting too much time and energy.
So, is Color Bird Sort legit? Are players receiving the money they accumulate during the gameplay? Let's find out!
Before leaving this page, check out the step-by-step system that helped me generate $2,000+ per month and quit my job in 2019.
Color Bird Sort Review
Name: Color Bird Sort
Developer: Momo Fun Games
Payout Threshold: $1000
Price: Free (no in-app purchases)
Overall Rating: 0 stars
What Is Color Bird Sort? 

This reward platform is going viral! Cash out via PayPal, Visa, Gift Cards, and in-game currencies - Click here to find out how to generate an extra $10+ per day! 
Color Bird Sort is a puzzle game where you can supposedly win real money by matching birds of the same color.
It reminds me of Color Sort Puzzle, which involves separating colored liquid between many bottles. Color Bird Sort follows the same concept.
Once you complete the level, you will receive virtual dollars that you can multiply by activating the slots.
You can then cash out after hitting $1,000, but they want you to do something else to get the money.
Color Bird Sort has been installed over 100k times on Google Play and rated 4.4 stars. However, there is a significant number of negative and eye-opening reviews!
How Does Color Bird Sort Work? 
Color Bird Sort is a free app accessible on the Play Store that does not require registration or permissions.
Upon installing the app, you can start collecting virtual cash immediately by sorting the birds.
The game features birds of various colors perched on tree trunks.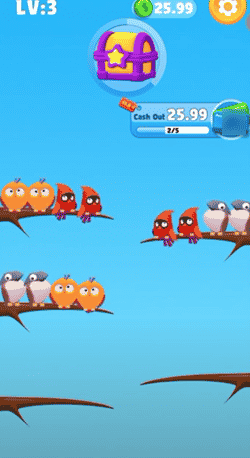 Your job is to place all the birds of the same color in a tree trunk so they can fly away. Simply tap the birds and then the trunk to which you want to transfer them.
Once all the birds are sorted, you will receive virtual dollars and the opportunity to spin the 3-reel slots to multiply the prize.
The higher the level, the more difficult it is to solve the bird puzzle. However, you get extra trunks, rearrange the birds or undo your last move.
How do You Cash Out? 
According to Color Bird Sort, all rewards will be redeemed via PayPal or Cash App after the 30-minute countdown ends.
It also claims that you can cash out up to $1,000 in 24 hours.
First, you must enter your withdrawal account. So, you have to tap "Enter," choose your payment method and enter your account (email for PayPal or number for Cash App).
Is Color Bird Sort Legit? Does it Pay? 
No, it doesn't! You won't receive any money from Color Bird Sort regardless of how many levels you complete on this game.
This is not a real money-making app, as all you do is view commercials that solely benefit the owner.
I have seen many reviews from disappointed players who didn't receive a dime!
So, what happens when you try to cash out?
After the countdown is over or after reaching $1000, they will ask you to watch 30 videos to activate the order.

I lost count of how many fake money games are using the same trick to squeeze even more money from your playtime.
Then, if you abide by this rule, you may have to wait in a queue of over 1000 people to get the money.
One user reported being stuck at number 120 for a month.
Another player was so angry he took screenshots and sent them to the FTC ( Federal Trades Commission) in the USA.
Unfortunately, it's impossible to earn money since the cash prizes are very unrealistic!
If the company is not rewarding players, they shouldn't be able to promote it as if we could win a lot of money. This is wrong on so many levels!
Conclusion 
Color Bird Sort does not provide a real opportunity to earn money.
So, I don't recommend you waste your time and data trying to meet the requirements because there is zero chance of getting paid.
The system was designed to make you watch lots of videos so that only the developer profits from your views.

I recommend that you avoid any app that tries to sell you the dream of making quick money through PayPal or Cash App.
After testing hundreds of applications, I haven't found a single game that pays more than $2!
Earn a Full-Time Income Online
Making a decent income online is liberating and delivers an incredible sense of freedom!
I was able to quit my work in 2019 by growing this website and providing helpful content to the internet.
Although there are many ways to earn money online, I believe content creation will always prevail.
If you want to replicate my success and build a lucrative online business, check out this article and take action today! 
Final Words
Thank you for sticking with me until the end of my Color Bird Sort review. I hope it was informative and helped you save time. If you have any questions, let me know in the comment box below.
Peace!