Welcome to my Translate Go review!
There has been a lot of hype about Translate Go, an Android app that claims to pay users for translating words.
No, you don't need to provide translation services to earn money! Instead, you will use it like Google Translate and earn coins redeemable for cash rewards.
That seems too good to be true, right? But here's the crazy part. The creator is marketing his app if users could earn hundreds of dollars through PayPal!
Here is a screenshot that I took from the commercial: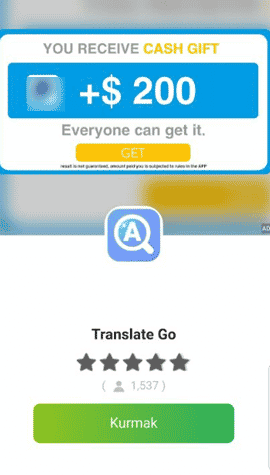 Perhaps you do not expect to make so much money in such a short period of time.
However, it would be great if the coins added up over time and the company transferred the money to your account.
So, is Translate Go legit or fake? Does it pay or not? I urge you to read this review until the end to avoid frustration and wasted time.
Before leaving my blog, check out the step-by-step system that helped me generate $2,000+ per month and quit my job in 2019.
Translate Go Review

This reward platform is going viral! Cash out via PayPal, Visa, Gift Cards, and in-game currencies - Click here to find out how to generate an extra $10+ per day! 
Name: Translate Go
Developer: ChenSX
Payout Threshold: $35
Price: Free (no in-app purchases)
Overall Rating: 1/5
What Is Translate Go? 
Translate Go is an Android app that allows you to translate text into multiple languages and supposedly get paid for it. 
The application will award you coins for every word you convert using the translation box. Then, you can
It works just like Google Translate, with the main difference being that it's sharing advertising revenue with users.
In this regard, Translate Go is similar to pedometer applications such as Sweatcoin and Winwalk.
Although the developer advertises it as a money-making application, there is no information about prizes on the Play Store.
The app's description only covers the benefits of using his text translation service. That's quite odd!
How Does Translate Go Work? 
Translate Go is available for download from the Google Play Store for Android devices.

The app is entirely free and requires no registration.
When you open it for the first time, they persuade you to watch a video in return for a new user bonus of 5,000 coins.
After that, you can earn an extra 4,000 coins by clicking the button and watching another video.
To earn coins, choose a language, type your text in the blue box, and then touch "translate."
Then, click the "exchange" button below the box and watch the advert until the end.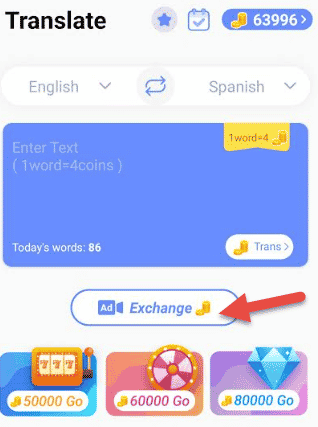 To maximize your earnings, you can copy large chunks of text on the internet and paste them for translation.
It is critical to recognize that Translate Go only generates revenue by displaying advertisements to the user.
So, this whole concept of getting "paid to translate" is just an excuse to make you watch countless videos.
You can also play the Fortune Slot, Lucky Spin, and magic Scratch to win more coins. Of course, they will lure you into watching additional videos to boost your earnings.
How Much Money Can You Earn?
To estimate how much money you can earn with Translate Go, it's essential to know the value of each word.
Since each word gives you four coins, and 60,000 coins are equal to $1, you will earn $0.000066 per word. 
That's literally a microscopic amount of cash!

You can paste large pieces of text, but unfortunately, Translate Go will only translate a maximum of 100 words at once.
As a result, you will get little more than 344 coins per translation, equal to $0.02.
After the video, a pop-up window will display the number of coins you made, and another clip will appear just below.
Remember that all the videos you watch on your phone consume a lot of bandwidth from your internet plan.
How Do You Get Paid? 
Believe it or not, you can only cash out after you collect at least 2 million coins!
That's $35 in the USA or the equivalent amount in your country's currency.
If you reach this absurd target, open your cash wallet, tap "withdraw," and choose your gift card.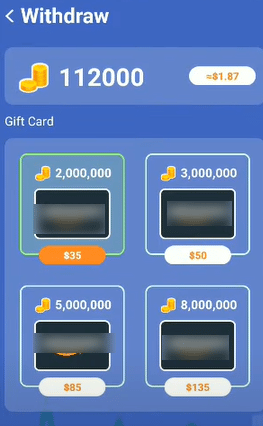 Is Translate Go Legit? Does it Pay? 

I doubt Translate Go is rewarding users!
Considering you have to watch a 30-second video to earn a little more than 300 coins, it will take ages for you to reach 2 million coins.
Translate Go has set an almost impossible goal because they know most users don't have the nerve to achieve it.
You have to be extremely patient to perform these translations and then wait for the video to finish before collecting the coins.
Rinse and repeat thousands of times before you get the chance to earn $35! OMG! At this point, you will have ruined your phone's battery and used an enormous quantity of data.
Still, there is no guarantee that the developer will be honest enough to give you a $35 Amazon gift card.
Another reason to believe Translate Go won't pay you is that the company doesn't provide the Terms of Service.
Besides, the app's description does not mention the possibility of making real money.
Conclusion 
At first glance, Translate Go seems like a fantastic opportunity to earn money by translating text.
However, the prospect of reaching two million coins and receiving the cash reward is bleak!
You will most likely waste your time and data wasting hundreds of videos only to realize it will take years to reach the target.
Translate Go is very similar to this pedometer app that claims to pay you for walking. It just comes in a different package, but their reward structure and business model are the same.
Final Words
Thanks for reading my Translate Go review! If you have any questions or thoughts on this strange translation app, please leave us a comment below.
Peace!