Welcome to my Tree Garden review!
The developer of Tree Garden claims that you will win an extra income every day just by playing the game.
According to the commercial, your winnings will be paid directly to your PayPal account with no withdrawal restrictions.
I have already reviewed several money-tree games that use similar marketing tactics to persuade people to download the app.
They depict the game with the PayPal logo on the top and $100 payments in a fictional account.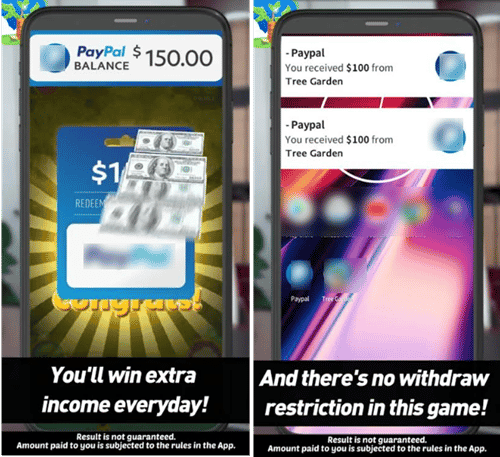 You are concerned that the rewards are fake and that you will not receive the money despite your best efforts. But you wish it was real!
So, Is Tree Garden legit? Does it pay or not? Keep reading to find out who is making real profits!
Top recommendation: This excellent program helped me generate over 2,000 US Dollars per month online and quit my job for good in 2019.
Tree Garden Review
Name: Tree Garden
Developer: 2608 Game Studio
Payout Threshold: N/A
Price: Free (no in-app purchases)
Overall Rating: 

0 stars
What Is Tree Garden? 
Tree Garden is a straightforward game in which you repeatedly touch to grow your money tree.
The app is almost identical to Sparkle Tree and many other get-rich-quick games!
As you tap your tree, you will receive virtual currency that will accumulate in your account after watching the sponsored videos.
They say you can withdraw the money or gift card once your Amazon or PayPal balance reaches a specific amount.
If that wasn't enticing enough, Tree Garden also gives you the chance to win an iPhone 12 if you complete 50 levels and watch 200 videos.
With such fantastic incentives, it's no surprise that the game has already been downloaded over 100,000 times.
Many legitimate applications reward people for playing games!  Check out my complete list here!
How Does Tree Garden Work? 
The application is available on Google Play Store for Android devices and is 100% free to play.
Upon launching the game, you will see a small money tree in the center.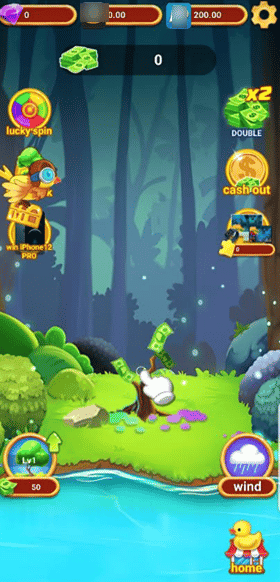 Every time you tap the tree, it will add virtual dollars to your account. These banknotes can be used to level up your money tree and cannot be exchanged for money.

You'll be bombarded with invitations to watch a video and receive cash coupons with the PayPal or Amazon logos.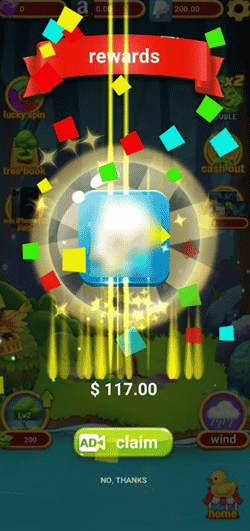 That's the virtual currency that you can supposedly redeem for real money.
These virtual coupons appear randomly while tapping or leveling up your money tree.
Bear in mind you will always be required to watch videos to receive virtual dollars. The reason is that Tree Garden gets paid every time you install the applications they promote to you.
Tree Garden also features the Lucky Spin that allows you to collect more PayPal cash, Amazon cash, diamonds, and puzzle pieces.
While diamonds are worthless, puzzle fragments may be used to enter prize draws for amazing Apple gadgets such as iMacs, iPads, and iWatches.
How do You Get Paid? 
Tree Garden suggests that you must wait 24 hours to cash out up to $1000 via PayPal.
There appears to be no minimum cash-out amount. However, you can withdraw immediately if you hit $1000 in this period.
Tap the "Cash out" button and enter your PayPal email twice to request the payment.
You can also redeem a $1500 Amazon Gift card if your collect enough Amazon cards and reaches this amount.
Win an iPhone 12 Pro
Believe it or not, Tree Garden also claims that if you complete level 50 and watch 200 videos, you will earn an iPhone 12 Pro.

The following section will show you if all of these prizes are real or fake. So, please stick with me until the end to find out!
Is Tree Garden Legit? Does it Pay? 
No, it doesn't! Tree Garden does not reward players since the developer cannot afford to give such unrealistic prizes.
The app is only generating revenue through advertisements, which is not enough to pay thousands of players. Let alone the iPhones and all the other expensive Apple Products!
They will lure you into watching countless videos and give you a ridiculous amount of cash as if your eyes could turn everything into gold.

This reward platform is going viral! Cash out via PayPal, Visa, Gift Cards, and in-game currencies - Click here to find out how to generate an extra $10+ per day! 
But after reaching $1000 or the 24-hour mark, Tree Garden will ask you to watch more videos!
It's a complete joke because they didn't mention you would have to complete additional requirements. So now, you don't even know how many hoops you will have to jump to receive the money.

Don't bother since you won't get compensated even if you accomplish everything they want!
Conclusion 
Don't waste your time playing Garden Tree or any other similar game that features the PayPal logo and big cash prizes.
The developer is the only one making real profits since the app earns money from advertisers.
You're merely a cog in their machine, touching your phone and viewing videos for absolutely nothing!
If you were searching for a game called Money Garden Tree and ended up reading this review, it wasn't in vain. Unfortunately, that game also doesn't pay a dime!
It's essential to spot a fake money game before installing them because no one knows what kind of information they are collecting from our phones.
Because of this, you should always check reviews and read the app's details before hitting the Install button.
Final Words 
Thanks for visiting my blog and reading this Garden Tree review.
If you want to share your opinions and spark discussions on this application, use the comment box below.
Peace!