Welcome to my Lucky Habit review!
Yesterday I found a strange application called Lucky Habit, which claims to pay users by completing simple daily tasks.
In the advert, a woman encourages people to download the app and get $1000 when going online. 
They promise to help you develop good lifestyle habits and earn money by drinking water and even sleeping!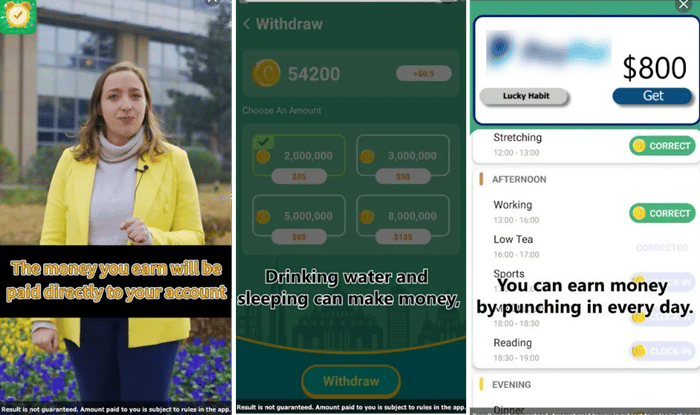 Like many fake games, Lucky Habit shows the PayPal logo and the idea of free money to persuade people to install the app.
App developers realized that making outrageous cash claims without paying anyone allowed them to generate far more profits.
So, is Lucky Habit legit or fake? Will the money be transferred to your PayPal account, or is it a complete waste of time?
Let's find out!
Before leaving my blog, check out the step-by-step system that helped me generate $2,000+ per month and quit my job in 2019.
Lucky Habit Review
Name: Lucky Habit: health tracker
Developer: LouisChen
Payout Threshold: $1 (Diamonds) $35 (coins)
Price: Free (no in-app purchases)
Overall Rating: 1/5

This reward platform is going viral! Cash out via PayPal, Visa, Gift Cards, and in-game currencies - Click here to find out how to generate an extra $10+ per day! 
What is Lucky Habit?
Lucky Habit is a free app that claims to help you develop life-changing habits by adhering to a positive routine.
The crazy thing about this application is that as you accomplish the activities, you earn coins redeemable for cash rewards.
You will be enticed to check in, collect coins, play games and watch a ton of videos to accumulate tokens.
Collect enough coins, and you may cash out at least $35 via PayPal.
Although over 100,000 Android users have installed Lucky Habits, there are still no reviews on the Play Store.
I would never install a reward app without first hearing from users who have used it.
How Does Lucky Habit Work?
Lucky Habit is available on the Google Play Store and is free to download.
After installing the app on your Android device, they will ask permission to manage phone calls and even access your photos, media, and files.
I clicked "deny" for both requests since I have no idea why they want authorization or what they intend to do with my data.

Next, you will receive a new user bonus of 50,000 coins after watching a video.
Lucky Habit is a simple software that will give suggestions during the day to help you live a healthier lifestyle.
You will see a particular activity on your screen at different times of the day, along with a check-in button to confirm you accomplished it.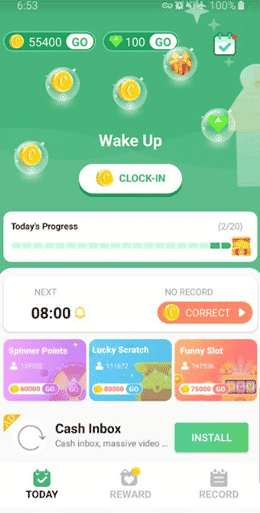 For example, Lucky Habits will propose that you wake up, eat fruits, drink water, sleep, and exercise at specific periods of the day.
It works as a routine planner to ensure you follow a healthy schedule!
You can open the "Record" tab to track your accomplishments.
Earning Money With Lucky Habits
Lucky Habits gives you coins and diamonds that you can supposedly exchange for real money.
60,000 coins and 70,000 diamonds are equivalent to 1 USD. 
Every time you check in and watch a commercial, Lucky Habits will give you 200 coins. You can multiply your earnings by four if you watch another video.
You can collect more rewards by clicking the coins and diamonds in the green area above. Of course, you will be prompted to watch a video to collect them!
Fill up today's progress bar, and you will receive more rewards.
It's essential to note Lucky Habits will bombard you with advertisements since the app developer is getting paid for that.

Another way to collect coins is to play the Lucky Scratch, Spinner Points, and Funny Slot.
You can also collect diamonds by tapping the gift bubble and playing sponsored games. But, first, you must activate usage tracking so the app can track your playtime.
Then, install any game from the list and play it through the Lucky Habit app.
How do You Get Paid? 
You can only cash out once you accumulate 2 million coins ($35) or 70,000 diamonds ($1).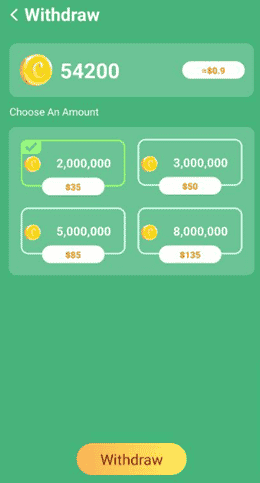 If you reach the payout threshold, open the coin or diamond wallet, select the amount and press the "withdraw" button.
Is Lucky Habit Legit? Does it Pay? 
No, it doesn't! I am very confident that Lucky Habit won't pay you a dime!
Note the developer has set an extremely high goal, so it will take ages for anyone to achieve 2 million coins.

They give you 50,000 coins as a welcome bonus, but you may have to watch thousands of videos to reach their ridiculous requirement.
But even if you persist for months or years and reach 2 million coins, I doubt the developer will transfer $35 to your PayPal account.
It's much easier to reach 70,000 diamonds and redeem $1. However, I believe the developer will not give you even the smallest award!
The advert clearly states in small print that the result is not guaranteed and that the amount paid is subject to rules in the app.
Therefore, they can reject your payment request without infringing on any regulation.
Now, they can pay one dollar to a few lucky users to say they reward people. But I wouldn't put hours of my life at risk for that!
Conclusion 
Lucky Habit was designed to make users watch a ton of videos under the guise of a healthy lifestyle.
However, people don't care about the recommendations and only want to collect virtual items to withdraw the money.
Unfortunately, you are unlikely to meet the threshold and get paid for your time.
However, even if you amass a sufficient number of diamonds, you may not even earn the modest prize of $1.
That's because the developer says the result is not guaranteed, and there is no evidence that users are getting paid.
Be aware of applications that claim to pay a large amount of cash for walking or translating.
I believe the same developer designed them because they have similar layouts and cash-out rules.
How I Earn Real Money Online
If you wish to create a consistent source of online income, I highly recommend you build an online business.
I generate and publish helpful content for this website, which I set up by following this excellent step-by-step program. 
Thanks to my site, I quit my job in 2019 to travel the world with my wife. It was life-changing!
The training focuses on solid strategies to rank articles on Google and attract organic traffic.
In my opinion, there is no better way to make money online and become location-independent!
Final Words
Thanks for reading my Lucky Habit review. I hope it was informative and helpful!

If you wish to voice your opinion on this app, please do so in the comments section below.
Peace!