Welcome to my Pop Rich Tree review!
The developer of Pop Rich Tree claims that you can earn thousands of free Robux just by playing a casual match game.
Here is a screenshot from one of their commercials: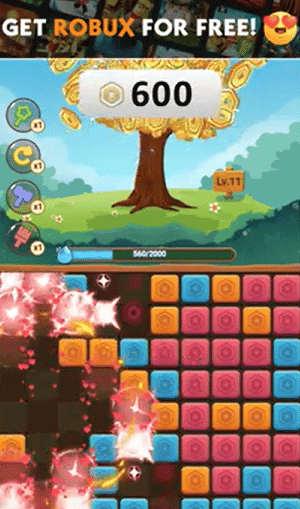 I have reviewed countless mobile apps that allow users to win a ridiculous quantity of Robux.
Typically, the minimum reward is 10,000 Robux, which is being sold for more than $100 on the official Roblox website.
That's why it's hard to believe these games reward players so much simply for playing!
Especially when many fake games ask users to watch a ton of videos just to maximize revenue.
So, is Pop Rich Tree legit or fake? Keep reading to find out!
Before leaving this page, check out the step-by-step system that helped me generate $2,000+ per month and quit my job in 2019.
Pop Rich Tree Review
Name: Pop Rich Tree
Developer: Yolanda App Inc
Payout Threshold: 10,000 Robux
Price: Free (no in-app purchases)
Overall Rating: 

0 stars
What is Pop Rich Tree? 
Pop Rich Tree is a casual game where you match blocks of the same color and level up your virtual tree.
As you already know, the app suggests that you will receive free Robux when your balance reaches 10,000.
Although Pop Rich Tree is free, the developers generate revenue by luring into watching commercials in exchange for Robux rewards.
The catch? You must play long enough and reach the minimum amount, 10,000 Robux.
It's important to note there is no information about the opportunity to win game currency on Google Play Store.
Why not be frank with people who are about to install the app? You will understand why after learning more about how Pop Rich Tree works!
Make real money by playing games on your phone. Check out my complete list here! 
How Does Pop Rich Tree Work? 
Pop Rich Tree can be installed for free on any Android device and played Worldwide.
Therefore, you don't have to make purchases to play the elimination game and collect the Robux rewards.
Once you open the game, they will ask you if you want free Robux, and then you must provide your Roblox account.

Next, Pop Rich Tree encourages you to collect 10000 Robux in the game to receive game currency through the official website.
Click "Confirm" to win a lucky user bonus of 2,000 Robux.
The game features colored gems on the bottom and a tree with Robux symbols on the top.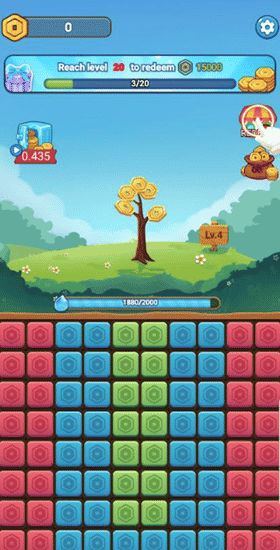 Your job is to tap two or more gems of the same color to eliminate them and water your tree.
As you play and level up your tree, you will receive lots of Robux accumulating in your balance.
Pop Rich Tre frequently entices you to double your reward by watching a video. Unfortunately, even if you reject, you will be forced to watch a commercial to continue playing.
You can also touch the tree to unlock more rewards!
How Do You Collect Robux? 
Pop Rich Tree proposes to transfer the game currency to your Roblox account once you reach 10,000 Robux.
It also encourages players to reach level 20 to redeem 15,000 Robux.
As soon as you reach the target, Pop Rich Tree will direct you to the redemption page. Next, tap the green "10000" button to claim your prize!
Is Pop Rich Tree Legit? Does it Transfer Free Robux? 
No, it doesn't! Pop Rich Tree is another fake Robux game like Lets Pop, Knife King Party, and many others!

The application won't transfer a single Robux to your Player account even if you fulfill all their conditions.
It takes less than 20 minutes to collect 10,000 Robux and order your game currency.
However, after you press the redeem button, another requirement will appear on your screen. It says you need to watch 25 videos within 24 hours to activate and validate the order.
Here is the undeniable proof: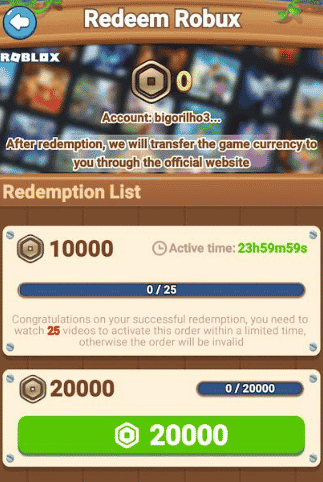 That is useless since they will require another 20 videos only to put you on a waiting list with over 9,000 users ahead of you.

This reward platform is going viral! Cash out via PayPal, Visa, Gift Cards, and in-game currencies - Click here to find out how to generate an extra $10+ per day! 
Unfortunately, you won't receive any Robux despite all your efforts.
All of the positive reviews do not reflect reality since Pop Rich Tree will ask players to rate them five stars after only a few minutes into the game.

They display a pop-up window with the "Rate now" button and no alternative to close it.
Therefore, they are inflating the review numbers to make people believe the company is giving free Robux. What a joke!
Conclusion 
Please, don't waste your time matching gems and tapping the tree with hopes of winning Robux.
It's no different than so-called "fake money games," which claim to pay out exorbitant amounts of money to needy individuals.
The only difference is that Pop Rich Tree targets a young audience who would love to get Roblox skins without spending money.
I recommend you avoid this game because it will never transfer the game currency from the Roblox site.
The developer generates more money if they can convince people that they will win real prizes by playing more and meeting goals.
Please don't fall for it, or you will regret it miserably!
If you want Robux but don't want to pay for it, I suggest you install this legit app and complete tasks!
You can exchange points for cash that you can use to buy your game credits. Or, you can redeem Roblox gift cards and use them straight away!
Final Words
Thanks for reading my Pop Rich Tree review! If you wish to express your opinions on this app, please do so in the comments section below.
Peace!