Welcome to my Jewel Blast Fantasy review!
I recently came across an advert where a guy asks the girl how she has so much money in her account.
At the top of the screen, it shows some PayPal notifications that say, "You received 300 USD from Jewel Blast Fantasy".
It also claims that the game has no limit to withdrawing and that the transaction takes just one minute!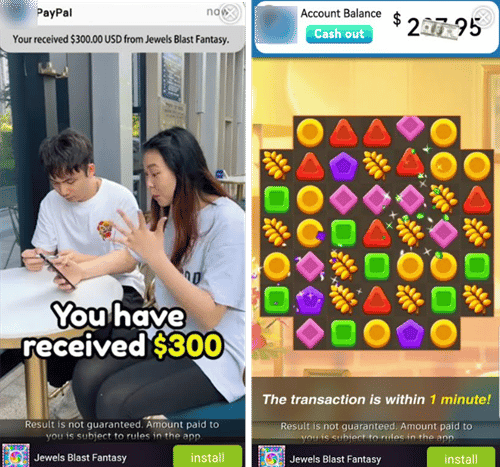 That's the same script hundre other developers are using to promote their "money-making" apps.
Considering the advert suggests easy money with no risk, it's no surprise that it's been downloaded over 100,000 times.
If you are already playing this game, I urge you to take a moment to read this review until the end and find out whether it will pay you or not.
There are several fake money, and you don't want to be the next person to waste your time and data.
So, is Jewel Blast Fantasy legit? Will they transfer hundreds of dollars to your PayPal account? Let's find out?
Top recommendation: This excellent program helped me generate over 2,000 US Dollars per month online and quit my job for good in 2019.
Jewel Blast Fantasy Review

This reward platform is going viral! Cash out via PayPal, Visa, Gift Cards, and in-game currencies - Click here to find out how to generate an extra $10+ per day! 
Name: Jewel Blast Fantasy
Developer: melvinallee
Payout Threshold: $300
Price: Free (no in-app purchases)
Overall Rating: 

0 stars
What Is Jewel Blast Fantasy? 
Jewel Blast Fantasy is another casual match puzzle game similar to Candy-Crush!
However, as with hundreds of other money games, it implies that players can withdraw large sums of money.
You will get unreal amounts of virtual currency as you match three identical symbols and complete levels.
Then, you can supposedly redeem all that money via PayPal, Cash App, or Amazon gift cards.
The catch is that you cannot cash out until you fulfill specific requirements. 
So, you are encouraged to play for a long time before requesting the payment, which may never occur!
Jewel Blast went viral in the past few weeks, jumping from 50k to 100k installs in a matter of days. So, more and more people need to know the truth!

How Does Jewel Blast Fantasy Work? 
Jewel Blast Fantasy is offered on the Google Play Store for Android devices and is completely free to install and play.
Right after launching the game, you will see a black screen that says: This is a real cash exchange! 
After that, they ask you to choose a payment platform and provide your account details.
The three payout methods are PayPal, Cash App, and Amazon (only available on Amazon US).
Next, they encourage you to play the game and collect currency to win cash rewards.
How to Play Jewel Blast Fantasy? 
Swap and match three or more elements in a straight line to destroy them.
The number of items you must eliminate to accomplish the level is shown at the top. For example, on the first level, you need to blast 15 wheat to finish the level.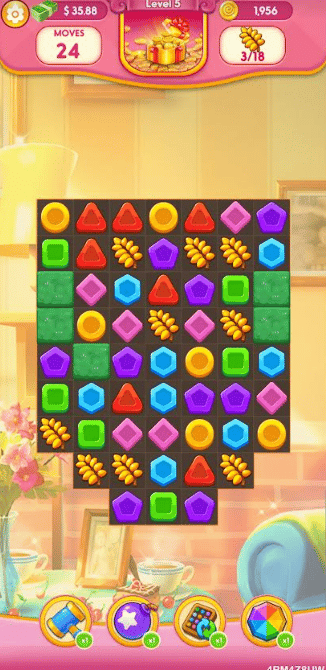 Connect four elements in a straight line to create booster props. When the booster is destroyed, the entire line will be cleared.
Matching five elements in "L" or "T" shape will create bomb props that explode many items simultaneously.
Swiping two props will form a booster prop with considerably greater devastation power.

Earning Cash Rewards
Whenever you complete the level, Jewel Blast Fantasy allows you to tap to open the box and collect virtual cash or coins.
Before you can collect the reward, you must watch the sponsored video until the end.
That is how the developer gets players to watch more adverts and increases his profit. After all, everyone wants to collect currency as fast as possible so they can cash out.
You can only withdraw the money if you meet at least one of these three conditions:
Earn $300 when your cash balance reaches $300.
Cash-out $500 when you collect 50,000 tokens.
Win $800 if you complete level 50.
Is Jewel Blast Fantasy Legit? Does it Pay? 
No, it doesn't! If you're interested primarily in the cash prize, I recommend you stop playing Jewel Blast Fantasy and search elsewhere.
Unfortunately, the developer won't transfer the funds even if you meet all the above requirements.
It will state "cash out" successful and will ask you to wait for 3 – 15 business days. However, time will pass, and the money will never arrive!
If you check the reviews on Google Play play, you will find many people who played and didn't make a dime.
They advertise the game by saying you should delete apps that ask you to watch videos, yet it does just that!

What a joke!
Conclusion 
Jewel Blast Fantasy is enjoyable, but there is no way to earn money by playing it as advertised.
So, don't waste your time and data unless you are just playing for fun!
It's easy to stop a fake money game like Jewel Blast Fantasy. Avoid those that use the PayPal logo and claim to pay hundreds of dollars. The developers are the ones who profit from all the videos we watch. 
I am sure you would love to get paid for your playtime, so this post lists many legit apps wh you do get paid to play games.
There is also another great site where you can earn money for trying out new apps and answering surveys. Click here and check out my Prizerebel review! 
Earn a Full-Time Income Online
If you want to make a good living while working independently from your laptop, I suggest starting an internet business.
In 2015, I discovered this terrific step-by-step program that helped me launch and scale a profitable affiliate site.
I followed the entire training and worked hard to reach my goals despite having no prior background in internet marketing.
The result? I quit my job to work for myself wherever I please!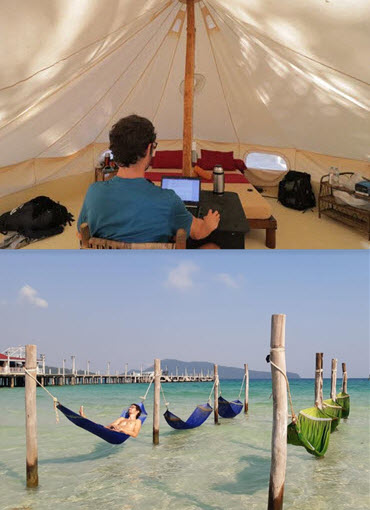 It's important to realize you don't have to be an expert in any subject to succeed. Follow the blueprint created by successful marketers and take massive action!
>> Click here for full details! 
Final Words
Thanks for reading my Jewel Blast Fantasy review. I hope it helps!
So, how was your experience with this game? Feel free to leave an honest comment below!
Peace!