Welcome to my Dreamlike Candy review!
Thousands of people are playing Dreamlike Candy with high hopes of making real money.
The developer uses the PayPal logo to make it more convincing, just like most money games do.
The gameplay consists of matching three or more candies to blast them and earn points.
But unlike popular casual games like Candy Crush, you can supposedly withdraw real money. And I mean lots of it!
So, is Dreamlike Candy legit or fake? Does it transfer the funds to your PayPal account? Let's find out!
My Top Recommendation: Discover the step-by-step program that helped me build an online business and generate $2,000+ per month. Join today and start the first ten free lessons here. 
Dreamlike Candy Review 
Full Name: Dreamlike Candy: Sweet Merge
Developer: zacharygriffin
Eligibility: Worldwide
Payout Threshold: $1000
Price: Free
Overall Rating: 1/5
What is Dreamlike Candy?
Dreamlike Candy is a match-3 game for Android released in January 2022. It's very similar to Candy Merge! 
According to the Google Play Store, over 100,000 users have downloaded this app, which is now quite popular in the United States and Brazil.
You must swipe to match and merge at least three candies.
What makes Dreamlike Candy so appealing is that you can withdraw real money once you achieve $1000.
If you meet specific requirements, you can also win an iPhone 13 and an Apple Watch Series 7.
That's insane!
How Does Dreamlike Candy Work?
Dreamlike Candy is available on Google Play for free in all countries.
When you first launch the game, it will encourage you to collect up to $1000 within 24 hours to receive a PayPal card.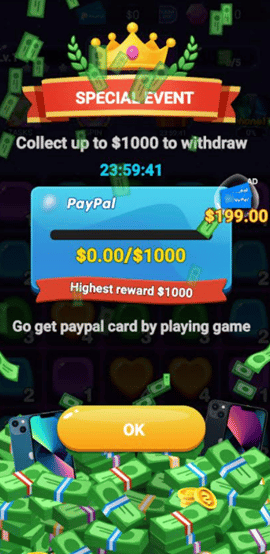 Then it says you can get a $449 Apple Watch Series 7 by paying for three days. It makes you feel you are dreaming!
How to Play Dreamlike Candy? 
There are 25 candies with different numbers on the board.

You must move one of them and try to match at least three identical candies.
When you place three or more candies next to each other, they will merge into a higher number candy.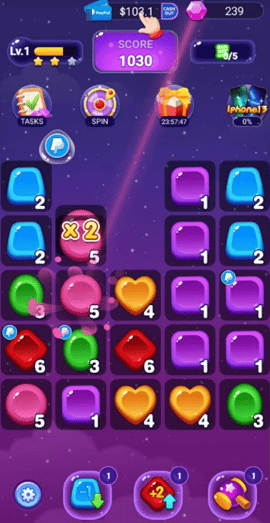 For example, combining four candies, number 1 generates a candy number 2.
You will receive virtual PayPal cards and diamonds almost every merging.
However, you must always play a video to receive the reward,
They will offer you $90 to $100, which is ludicrous, especially since sponsors only pay a few cents per video.
Dreamlike Candy allows you to flip four cards and win more bonuses when you complete the target.
How to Withdraw the Money? 
When you tap the cash balance at the top of the screen, the following message appears:
"Collect as much money as possible and withdraw after 24 hours. However, if you accumulate more than $1000, you can redeem immediately ".
It won't take you more than 15 minutes to attain your goal and cash out!
Collect 1,000,000 gems and receive a $1000 gift card from major shops like Google Play, Amazon, Xbox, Steam, and PlayStation.
You may also win a $1399 iPhone 13 Pro by collecting 120 puzzle pieces.

Is Dreamlike Candy Legit? Does it Pay? 
No, it doesn't! Dreamlike Candy is a dream come true, but only for the creator!
The reason for this is that his app generates passive income as gamers watch deceptive advertising.
They allow you to cash out after 24 hours or once you reach $1,000. However, you will hit the first roadblock when you request the payment.
To activate your $1000 order, they require you to watch 30 videos in 12 hours. But when you get there, they ask you to watch another 60 videos. What a joke!

This reward platform is going viral! Cash out via PayPal, Visa, Gift Cards, and in-game currencies - Click here to find out how to generate an extra $10+ per day! 
Remember how the advertisement claimed you could cash out any amount at any time? That's not true!
The application will make you jump through hoops for no pay!

Conclusion 
Don't waste your time and data playing games that make unrealistic cash claims.
They cannot afford to pay out since all that money has to come from somewhere.
Dreamlike Candy is yet another fake money game that will make you watch countless videos to boost profits for the developers.
It's awful when folks invest time and effort only to realize the reward is fictitious!
If you were a victim and wasted time, don't beat yourself up. Instead, turn the page and remember it as a necessary life lesson.
As the saying goes: There is no such thing as free lunch!
Earn a Full-Time Income Online
If you want to earn substantial money online, I highly recommend content marketing.
I was able to quit my job and embark on a two-year adventure across Southeast Asia thanks to my content-based business.
This step-by-step program helped me set up a niche site from scratch and make real money online to fund all my expenses.
Build your passive income site today and achieve success online>> Click here and start today!
Final Words
Thanks for reading my Dreamlike Candy app review.
So, what is your honest opinion about this match-3 game? Leave us your comment below to raise awareness!
Peace!