Welcome to my Merge Cash Puzzle review!
Merge Cash Puzzle has gone viral in the last two weeks, and it's easy to understand why.
The developer is promoting it as a real cash game that pays directly to your PayPal account.
He encourages his audience to spend 10 minutes playing it daily to earn thousands of dollars.
It's so tempting, but I urge you to take a deep breath and check this review before you go down a rabbit hole.
Merge Cash Puzzle went from 10k to 50k installs within just one week. So, I know thousands of people are trying to cash out at this exact moment!
Is Merge Cash Puzzle legit? Does it pay or not? Let's find out!
Before you leave, don't forget to check out the step-by-step program that helped me reach 2,000 USD+ per month and quit my job in 2019. No special skills are required! 
Merge Cash Puzzle Review 
Name: Merge Cash Puzzle
Developer: BogdanR112
Availability: Worldwide
Payout Threshold: $
Price: Free (no purchase required)
Overall Rating: 1/5
What Is Merge Cash Puzzle?

This reward platform is going viral! Cash out via PayPal, Visa, Gift Cards, and in-game currencies - Click here to find out how to generate an extra $10+ per day! 
Merge Cash Puzzle is another game where you merge cards of the same number to earn cash rewards.
By combining identical cards, you will unlock a bigger number and collect virtual dollars.
The game claims that all the money you collect within 24 hours will be redeemed to PayPal. But you can cash out immediately if you collect $1000.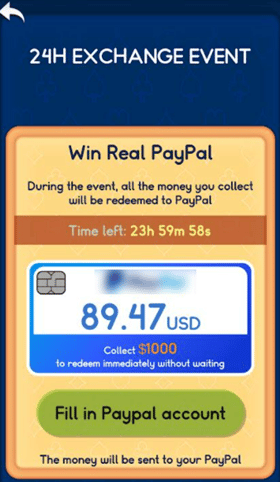 I lost count of how many games use the same tactic to get your attention and generate huge profits. Browse my website, and you will find the tragic state we are in!
How Does Merge Cash Puzzle Work? 
Merge Cash Puzzle is available for Android users worldwide.
This game will automatically grant permission to read, change and even delete content stored on your phone. So, be aware of the risks to your personal files!
The game itself is simple and very addictive because you are always collecting cash rewards.

You just have to drag one or more cards with the goal of placing two cards of the same number together.
The two cards with the same number will merge into a card with a bigger number, following the sequence: 2, 4, 8, 16, 32…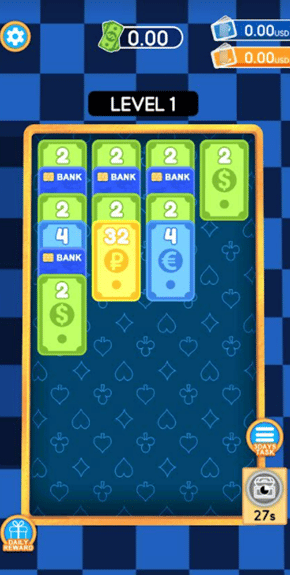 Earn Cash Rewards
You will have the chance to win a decent amount of money every time you merge the cards. This money comes as PayPal or Amazon coupons.
Then, just tap collect, and watch the video until the end to add the money to your virtual wallet.
Furthermore, Merge Cash Puzzle will give you green banknotes that can be traded for real money.
How Do You Get Paid? 
Merge Cash Puzzle allows you to withdraw real money using these five methods:
Collect $1,000 in your PayPal Wallet.
Wait for 24 hours and redeem all the money you collect during the event. No minimum cash-out amount is required.
Reach $10,000 to cash out via Amazon gift cards
Collect 1000 banknotes to redeem $20 via PayPal.
Finish 3-day tasks to win $1000 via PayPal. For example, on day one, you need to match the number 128 eight times, pass level 10, and watch six videos.
Is Merge Cash Puzzle Legit? Does it Pay? 
No, it doesn't! Merge Cash Puzzle won't transfer any funds to your PayPal account.
It's another fake cash game designed to make more profits at the expense of your time and data.
Once you achieve the goal strategically set by the developer, you will have to watch another 50 videos within 24 hours. 

Although many people get disappointed and suspicious about the hidden requirement, they think it is still worth trying.
But unfortunately, Merge Cash Puzzle does not pay out, so it's a complete waste of time!
Check the reviews on Google Play to find what other people are saying. Almost every detailed comment exposes the sad reality that players are not receiving cash rewards.
Conclusion 
You should not expect to earn a single penny from Merge Cash Puzzle because this is not a money-making game.
This application will make you watch a significant amount of advertisements and only benefit the owner.
It's sad that most people will only realise that after they already spent hours trying to meet the requirements.
Don't beat yourself for not making the right decision from the start. We are humans, and we are always learning!
At least now you know that earning an outrageous amount of cash by playing free casual games is impossible!

Earn A Full-Time Income Online
The feeling of making thousands of dollars on the internet is sublime!
I can tell this from experience because this opportunity allowed me to enjoy my life like never before.
By becoming an internet marketer, I could quit my job in 2019 and head to South East Asia for an extended period of time.
Here are some pictures of this great trip: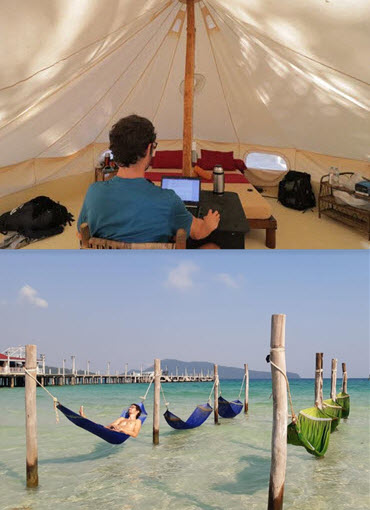 This excellent step-by-step program showed me how to grow an online audience and get life-changing commissions.
Building this type of business takes time and effort, but I can assure you it's well worth it.
If you want to learn more and get started, I highly recommend you join for free here and take your first lesson today.
Final Words
Thanks for reading my Merge Cash Puzzle review. I hope it helps!
If you want to raise awareness by writing your own review about this game, feel free to use the comment box below.
Peace!