Welcome to my Merge Crypto review!
I was using playing another mobile game when I came across this advert promoting Merge Crypto.
The commercial showed a couple jumping with joy because they had made hundreds of dollars.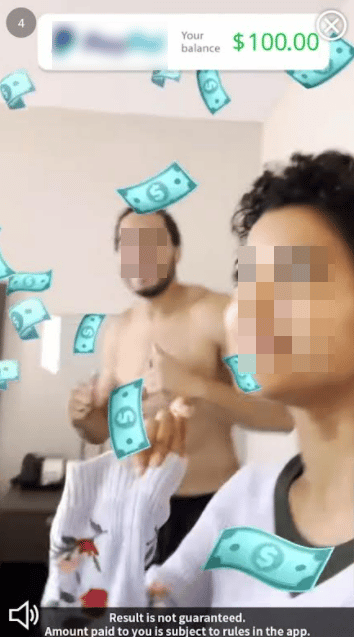 The advertiser tries to convey a sense of trust by placing PayPal logo in the advert and inside the game.
As a result, many people assume that this company is endorsing the game, which is certainly not the case.
PayPal doesn't allow anyone to use their trademark without their consent!
You are here because you need to know if Merge Crypto will pay you after you satisfy their conditions. So, is it legit or fake? Let's find out!
Top recommendation: discover the step-by-step program that helped me reach 2,000 USD+ per month and quit my job in 2019. No special skills are required! 
Merge Crypto Review
Name: Merge Crypto
Developer: Alfie Pickering
Availability: Worldwide
Payout Threshold:
Price: Free (no purchase required)
Overall Rating: 1/5
What Is Merge Crypto?
At first glance, Merge Crypto seems like another classic solitaire game for Android users.
Its name suggests the developer is transferring Bitcoin or another cryptocurrency to the player's digital wallets.
However, Merge Crypto is different in that cards of the same number are put together and merged into a higher number. The gameplay is identical to 2048 Cards.
Moreover, it gives you virtual dollars, which you can supposedly withdraw via PayPal or Amazon gift cards.
Although they classify the game as a simulation on Google Play, the creator is emphatic about the opportunity to win real money. 
How Does Merge Crypto Work? 
Merge Crypto is available in all countries for Android users. However, it's essential to be aware you are giving permission to read, change and even delete content stored on your phone.
Do you accept the risks?
As soon as you launch Merge Crypto, they will show you a quick tutorial on playing it. But it's so simple that you may not even need instructions.
You have to drag and place the cards with the same number together. As a result, they merge into a card with a number double the previous one.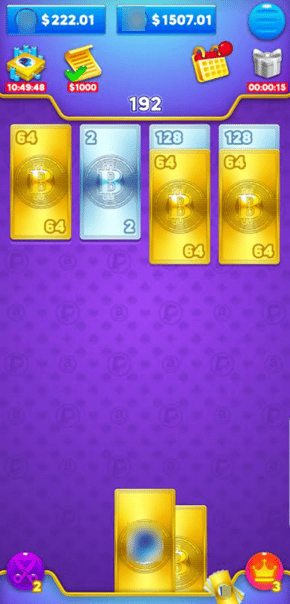 For example, when two cards number 32 are combined, they are replaced by a card number 64.
Try to stack cards in descending order. Otherwise, you may reach the danger zone.
The game is over if you place any card below the danger line. As a result, you have to restart or watch a video to eliminate three cards in each column.
Don't worry because you won't lose any "cash" in your balance even if you have to restart the game.
You can merge the Universal card with the PayPal logo with any other card.
Use the "Cut" tool to eliminate any card you want.
Earning Virtual Cash Rewards
Every time you merge a card, Merge Crypto will give you the chance to win a coupon with a decent amount of cash.
They encourage you to tap "receive" and watch the video to collect the money into your PayPal or Amazon balance.
Merging the universal card also triggers the reward.
What's crazy about Merge Crypto is that you can reach over $1,000 within less than 30 minutes of gameplay.
Are you tired of playing fake money games? Use this reward site to earn extra cash! 
How to Cash Out? 
Once you open your PayPal wallet, it claims you will redeem all the money you collect to PayPal.

They are literally saying you can win real money after 24 hours! But you can redeem immediately if you collect $1000.
If you open your Amazon balance, the minimum cash-out requirement is $1000 as well.
Is Merge Crypto Legit? Does it Pay? 
No, it doesn't! Merge Crypto won't transfer a single penny to your PayPal account.
Forget about winning the Amazon voucher, too, since the cash prize of $1000 is very unrealistic!

This reward platform is going viral! Cash out via PayPal, Visa, Gift Cards, and in-game currencies - Click here to find out how to generate an extra $10+ per day! 
Those who try to cash out end up extremely disappointed and angry since the game doesn't behave as advertised.
After collecting $1,000, Merge Crypto will uncover a hidden condition. They will ask you to watch 60 videos to activate the order.

But this is not the end, my friend! They will demand more videos to reduce the waiting time, which is an excuse to make more profit from players.
As you probably know, the developer is making money by displaying those commercials. So, the more you play, the more money the creator receives from his partners.
Make no mistake. You won't receive the money even if you meet all the requirements!
Conclusion 
Don't waste your time playing Merge crypto unless you enjoy merging the cards.
It's not a bad game, but you're probably playing it because you expect to receive the money as advertised.
Merge Crypto will make you watch an insane number of videos to meet all their cash-out conditions.
But unfortunately, you won't receive the payment despite your firm commitment!
As you play Merge Crypto and watch the videos, you will be exposed to many other fake money games.
Pay attention to how they advertise these games. Avoid the ones that use the PayPal logo and entice you with hundreds or thousands of dollars!
Final Words
Thanks for reading my Merge Crypto review. I hope it was helpful!
So, how far did you go to cash out? How was your experience? Let us know in the comment below.
Stay safe and peace out!