Welcome to my Cut Grass app review!
I have recently found a very addictive game where players supposedly redeem real game currency.
As you solve the puzzles and complete levels, you will receive tokens called Diamonds.
Once you collect 10,000 Diamonds, Cut Grass allows you to redeem credits to use on your favorite game such as ROBLOX, Free Fire, and League of Legends.
What makes me very skeptical of this application is that you can earn $80 in game currency in less than 1 hour.
How can any developer afford to offer so much value for so little effort? So is it Cut Grass legit or fake?
You need to find the answer because even though the game is nice, I believe you are just playing to get your reward. So, let's find out!
Top recommendation: discover the step-by-step program that helped me reach 2,000 USD+ per month and quit my job in 2019. No special skills are required! 
Cut Grass App Review
Name: Cut Grass
Developer: Beakbestow
Availability: Worldwide
Payout Threshold: 10,000 Diamonds
Price: Free (no purchase required)
Overall Rating: 

1/5
What is Cut Grass?
Cut Grass is a relaxing game where you move the rotating blade to cut the grass along the path.
Swiping in different directions will clear the land and grow the flowers.
You will complete the level and earn Diamonds whenever you finish cutting all the grass in the puzzle.
Over 10 million people have installed Cut Grass, making it one of the most popular games to earn in-game currency.
The app was created by Beakbestow, which also operates Emoji Liner and Fill One-Line Link.
Check out the best site to earn Free Robux here! 100% Legit!
How Does Cut Grass Work? 
Cut Grass is available in all countries, and it's free to play.
Before loading the game, I recommend checking their Terms of Service and Privacy Policy.
As I expected, they don't mention the rewards you are supposed to win.
This means there is no legal agreement regarding game currency, and so the developer has no obligation to pay you. 
As soon as you launch the game, you have to choose a game you want to redeem rewards. Here are the six options:

Roblox
Free Fire
Mobile Legends
Pubg Mobile
Brawl Stars
League of Legends
Don't worry, as you can pick another game if you change your mind later.
How to Play Cut Grass?
It's simple!
Each level comprises a specific shape with grass. You have to slide your finger in the direction you want the rotating blade to move.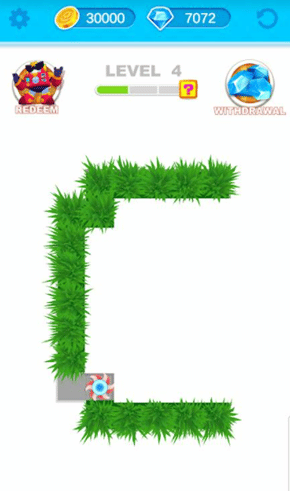 As a result, the blade will move straight, cutting all the crass in that particular direction.
Keep swiping until you clear every square of land to complete the level.
You will receive Diamonds or coins when you finish the level. Tap "Get More" and watch a video to multiply the reward by 10 times.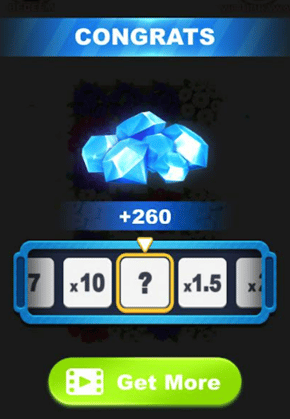 I dislike Cut Grass because they push an advert down your throat even though you select "No thanks." They are cheating!
After completing three levels, you will receive a bonus that you can collect by opening each treasure chest.
How to Claim Your Reward? 
You can withdraw game currency from Cut Grass once you collect 10000 Diamonds or complete 100 levels.
You can also exchange gold coins for diamonds. However, you can trade in 1,200,000 coins for just five diamonds!

Open the Withdrawal section, select the game, and press the redeem button. Then, enter your Player ID to receive the game currency.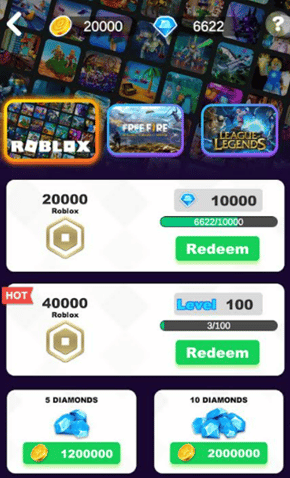 For example, you can exchange 10K diamonds for 20000 Robux worth $200. 
You may also claim skins for your selected game once you collect enough fragments.
Is Cut Grass Legit? Does it Pay? 

This reward platform is going viral! Cash out via PayPal, Visa, Gift Cards, and in-game currencies - Click here to find out how to generate an extra $10+ per day! 
You won't receive the game currency no matter how long you try!
At first, you think this will be an easy task, but the closer you get to 10k, the fewer diamonds you get.

When you get to 9999, you will start getting fractions of a Diamond, like 0.01 and even 0.001.
It's so unfair because you are watching video after video with no guarantee you will receive the reward!
Many people report that after trying to redeem, Cut Grass asked them to watch 50 videos.
Then, you are placed in a never-ending queue with thousands of people. But they programmed the system so that it's never your turn.
One player has been waiting for three months, and his position in a queue seems stuck at 59.
With over 10 million players, you'd expect to have more than 8,000 – 9000 people in the queue.
That's why I suspect it's completely fake and that you will never receive the reward.
It's impossible to know if someone has ever received the in-game currency. But if that's the case, the proportion of players who get rewarded is ridiculously small!
Conclusion 
Don't play Cut Grass with the expectation of redeeming in-game currency.
You will spend many hours playing this have and watching hundreds of videos with no guarantee of getting rewarded.
Maybe they are just giving the prize to those who persist for months, but I doubt it!
With no proof of payment and no relevant Terms of Service, I believe no one is receiving in-game currency.
I find it remarkable how a game like Cut Grass can achieve 10 million installs while receiving many complaints on Google Play.
Lots of people are in urgent need of a serious reality check! Don't expect to earn so much in return for little or no effort.
If you want to earn free Robux, you can't go wrong with this reward app. With this platform, you get coins for completing various tasks and exchange for cash, crypto, and Robux.
This mindset rarely works well for people!
If you want to earn a little extra cash you can use to buy game currency, check out this GPT site.
This platform allows you to exchange points for Roblox, Steam, and other gift cards.
Final Words
Thanks for reading my Cut Grass app review. I hope it helps you make an informed decision as to whether you should keep playing or not.
If you want to share your opinions about Cut Grass, feel free to leave us a comment below.
Peace!