Welcome to my Cat Pinball review!
You most likely discovered Cat Pinball from the same advertisement I saw yesterday!
It portrays a woman exposing what rich people will never tell you.
Here is the script:
First, she claims you can play this game if you want to earn some pocket money.
Second, download Cat Pinball from the link below the video, and you will get a $50 bonus, which you can withdraw directly.
Third, open the game, play for five minutes, and you will instantly get a $50 bonus that can be withdrawn immediately.
Finally, she urges people not to uninstall the game, or they will miss out on the $500 – $1000 Jackpot.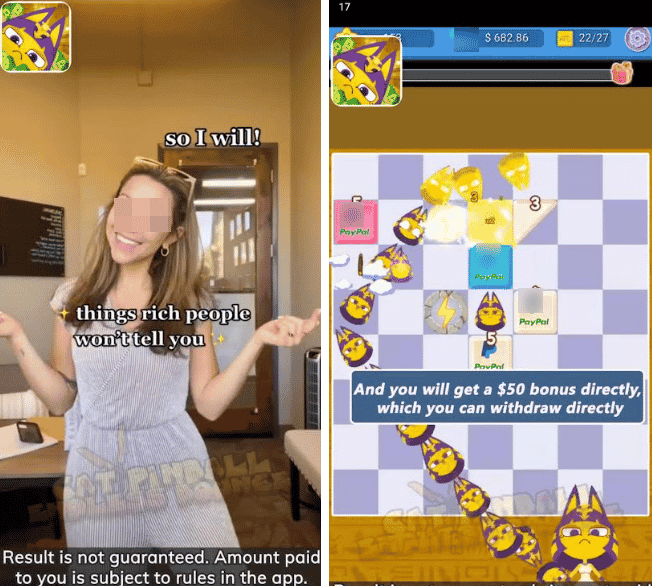 It's important to be aware that countless games on the Play Store are duping millions of people worldwide.
You don't want to be the latest statistic of gamers who have played for hours merely to make developers richer.
So, is Cat Pinball legit or fake? Will they pay you as advertised? Let's find out!
Top recommendation: This excellent program helped me generate over 2,000 US Dollars per month online and quit my job for good in 2019.

This reward platform is going viral! Cash out via PayPal, Visa, Gift Cards, and in-game currencies - Click here to find out how to generate an extra $10+ per day! 
Cat Pinball Review
Name: Cat Pinball: Endless Bounce
Developer: Mengjie.LTC
Payout Threshold: $5000
Price: Free (no in-app purchases)
Overall Rating: 0 stars
What Is Cat Pinball? 
Cat Pinball is an Egyptian-style pinball game that gives users virtual currency that they can supposedly withdraw via PayPal.
It's a straightforward game where you shoot cats at different blocks to destroy them before they hit the lower section.
As you are destroying the blocks with the PayPal logo, you will receive a random PayPal bonus that accumulates in your account.
Bear in mind the developer generates revenue by bombarding people with adverts. But that's how most free games usually operate.
Not really. Cat Pinball lures individuals to reach a specific amount of virtual dollars by watching the videos before they can cash out.
Therefore, the developer boost profits by offering you the idea of easy money while making no payment guarantee.

How Does Cat Pinball Work? 
Cat Pinball is available on the Google Play Store and is free to download and play.
After launching the game, I didn't get the $50 bonus as promised. So, that was not a good start!
The game features a 8 x 8 Grid with different blocks that must be eliminated by hitting them with Egyptian cats.
Tap the screen and swipe to aim where you want to shoot the cats. As a result, they will bounce and hit the blocks.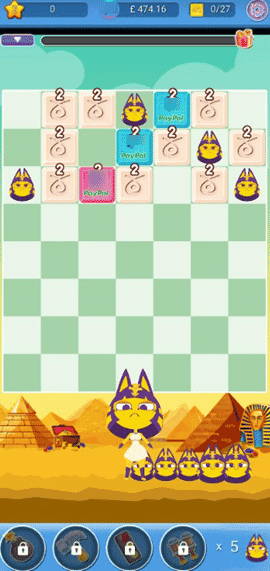 Each block contains a number representing the number of hits required to smash it.
Whenever you eliminate a block with the PayPal logo, the progress bar advances towards the gift icon.
Every time you complete the bar, you will receive virtual cash that is added to your account.
However, to earn the reward, you must first click the "get" button and then watch the commercial until the end.
You will earn a decent amount of money every time to complete the bar and accumulate thousands of dollars in a very short time.
That's another major red flag!  How can the developer pay you that much for viewing videos in the game? It's ridiculous!
Cat Pinball has a VIP membership for $6.99 per week, where you can remove the commercials. But, please, don't upgrade until you read this post, or you will regret it miserably!

But there is more! You can supposedly win iPhones, Ipads, Airpods, and dividends by playing the lucky wheel and achieving higher levels.
Crazy Cash out! 
Your cash wallet displays a progress bar suggesting you need to collect $5,000 or £3520 and a button to fill in your PayPal account.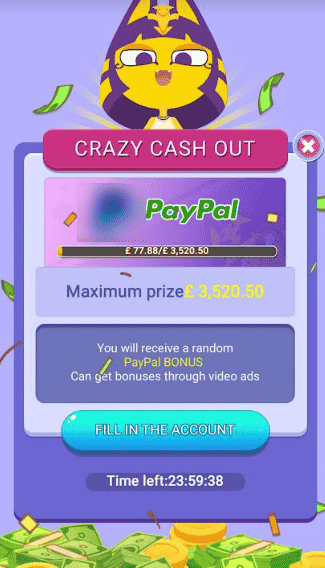 As you will see in the next section, that's not the only cash-out requirement! You will need to invest more time and even money for a chance to receive your cash reward.
Is Cat Pinball Legit? Does it Pay? 
No, it doesn't! Cat Pinball is just another fake money game whose profits are diverted to the developer's bank accounts!
When you get to $5000 or the target set in your country, they will ask you to watch 80 or 100 videos to activate the order.
That's clearly nonsense!
Most games will demand more videos to receive the reward, but Cat Pinball takes the deception one step further!

After you complete the video requirement, you must pay a $3.99 handling fee to receive your prize.
Keep in mind there are still no guarantees!
Of course, you will waste time and your hard-earned money because Cat Pinball won't pay you a dime!
I've seen lots of reviews from players who jumped all the hoops for nothing since the developer is the only one who benefits.
Conclusion 
Cat Pinball is a fun game to pass the time, but all the prizes are completely fake!
By playing this game, you are helping the developer boost profits that may be used to fund other fake money games in the future.
Therefore, I don't recommend you play it even if you find it enjoyable!
These games cause lots of frustration and should be reported to Google to prevent others from falling down the rabbit role.
If you want to earn good money online, I suggest you don't waste your time with any reward application.
Instead, I suggest you become a publisher to attract an audience and earn money from your work.
Click here to discover the step-by-step program that helped me go from $0 to $2,000 per month and live the laptop lifestyle!
Final Words
I hope my Cat Pinball review was helpful. If you have any questions or thoughts on this app, feel free to leave us an honest comment below!
Peace!