Welcome to my Fantasy Blast review!
The creators of Fantasy Blast are trying to convince people they can earn real money just by eliminating balls and watching videos.
They advertise the game by saying you can get $99 if you are online for only ten minutes every day.
According to the commercial, your money will be deposited into your PayPal account in 30 seconds. Here is a screenshot I took from one of their adverts: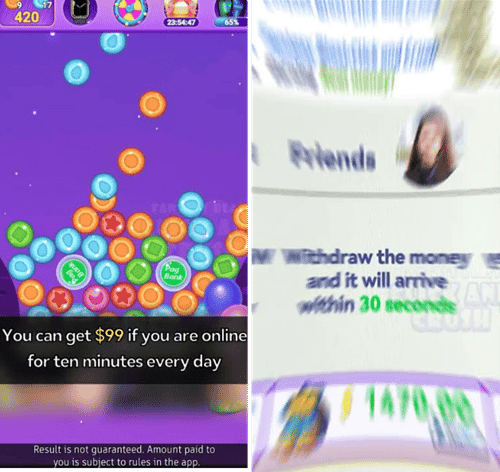 Of course, I didn't buy into the hype because I am familiar with applications making unrealistic income claims.
If you check my prior posts, you will discover hundreds of fake money games that thrive on people's gullibility.
So, is Fantasy Blast another time-waster? Does it pay or not? Let's find out!
Before leaving this page, check out the step-by-step system that helped me generate $2,000+ per month and quit my job in 2019.
Fantasy Blast Review
Name: Fantasy Blast – Click and Crush
Developer: Able Norton
Eligibility: Worldwide
Price: Free
Overall Rating:

0 Stars
What Is Fantasy Blast?
Fantasy Blast is an addictive game in which players eliminate balls and collect virtual items redeemable for huge prizes.
The game will give you virtual dollars when you tap special balls with the PayPal logo and watch videos.
If you accumulate $1,000, the developer will allegedly send the funds to your account in just 30 seconds!
When you complete a level, you also earn puzzle pieces that you may exchange for the new iPhone 13 Pro.
I am sure you would play this game non-stop for days and nights if you knew the prizes were real. But something doesn't feel right!
How Does Fantasy Blast Work? 
Fantasy Blast is available for free on the Google Play Store and does not include any in-app purchases. Besides, you can play without creating an account.
Upon launching the game, you will be enticed to clock in for three days to win an Apple Watch worth $499.
Is the prize guaranteed? Nope! They use the word "can" to imply there isn't!
Fantasy Blast is made up of a container with many colored balls held in place by a chain with a padlock.
Tap groups of two or more balls of the same color to destroy them.
You must complete the level by eliminating all the balls indicated by the objective at the top. It reminds me of cocktail smasher!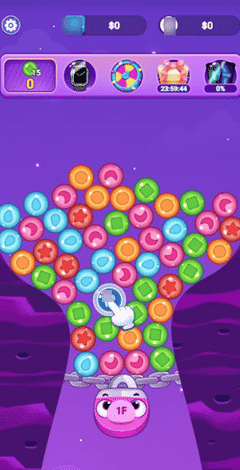 The game will give you virtual PayPal cards with a decent amount of money if you touch the PayPal balls and watch the commercial.
You can flip cards and win more cash or iPhone puzzle pieces when you reach the target and pass the level.
Of course, they will persuade you to watch videos before you flip each card and collect the rewards.
How Do You Get Paid? 
The minimum cash-out requirement is $1,000, and you must achieve the target within 24 hours.
So, when you reach this amount and open your virtual PayPal wallet, you are asked to fill up your account details.
Many people assume they have to enter their PayPal email and password. That's wrong!
Never give your password to app developers since you never know whether they may record it and try to access your account.
Instead of receiving the money via PayPal, you can redeem a Google Play Gift card if you reach $2,000 and watch 15 videos.
Fantasy Blast also claims you can claim the iPhone 13 Pro once you collect 120 fragments.
If you open the prize page, you will find the opportunity to get more puzzle pieces by completing tasks (aka watching videos).
Discover the top survey apps and start making real money today! 

Is Fantasy Blast Legit? Does it Pay? 
No, it doesn't! You won't get compensated for playing Fantasy Blast on your phone. So, don't waste your time trying to meet any requirements.
I'm sure many of you have already wasted hours trying to get the cash rewards.
Sorry, but you can do nothing to get this money since the developers have the final say about payments.
If they determine that no one should be paid, you have no right to receive the prize.
The commercial states in small print that "Result is not guaranteed." It seems they have done an excellent job at protecting themselves if someone hires a lawyer to demand payments.

This reward platform is going viral! Cash out via PayPal, Visa, Gift Cards, and in-game currencies - Click here to find out how to generate an extra $10+ per day! 
So, what happens after you reach $1,000 and enter your PayPal email?
There will be a pop-up with the following message: "Congratulations on the withdrawal. Please, watch 30 videos within 12 hours to activate your $1,000 order. "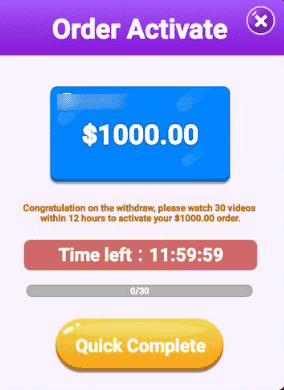 Unfortunately, activating the order means nothing as they will demand more video views only to ignore your payment in the end.
Make no mistake. You won't get paid even if they state your payment is successful.
Conclusion 
Fantasy Blast is a nice game when you disregard the cash reward aspect.
Unfortunately, many people have installed the game and watched countless videos with the expectation of receiving the money.
Promoting the game as if it could pay lots of money is wrong on many levels!
I am sure you don't want to jump through hoops and waste your data only to make app developers richer.
If you want to make real money playing games, join reliable apps or sites that provide game offers. Here is my top-rated reward platform.
Since the pay is always very low, you may want to check my top recommendation to build a lucrative site and generate thousands of dollars.
Final Words
Thanks for reading my Fantasy Blast review! Please comment below if you have any questions or thoughts on this unrealistic money game.
Peace!