Welcome to my Knife King Party review!
You're reading this post because you wish Knife King Party would send free Robux to your account.
The developer promotes the game as if players could get credits just for throwing knives at flying Roblox coins.
According to the commercial, you can supposedly win over 50,000 Robux to purchase avatars, premium servers, games, and more.
This is how they promote the game: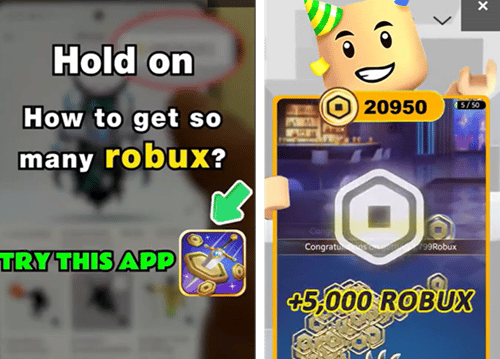 At first glance, Knife King Party seems like an excellent opportunity for Roblox fans who cannot afford to buy game currency.
But is it legit or fake? Is the company rewarding players or not? Let's find out!
Knife King Party Review
Name: Knife King Party
Developer: Gideon Studio
Availability: Worldwide
Price: Free
Threshold: 10,000 Robux
Overall Rating: 0/5
What is Knife King Party? 
Knife King Party is a casual game in which you shoot knives at Robux coins to destroy them.
I have installed many similar games where players throw knives at banknotes to collect virtual dollars. This game claims to pay over £700!
With Knife King Party, you will hit coins and collect Robux, which is Roblox's digital currency.
Over 1 million users have already downloaded the app from Google Play, hoping to get the reward.
How Does Knife King Party Work? 
After launching the game, it asks you if you want to win Robux freedom.
Tap yes, then enter your Roblox account and click "Confirm." You can bind your account later if you want.
Next, Knife King Party encourages users to collect enough Robux by promising to transfer them from the official Roblox website.
It suggests that you need to collect at least 10000 Robux to redeem.
Before you begin the game, you will be declared a lucky user and get 2000 Robux.
Tap "Get" so you can finally play the game!
All you have to do is touch the screen to throw the knives at the flying targets.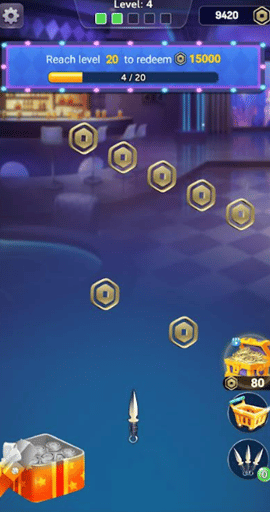 Once you eliminate all the coins, you will collect a large quantity of Robux. What's more, you can multiply your prize by up to five times by clicking "multiple claims."
If you fail, you can select "Revival" and watch a video and win extra five knives. Otherwise, you can simply restart the game without losing your credits.
This is all there is to the game itself. Complete levels, and watch a ton of commercials to accumulate Robux.
Earn Roblox gift cards with this LEGIT app! 
How to Redeem Robux? 
The app will add thousands of Robux to your account in less than 5 minutes of gameplay.
But the catch is that you can only redeem if you collect 10,000 or 20,000 Robux.
Note that a progress bar at the top of the screen suggests that you will get 15,000 Robus if you reach level 20.
Remember that you can only complete the level after eliminating all the coins five times.
Because of the commercials, it will take a long time and data to reach the target.
That's exactly what the developer wants since he makes money every time you watch a video.
But will he transfer the game currency to your Roblox account? Find out in the next section!

Is Knife King Party Legit? Does it Give Robux?
No, you will never receive free Robux for playing Knife King Party.
It doesn't matter how long you play or how many videos you watch; the developer doesn't seem to care.
The developer is just using empty words to promote the game as an opportunity to win Robux.
Since there is no obligation to reward players, he can exempt himself from doing so!
After all, 10,000 Robux costs more than $100 on the official website. So, the app could never generate enough revenue to reward every player who fulfilled the requirements!

This reward platform is going viral! Cash out via PayPal, Visa, Gift Cards, and in-game currencies - Click here to find out how to generate an extra $10+ per day! 
In the beginning, it seems that you will reach 10,000 in no time.
However, when you approach 10,000, the prizes will drop substantially, forcing you to watch more and more videos!

You don't want to give up, so you keep watching and wasting time. But when you finally reach the target, you will discover you need to watch another 40 videos within 24 hours.
Then, you are placed in a queue with thousands of people. Finally, you need to wait for your turn, which may take 2 or 3 weeks, only to be told to wait for the prize once again!
In the end, you won't receive the Robux despite all the time and effort you put into the game.
Conclusion 
If you downloaded Knife King Party with hopes of earning Robux, I'm afraid you are out of luck.
They will make you jump through hoops and never transfer the currency to your Player ID.
The game itself is not even fun because you are just throwing knives. Not to mention it will interrupt you with countless adverts that generate revenue for the developer.
I do not endorse Knife King Party or any other game that pledges to transfer large amounts of money or Robux.
They never keep their word!
Final Words
Thanks for taking the time to read my Knife King Party review. Please, leave your thoughts on this app in the comment section below.
Peace!