Welcome to my Maya Hero review!
Perhaps you found Maya Hero and the chance to win money just by playing this matching game on your phone.
The creator claims that if you play it for 10 minutes daily, you will earn at least $99.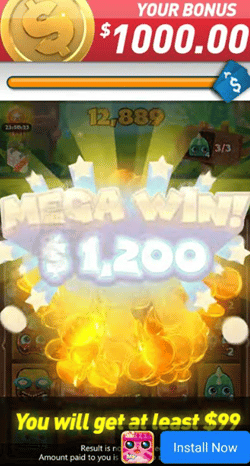 If you are reading this review, you have probably installed the app!
After all, how could you ignore such a fantastic opportunity to play risk-free and make a lot of money?
But, if you are prudent, you may ask yourself – What is the source of this money? Is Maya Hero legit or fake?
Keep reading, and you will discover whether this app will pay you or not.
Before leaving this page, check out the step-by-step system that helped me generate $2,000+ per month and quit my job in 2019.
Maya Hero Review
Name: Maya Hero – Mask Merge
Developer: Happy Game LLC.
Availability: Worldwide
Price: Free
Payout threshold:
Overall Rating: 0/5
What Is Maya Hero? 
Maya Hero is a mask merging game that awards you virtual dollars and coins redeemable via PayPal and Gift cards.
Your job is simple: Match identical masks to unlock higher-level masks and collect cash rewards along the way.
All the money you collect is said to be transferred to your PayPal account after 24 hours. However, you can withdraw immediately if you reach the magic amount of $1,000!
How amazing! Can you imagine being able to replace your 9-5 job with a mobile game?
Maya Hero has been installed over 100k times and rated 4.5 stars out of 5.
It seems like most players are satisfied with the app. But I urge you to keep reading to find out what's happening behind the scenes.
How Does Maya Hero Work? 
You can install Maya Hero for free on your Android device. The game has no in-app purchases and does not need registration.
Upon loading the game for the first time, it says you can redeem an Apple Watch 7 just for checking in for three days.
It then asks you to fill in your delivery address before you are eligible for the prize. This is quite suspicious!

How To Play Maya Hero? 
This is a simple match game similar to candy crush. But instead of candies, you combine different identical masks to unlock a higher-level mask.
Swap them and try to group at least three identical masks together.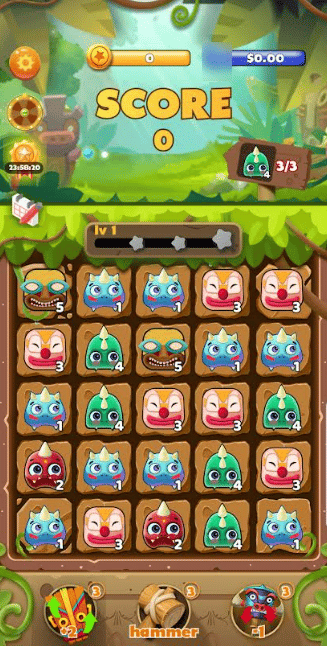 As a result, all the adjacent blocks of the same number will merge into a single mask +1.
The empty spaces will be replaced by other masks from the above, creating combos.
Maya Hero provides three tools to help you in the game:
Hammer: Select one mask to remove it.
+2: Select one mask to double it.
-1: Select one mask to rank down 1
Earning Cash Rewards
After merging the masks and watching the commercial, you may receive PayPal coupons or coins.
In addition, you will be able to open four cards and win virtual items after completing the level.
You will pass the level whenever you achieve the third star in the progress bar.
What's crazy about Maya Hero is that it will let you accumulate hundreds of dollars in a very short period.
Every day, you will receive an incredible sign-in bonus of at least $50.
How do You Get Paid? 
Maya Hero claims to transfer all the money you collect within 24 hours to your PayPal account.

But as I mentioned, you can redeem right away once your account reaches $1000.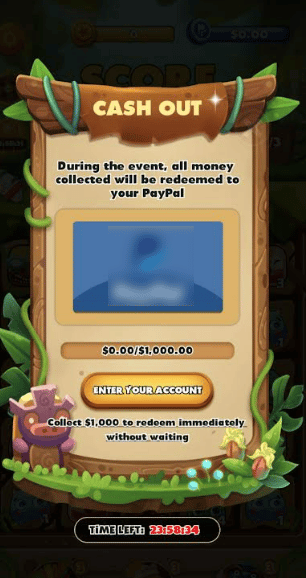 You can exchange coins for gift cards from Amazon, Google Play, Xbox, Steam, Visa, and Mastercard.
You must collect 2,500,000 coins to redeem a $500 gift card.
Is Maya Hero Legit? Does it Pay? 

This reward platform is going viral! Cash out via PayPal, Visa, Gift Cards, and in-game currencies - Click here to find out how to generate an extra $10+ per day! 
No, Maya Hero does not pay out as it said it would.
This is another fake money game that won't transfer the money even if you meet all their requirements.

The developer uses a well-known tactic to encourage you to view many advertisements.
That's how they increase profits without having to pay anyone:
After you collect $1000, you expect to receive the money immediately as promised. Instead, they will ask you to watch another 30 videos to activate the order.
If you proceed, they will eventually place you on a waiting list with hundreds of players ahead of you.
Unfortunately, you will never be compensated for your time and data on this game.
Conclusion 
Maya Hero is not a real money-making app, so you should not expect to receive the payment.
They are just collecting advertising revenue without rewarding players who meet their ridiculous requirements.
I have tested many similar games using the same strategy to maximize profits.
Please, avoid Maya Hero at all costs and warn other people about games that claim to pay lots of money. None of them are rewarding players!
My advise? Join legit GPT sites or build your own online business using this excellent step-by-step training. 
Final Words
Thanks for reading my Maya Hero review! I hope it helps you save time and data.
If you want to share your thoughts on this game, please leave a comment below.
Peace!