Welcome to my Evolutionary Tower Raiders review!
You may have stumbled across Evolutionary Tower Raiders through a very enticing advertisement.
The commercial claimed you could get free ROBUX in 2022 just by playing this game on your Android.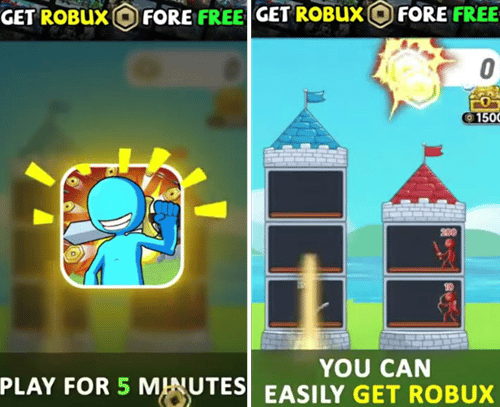 I bet you would love to get Roblox currency without paying for it.
However, with so many bogus games out there, you need to know if you will receive the payout rewards or not.
So, is Evolutionary Tower Raiders legit or fake? Will they transfer Robux to your Player ID? Let's find out!
Earn real Robux with this legit reward application! 100% legit! 
Evolutionary Tower Raiders Review
Name:  Evolutionary Tower Raiders
Developer: flyme2mars
Availability: Worldwide
Price: Free (no purchase required)
Overall Rating: 0/5
What is Evolutionary Tower Raiders?
Evolutionary Tower Raiders is a simple puzzle game in which you have to fight with enemies in the tower.
You have to eliminate all the opponents with lower strength numbers.
Once you defeat all the soldiers, you will complete the level and win a specific amount of Robux.
However, they will entice you to watch lots of videos and collect 1000 Robux to be able to cash out.
Evolutionary Tower Raiders has reached the incredible mark of 1 million installations on Google Play.
Besides, the app has been rated 4.5, making people automatically assume the developer is rewarding players.
How Does Evolutionary Tower Raiders Work? 
Evolutionary Tower Raiders is available worldwide on Google Play and is 100% free.
When you open the game for the first time, you'll be asked if you want to win free Robux. Of course, your answer is Yes.
The next step is to enter (bind) your Robux account, although you have the option to do so later.
Next, the game promises to transfer Robux through the official website if you collect enough game currency.
Right off the bat, the game will congratulate you for winning 2000 Robux as a welcome bonus.

How to Play Evolutionary Tower Raiders? 
Click on the room to challenge the enemy in the red tower.
Note that each soldier has a number above their head corresponding to their strength.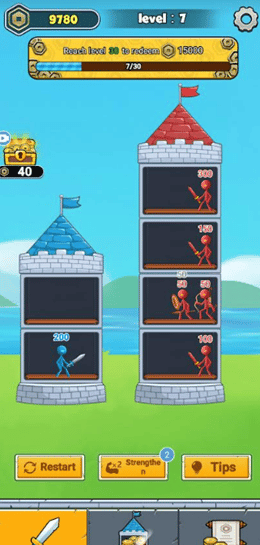 Please note that you can only win if your number is higher than your opponent's.
By defeating the enemy, you will incorporate its strength number so that you can fight with stronger warriors.
You will complete the level if you eliminate all the red soldiers. As a result, you can collect Robux by tapping the "get" button and watching the video.
You may also get random Robux rewards after defeating any soldier. And of course, it's possible to double the prize if you watch another commercial.
As you may have noticed, the developer will bombard you with an unbelievable amount of advertising.
That's no surprise, given that he makes money every time you do so!
Receiving Free Robux
You can only claim your free game currency once you collect at least 1000 Robux.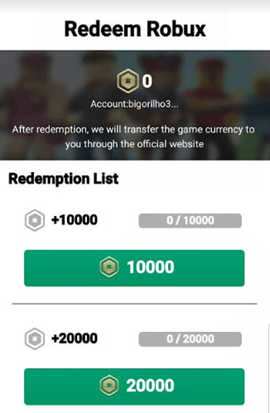 After redemption, the developer promises to transfer the Robux to your player ID through the official Roblox website.

He also claims you will get a 15000 Robux reward if you reach level 30 within a limited time.
Does Evolutionary Tower Raiders Give Free Robux?
No, it doesn't! This is yet another app that uses your time and data to generate revenue without respect for the gamers.
The developer claims you will receive free Robux to your Player ID account. But they are empty words that they obviously cannot keep!
They won't transfer the game currency because 1000 Robux costs over $10.

This reward platform is going viral! Cash out via PayPal, Visa, Gift Cards, and in-game currencies - Click here to find out how to generate an extra $10+ per day! 
That's quite expensive, and they don't generate enough revenue to compensate everyone who fulfills the requirements!
After collecting 1000 Robux, you will have to watch another 50 videos only to find yourself in a queue behind 9,999 people.

Lots of people report that they didn't transfer the game currency. So, all they did was watch videos that helped the developer make profits.
Conclusion 
Evolutionary Tower Raiders will bombard you with adverts and won't transfer any Robux from the official website.
The game has poor graphics and very tedious gameplay. So much so that it wouldn't have attracted as many players if it weren't for free Robux bait.
I reviewed many games that use the same tactics to target Roblox enthusiasts.
Ball of Beach, Cut Grass, and Emoji Liner also cheat people out of their time and data.
If you have no money to buy Robux, I highly recommend you join this GPT site on your phone or laptop.
It allows you to earn money by completing simple tasks such as sharing your opinions with companies or completing offers.
Then, you can cash out using PayPal or Visa to buy anything you want, even virtual currency for your favorite game.
Final Words
Thanks for reading my Evolutionary Tower Raiders review. If you would like to share your opinions about this game, please leave us a comment below.
Peace!