Welcome to my Fancy 2048 Block review!
Fancy 2048 Block is an addictive casual game that claims to transfer real money via PayPal.
The founders use aggressive marketing techniques targeting those looking for a quick buck.
You don't have to worry about losing your money because there are no in-app purchases in the game.
At first glance, the app seems like a fantastic opportunity to release some heavy weight off your shoulders.
The problem is that most games are using virtual dollars to lure players into watching commercials.
In this review, I'll explain how Fancy 2048 Block works and let you know whether it pays or not. Is it legit or fake? Let's find out!
Before leaving this page, check out the step-by-step system that helped me generate $2,000+ per month and quit my job in 2019.
Fancy 2048 Block Review
Name: Fancy 2048 Block
Developer: Wineasy Games
Availability: Worldwide
Price: Free
Payout threshold: £352.05
Overall Rating: 0/5
What is Fancy 2048 Block? 
Fancy 2048 Block is an Android game where you combine blocks of the same number to merge them.
Two identical blocks are merged to create a block with twice the value.
You will receive random PayPal cards with large cash amounts as you unlock higher numbers.
You will also collect diamonds that can be traded in for Amazon, Google Play, and other gift cards.
Over 100k people have installed Fancy 2048 Block with high hopes of receiving cash rewards.
How Does Fancy 2048 Block Work? 
You can install fancy 2048 Block for free on any Android device. The game is entirely free and does not require registration.
Your job is to merge as many blocks as possible by combining matching blocks of the same number.
Shoot the block and try to position it beneath or to the side of another identical block.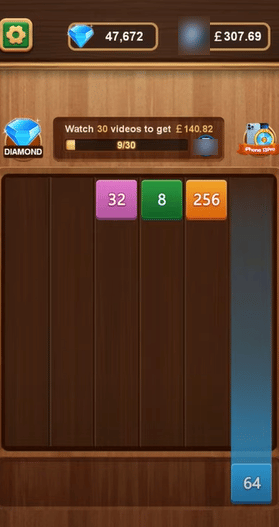 As a result, the two blocks will merge, resulting in a block with the following numerical sequence: 2, 4, 8, 16, 32, 64, 128…. 2048.
The optimal method consists of stacking the blocks from higher to lower numbers.

From time to time, you will be given blocks with the PayPal logo instead of numbers. Those can be combined with any other block to trigger cash rewards.
Keep in mind you must tap the "get" button and watch the video to receive the reward. That's pretty clever since each time you do it, the developer gets paid by advertisers.
You may also shoot blocks with chest symbols to activate gift boxes. Open four boxes to accumulate more cash incentives and win 20 iPhone fragments.
Besides, Fancy 2048 Block will award you diamonds every time you merge the blocks.
On the top of the board, you will find a progress bar saying you will get £140.82 if you watch 30 videos.
So, every time you watch a video, you will get closer to winning more cash rewards.
How Do You Get Paid?
You can withdraw the money by opening the cash balance, selecting the amount, and entering your PayPal email.
The minimum cashout requirement is £352.05, or the equivalent in your country. However, you can redeem up to £3520,50!
That's a big red flag since no free game could afford such generous cash incentives!
But if this wasn't enticing enough, Fancy 2048 Block also allows you to exchange diamonds for gift cards.
You must collect at least 150,000 diamonds to redeem £352.05 via Amazon, Google Play, XBOX, Steam, iTunes, or Visa.
Is Fancy 2048 Block Legit? Does it Pay? 

No, it doesn't! Fancy 2048 Block is another fake money game that only operates in the developer's best interest.
They'll give you another task as soon as you achieve the cash requirement and click the redeem button.
You must watch 20 videos within 30 minutes to allegedly activate the order. Oh, yeah… be a good boy and you will possibly get what you deserve!
Obviously, the developer has no motivation or responsibility to pay anyone. Therefore, those are nothing but empty words!
Now, guess what happens if you fulfill this requirement! They will ask you to wait for 24 hours or watch a video to reduce the waiting time by 30 minutes.
After that, it says your payment will take 5 – 7 business days. But many people report they didn't receive any money after this period.

This reward platform is going viral! Cash out via PayPal, Visa, Gift Cards, and in-game currencies - Click here to find out how to generate an extra $10+ per day! 
Conclusion 

Fancy 2048 Block is a game that will make you jump through hoops and never transfer any money to your account.
The rewards are fake, so don't waste your time trying to meet their requirements.
Clearly, they just want you to watch countless videos that line their pockets with advertising cash.
Google Play is jam-packed with fake money games trying to prey on your time and data. Avoid them at all costs!
Verdict: Not Recommended
If you want to operate a real online business that earns you thousands of dollars every month, follow this step-by-step training. 
Final Words
Thanks for reading my Fancy 2048 Block review! I hope it was helpful.
If you want to share your experience with this game, write to us in the comment box below.
Peace!