Welcome to my Village Saga review!
The game Village Saga has been heavily advertised as an opportunity to win thousands of dollars via PayPal.
The game's commercial shows players smiling with joy for making a decent amount of money.  
I have already tested countless apps that make ridiculous cash claims as if they were able to print money on demand.
So, I am not the one who can easily bite the bait. However, I know many people are still unaware of app developers' strategies to increase profits.
My mission is to steer people away from bogus games that operate with no regard for players.
So, is Village Saga legit? Does it Pay or not? Let's find out!
Top recommendation: This step-by-step program helped me grow a lucrative site, generate 2,000+ US Dollars per month and quit my job in 2019. Join the Free membership here and start today!
Village Saga Review
Name: Village Saga
Developer: Crystal Team
Eligibility: Worldwide
Payout Threshold: N/A
Price: Free
Overall Rating: 0 stars
What Is Village Saga?
Village Saga is another addictive match game that claims to reward players with real cash rewards.
You will collect virtual dollars whenever you complete the objective of eliminating colored blocks.
However, you can only withdraw the money after the 24 hours countdown ends.
Village Saga has been installed over 50,000 times on the Play Store and rated 4.8 stars out of 5.
Just be aware many platforms are providing positive reviews for app developers for a fee.
Therefore, having a high overall rating does not imply that genuine players are having a fantastic experience with the game.
How Does Village Saga Work?
Village Saga is available for free on Google Play for Android users worldwide.
After fully loading the game, you will see the PayPal and Cash App logo on the main page.
It also claims you can earn money by playing the game and cash out using one of the two payment processors.
How to Play Village Saga?
Village Saga features a 6 x 6 grid with colored blocks.
Simply tap a group of two or more cubes of the same color to collect them.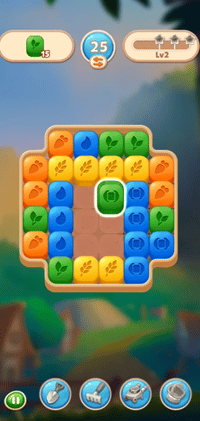 Each level has a specific mission you must accomplish before running out of moves.
For example, you must eliminate ten yellow cubes to complete the first level using a maximum of 20 moves.
The fewer moves you make to clear the stage, the more stars you get and the higher your reward.
After completing each level, you will be prompted to spin the wheel to multiply your earnings by up to 7 times.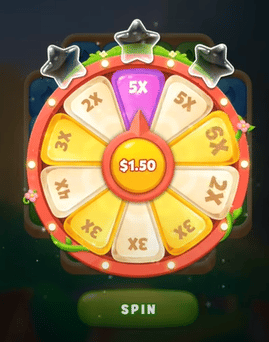 The money will be credited automatically during the first few levels. But eventually, you will have to watch a sponsored video to receive the cash reward.
That's a clever tactic used by developers to maximize their advertising revenue.
After pressing the "Claim" button and watching the commercial, you will earn more dollars as a star gift.
Withdrawing your Funds
Select the cash balance at the top of the screen to open the redemption page.
It claims all the balance will be cashed out after the 24 hours countdown ends. Besides, your winnings will be multiplied by 1.5 if you complete level 30.
You must choose your withdrawal method (PayPal or Cash App) to receive the money and enter your account.

Is Village Saga Legit? Does It Pay?
No, it doesn't! You won't receive any money even if it says the payment was successful.
Village Saga makes unsuspecting people believe they can cash out immediately after 24 hours.
But the truth is that the cash reward is only bait to get players to watch lots of videos.
The game will let you accumulate over $200, but the cash balance will disappear when you least expect it.
From this point on, Village Saga will only give you worthless coins that cannot be traded for real money.

This reward platform is going viral! Cash out via PayPal, Visa, Gift Cards, and in-game currencies - Click here to find out how to generate an extra $10+ per day! 
That is enough proof the rewards are fake, and you won't get paid a dime!
It's unfortunate to see so many people fall for fake money games that only waste their time and data.

So, always research before installing any app or accepting any offer on the internet.
Remember, if anything sounds to be too good to be true, it probably is!
Conclusion
Village Saga tricks people into completing levels and watching commercials with the pretense of easy money.
They show dollar signs and PayPal logos to persuade you that this is a real cash game.
However, they will replace your cash balance with a useless coin balance that you cannot redeem for real money.
I doubt you want to waste your time playing Village Saga just for fun!
If you want to get paid for playing games on your phone, there is no better opportunity than joining this GPT site. 
You can also earn 0.50p instantly in your PayPal account if you join this reward app! 
Final Words
I appreciate your interest in my Village Saga review! Feel free to use the comment box below if you have anything to say about this game.
Peace!