Welcome to my Hyper Slots review!
I came across several adverts promoting Hyper Slots and the opportunity to win a lot of money.
This is another free app simulating a slot machine that gives away virtual dollars just for pressing the spin button.
One of the overhyped adverts depicts someone spreading lots of dollar bills on a flat surface, suggesting all that money could be yours.
Another commercial shows a woman in awe at a bank statement with a $1,734 payment.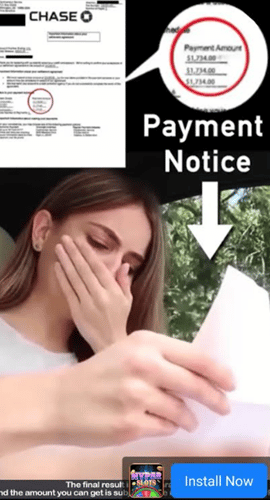 I decided to install this application on my Android and write a review to help as many people as possible.
Many people are playing this game for hours and deserve to know if they will get paid or not. Is Hyper Slots legit or fake?
I advise that you don't play Hyper Slots for another second before reading this review.
Before leaving this page, don't forget to check out the step-by-step system that helped me to generate $2,000+ each month and quit my job in 2019.
Hyper Slots Review
Name: Hyper Slots
Developer: Unbounded Studio
Availability: Worldwide
Type: Entertainment with no financial risk
Price: Free
Payout threshold: $2
Overall Rating: 0/5
What is Hyper Slots?
Hyper Slots is a free slot machine simulation where you press the spin button and collect virtual cash (coins) and tokens.
According to the advertisement, the game currency can supposedly be redeemed for real money.
But if you check the app description on the Play Store, you will find no information about the cash prizes.
Yet, thousands of people are playing Hyper Slots hoping to withdraw the funds to their PayPal accounts.
The game has been installed over 100.000 times and rated 4.6 out of 5 by over 4,000 reviewers.
Such an excellent rating may give you the impression Hyper Slots is lining the players' pockets with easy cash.
Keep reading, and you will find out why this is real or just an illusion!
How Does Hyper Slots Work? 
Hyper Slots is available on Google Play for Android devices and is 100% free. So, you don't have to put your money at risk to supposedly win amazing rewards.
Upon launching the game for the first time, it encourages you to tap the sign-in button for a chance to win $2, $5, extra spins, or tokens.

Keep in mind that this is not an actual registration. Instead, they will display a commercial, which is all they care about!
Next, they allow you to spin a lucky wheel to win an additional bonus.
Finally, they welcome you to Hyper Slots and ask you to tap the first machine to start having fun.
Push the spin button to activate the 5-reel slot machine and wait for it to stop.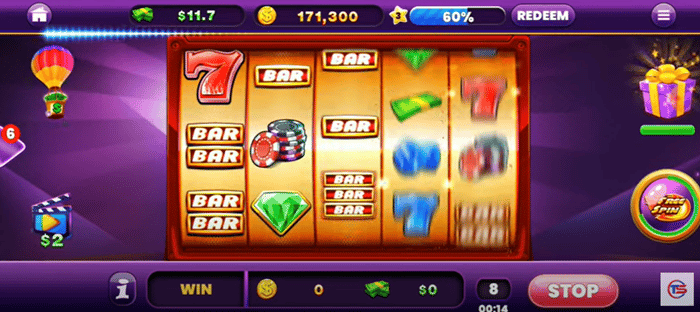 You will win prizes depending on the symbols you get on the pay line. Every winning possibility is presented to you by selecting the "i" button on the left-hand side.
For example, if you get five number "7", Hyper Slots will award you 5,000 tokens.
You will get virtual dollars (coins) every time a banknote symbol appears on the slots, regardless of where it lands.
The condition for receiving the virtual item is to click the "get it now" button and watch the sponsored video.
According to the app's instructions, this is an instant cashable bonus.
Except for the free spin, the WIND symbol can be combined with any other symbol to form a combo bonus.
A free spin is triggered when 3 Free Spin symbols land anywhere on the slot machine.
Players can earn more virtual prizes by unlocking other slot machines, playing games, and watching videos.

How Do You Cash Out? 
You can supposedly withdraw the money via PayPal once you accumulate $2, $100, and $200.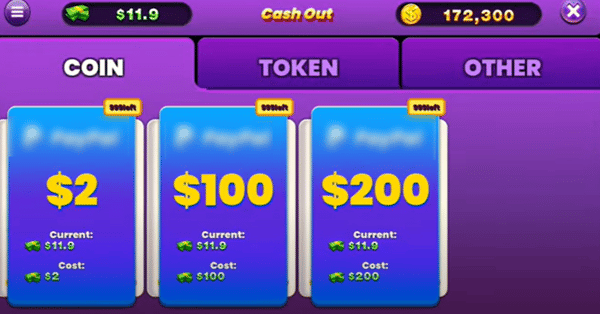 Therefore, you can redeem $2 in no time since cash rewards are pretty decent.
Hyper Slots allows you to exchange your tokens for cash and receive the payment via PayPal. The minimum cashout amount is 20,000 tokens ($20).
You can also redeem Amazon gift cards and a smartphone if you collect enough puzzle pieces.

This reward platform is going viral! Cash out via PayPal, Visa, Gift Cards, and in-game currencies - Click here to find out how to generate an extra $10+ per day! 
Is Hyper Slots Legit? Does it Pay? 
No, it doesn't! You should not expect to earn even the smallest reward of $2, let alone $100!

After you reach the required amount and try to cash out, Hyper Slots will ask you to watch 150 videos to activate the order.
It doesn't differ from the hundreds of fake games I already reviewed on this website.
Then, they will tell you to wait for seven days, but they will never transfer the money to your PayPal account.
Hyper Slots gets lots of positive reviews, but most people don't mention anything about the cash incentives.
Those who do usually complain about not getting paid. This is pretty suspicious, in my opinion!
It's important to mention some platforms sell reviews for app developers.
So, it's not difficult to inflate the overall rating on the Play Store to make the application look great.
Discover a legit app to generate extra income online. 
Conclusion 
I advise you to stop pushing the spin button on Hyper Slots and watching its adverts.
You are just helping the developer generate more revenue at the expense of your time and data.
This is not a real slots game because it's completely free. Besides, the company has no obligation to share its revenue with players.
If you are searching for a real opportunity to make money online, check out my top recommendation here. 
They will help you create a lucrative site, so you make money on your own terms and pursue your dreams.
I used this program to create this successful site from scratch. So, you can do the same!
Final Words
Thanks for reading my Hyper Slots review! If you want to share your experience with this fake money game, please comment below.
Peace!